The story is known by most people, but a mention of the plot in short, is certainly merited here. The story begins with the main protagonist of the novel – Count Dracula, who appears as a charming but ageing Count living in an area of Transylvania, engaging the services of a young English Solicitor- Jonathan Harker, for supervision of some property transaction. As the story progresses, we come to know that the Count, is a blood sucking vampire, preying on hapless people and either killing them or changing them into similar creatures like him.
The plot thickens as Dracula reaches England and his evil influences, affects the life of Jonathan Harker and his fiancé, Mina and their close group of friends. Lucy a close friend of Mina dies & Mina herself falls herself under the spell of vampirism. The rest of the story describes the endeavours of Jonathan Harker & his close group of friends to rescue Mina. The story ends with freedom of Mina, from her curse of vampirism & death of Count Dracula, and once again espousing the age old value of – eternal triumph of good over evil.
The Historical Facts
The inspiration for writing the Novel, came to Bram Stoker after meeting a Hungarian traveller & writer, who mentioned many stories of (and about) people, living around the Carpathian mountain and Romania, which piqued Stoker's interest. Further research of European folklore, myths & Romanian history, helped Bram Stoker to shape his great Novel. This fictional account was based loosely on a 15th century Romanian King & his violent and ruthless history.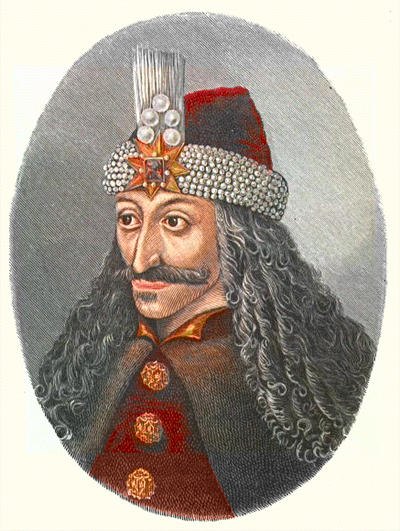 The real Dracula
Dracula was the epithet, used to describe the Romanian ruler- Vlad III or Vlad the Impaler. The name Vlad Dracula had, was because of him, being the son of Vlad Dracul. The father -- Vlad "Dracul" was bestowed with this unique name, as he was member of special society of knights – The Order of the Dragon, or Dracul in short. Vlad Dracula's name has gone down in history, for the various cruel acts attributed to him. 15th century was a very turbulent period for Romania and its nobility, which affected Vlad's family also. Vlad's father and eldest brother were murdered. Vlad and his younger brother, were held as hostage by the Turks, during their childhood.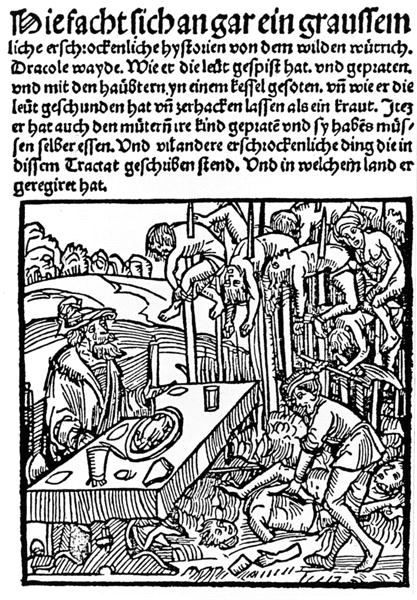 Pamphlet published in 1499, depicting Vlad dining among the impaled corpses of his victims.
As a ruler with limited resources, Vlad Dracula's best strategy was to instil fear on his opponent's minds and the best way to do this, was by his cruel methods of execution. He impaled enemies caught by him in battle, so that the remaining ones would shudder in fear, even on thoughts of him. Vlad Dracula was a just ruler for his people and a beacon of hope for all those fighting to free Europe from marauding Turkish attack. Unfortunately, those who live by the sword, die by the sword in the end, and Vlad Dracula died a violent death fighting his enemies. Even 5 centuries later Vlad Dracula remains a hero for some, a cruel killer for many & an enigma for most.
Beauty & The Beast – A Fairy Tale Romance
During our growing up period we all have read, listened or saw in movies, how a young beautiful girl falls in love with an absolutely revolting ugly man & they live happily ever after. Although mentioning the fact, that the man in question was astoundingly rich and was owner of a spectacular castle, may make perfect sense in modern times; but the concerned story was first written almost 300 years ago by a French lady, whose intention was to teach children that – beauty is not skin deep. The French version "La Belle et la Bete" was written by Gabrielle – Suzanne Barbot de Villeneuve in 1740.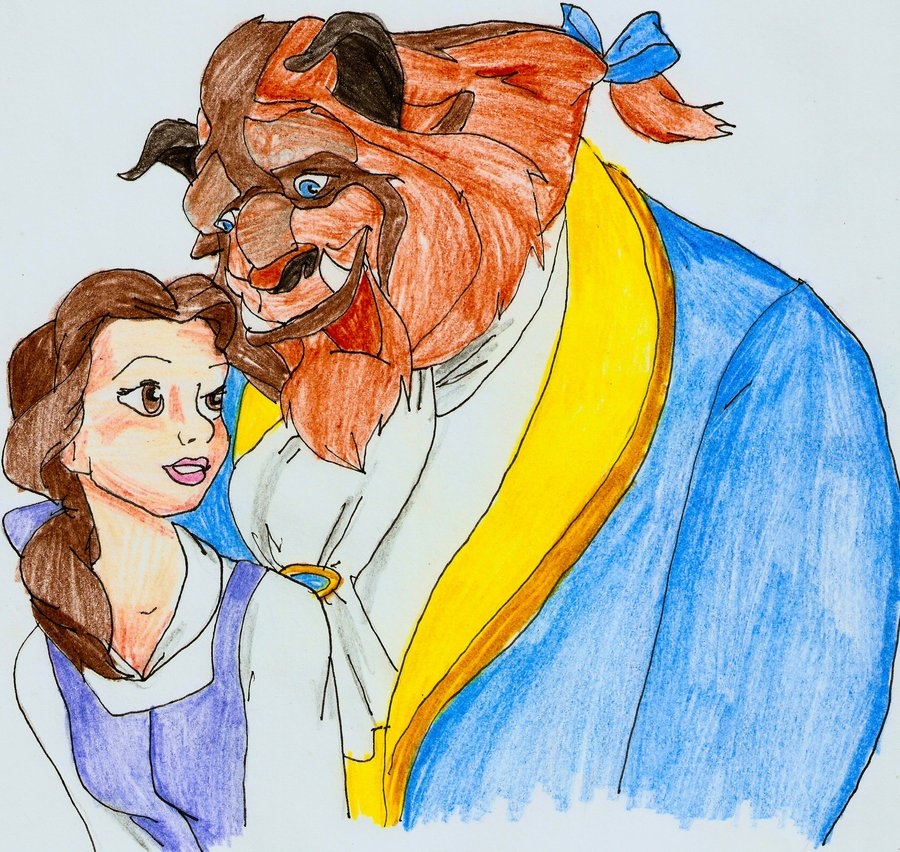 Beauty & the Beast - The fictional story
The fairy tale, was very long & like the esteemed writer's full name, was difficult for children to understand and read. So another lady, with a rather long name of – Jeanne Marie Leprince de Beaumont, decided to shorten & rewrite it for children and publish it in Magasin des enfants in 1756 AD. Many writers made their own modification & additions to the tale, that gave some regional variance to the story. But the story of beauty falling for the beast, spread far and wide and many highly successful movies were made on the promise of true love.
Historical Facts – Story of Petrus Gonasalvus
It seems that, The Tale as old as Time, of Beauty and the Beast, is inspired by real events that did not occur very long before the lifetime of the original author. The inspiration of beast came from – Petrus Gonsalvus, who lived from 1537 AD to 1618 AD and had been a part of the French Royal Court. It is believed that the gentleman in question suffered from a medical condition called hypertrichosis, which causes excessive hair growth in a person's body. The King of France – Henry II was rather amused by the young 10 year old Petrus, when he first saw him. It was on his insistence, a decent education was given to Petrus, who eventually became a nobleman in the King's court.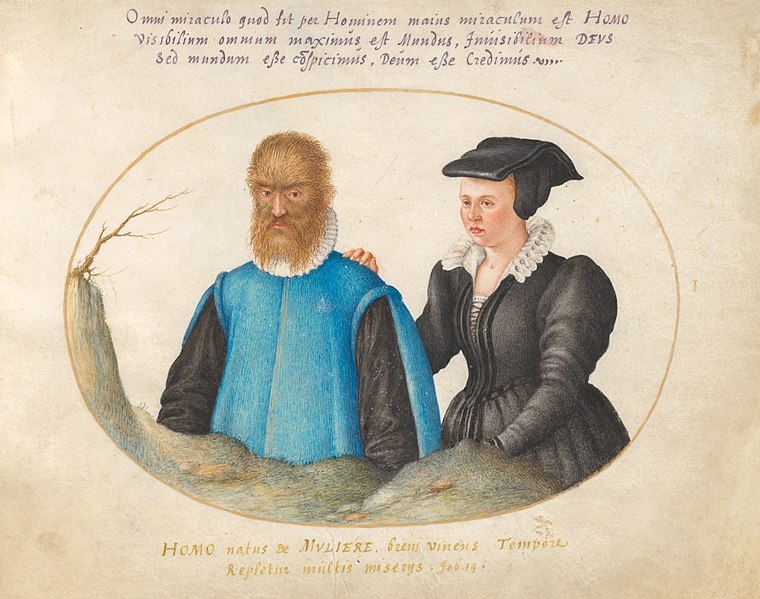 Petrus Gonsalvus and his wife - Catherine.
Petrus Gonasalvus was indeed married to a beautiful young lady, but the marriage was ordered by the queen & the would be bride was not at all informed about the groom's hairy condition. It was the inquisitiveness of the Queen to find out if a hairy man like Petrus would produce hairy children like him, that led to this marriage. Love was not the reason (at least not initially) for a young beautiful lady to marry a hairy man like Petrus, it was a royal decision, which made her do it. The end of this historical event was not like that of happy ending, as in the novel. 4 out of 7 children of Petrus had hypertrichosis & in spite of the civilized & educated behaviour of the Gonsalvus family, the society never gave them the basic respect, that all human life deserves.
Dr Jekyll And Mr Hyde - The Story of Becoming a Conscienceless Monster
The greatest asset and the greatest liability for the human race is our conscience, which helps us to differentiate between good and bad, right or wrong. It is the conscience of a person, which stops him from doing harm & inflicting pain on others. What would happen if an individual lacks this sense of moral judgement? Would a guilt free attitude help a person to live a more contented life? Would such a person become physically or mentally more strong?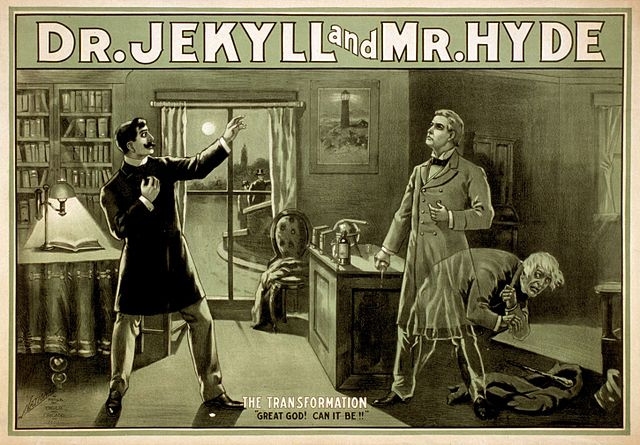 Strange Case of Dr Jekyll and Mr Hyde.
The Strange Case of Dr Jekyll and Mr Hyde, is a novel written by Robert Louis Stevenson and published in the year 1886, explores these possibilities. The main protagonist of this Novel Dr Jekyll, who is a very respectable member of the society and has many loyal friends. His search for answers, to the previously mentioned questions makes him invent a potion which can change a person radically – both physically and mentally. Dr Jekyll believes that this manifestation of the alter ego, can be evil without suffering from any moral pangs or repercussions for his actions, because of a distinct separate identity.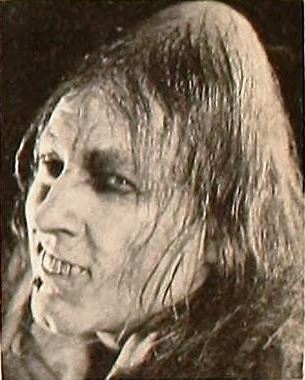 Still of John Barrymore as Mr Hyde from the American film Dr Jekyll and Mr Hyde (1920).
The story of a respectable Dr Jekyll changing into loathsome Mr Hyde by taking a potion & reverting back to Dr Jekyll, by intake of antidote – forms the crux of the story. However, things change for the worse, when transformation of form from Dr Jekyll to Mr Hyde, starts taking place involuntarily and in most awkward time & places. The failure of the antidote to act, further complicates the matter. These events creates difficulties in life of all the people who come across the alter ego of Dr Jekyll, including friends as well as strangers. Crimes committed by Mr Hyde, makes him a fugitive of the law; which has the potential to destroy the reputation & status of Dr Jekyll, which he created over many years. The story ends with the death of Dr Jekyll, & becomes an allegory, to convey that an evil persona can never be controlled & always ends in misfortune for the concerned individual & society as a whole.
Historical Facts
Sickness, dreams & influence of people he knew, are some of the facts that have been associated with description of the situation in which Robert Louise Stevenson wrote one of the most famous works of modern literature. Some events concerning the people of the time, may have played a very important role in writings of Stevenson. In fact, there are stories recorded about 2 individuals, about whom Stevenson knew & who exemplified the dichotomy of human nature that, story of Stevenson clearly demonstrates.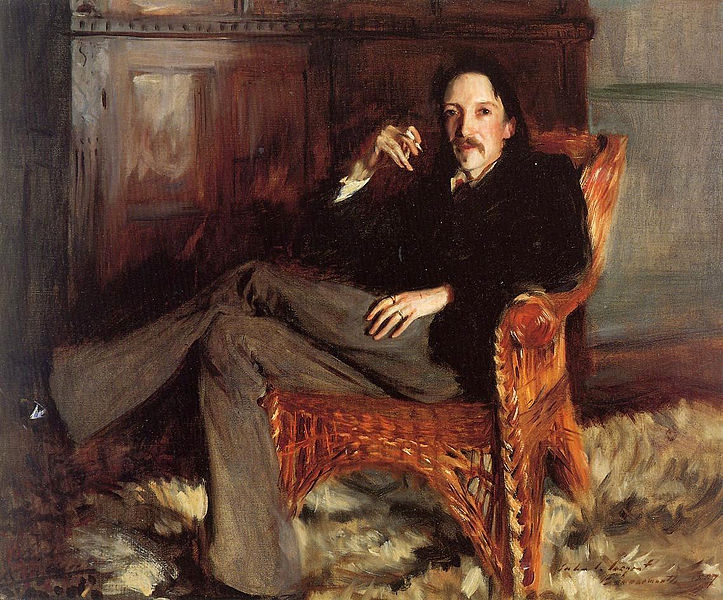 Portrait of Robert Louis Stevenson
The first person who may have influenced Stevenson was William Brodie, a decent Scottish Carpenter who made cabinets and was also President of association of artisans (professing the same trade) & member of the town council. Unknown to all, this respectable gentleman also indulged in not so respectable practice of breaking into houses and robbing them, along with his 3 accomplices. The reason for this was to earn extra income needed for maintaining -- his habit of gambling, demands of his 2 mistresses & their 5 children. Unfortunately, betrayal by one of his accomplices, got him caught. The fact that aggravated his crimes was the fact, that William brodie as a locksmith had designed the safety mechanism of many houses, that he robbed later on. For betraying the trust of his clients and causing disorder in town (where he was member of Town council) he was sentenced to hang till death, which was carried out 1 October 1788 AD.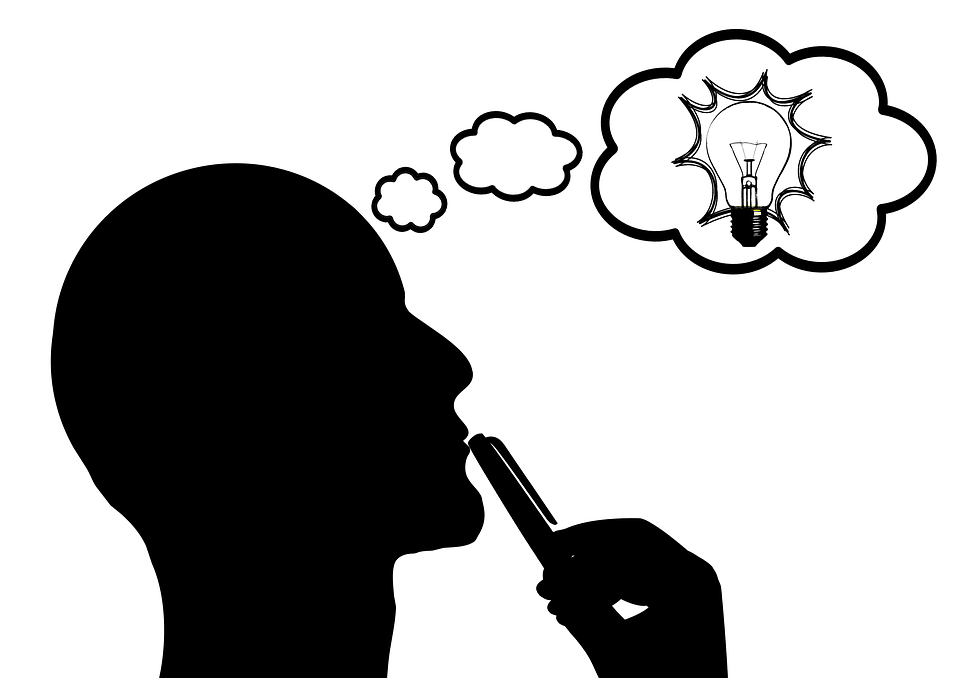 Real people inspired Stevenson to write the story
The second source of inspiration may have come from rather close quarters, in which Eugene Chantrelle -- a French writer by profession and also close friend of Stevenson, was convicted for murder of his wife and hanged. The French writer was a very unlikely candidate to be implicated for domestic abuse & killing his wife for insurance money, the charges for which he was hanged. Stevenson was present in the court and followed the trial very closely. As the court proceedings gradually progressed, he came to know aspects of his friend's life, which totally shocked him. Lots of people believe that, this emotional shock manifested in writings of Stevenson, as the story of – Dr Jekyll and Mr Hyde.
The Jungle Book – The Boy Who Grew Up in a Jungle
The collection of short stories (first published between 1893 – 94) meant for children was written by the English author Rudyard Kipling. The story revolves around the principal character Mowgli – a human child, separated from his parents during an attack by tiger in an Indian Jungle. Later he is adopted by a wolf family & grows up with the wolf pack, believing them to be his family. Mowgli befriends most of the animals in the Jungle & also makes some enemies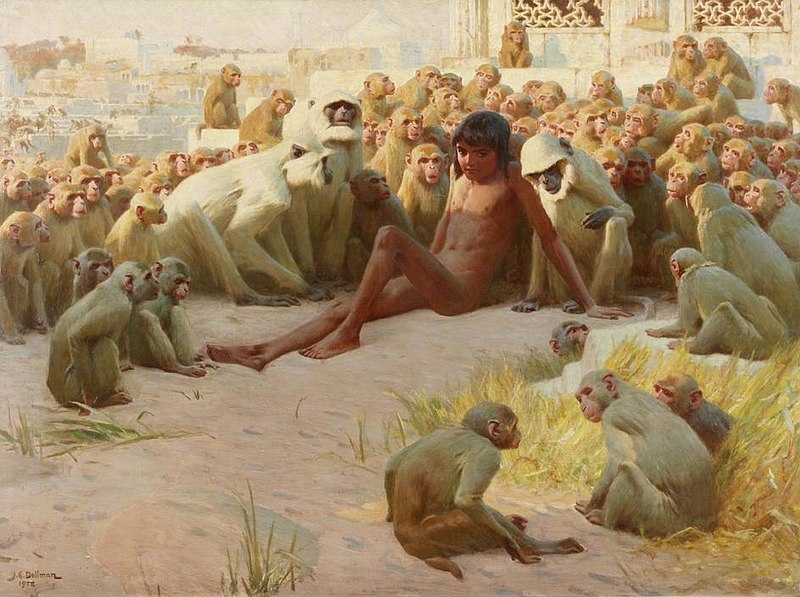 This painting is based on the Rudyard Kipling's story in The Jungle Book.
As the story is primarily meant for children, the animals in the stories can talk & are shown to have a spectrum of emotions, attributed to human race. Some of the characters, who interact with Mowgli are – Raksha (Mowgli's wolf mother), Shere Khan (the lame tiger), Bagheera (black panther), Bandar log (monkeys), Kaa (the python) and Baloo (the bear). The stories depicts the trials and tribulations of Mowgli, as he grows up amid challenges and politics of the Jungle. One of the important moments in the story is, when Mowgli is able to kill Shere Khan (who is his greatest enemy) by using his intelligence, proving his mettle among the animals.
Historical Facts
There is clear evidence about the presence of a boy named – Dina Sanichar, who was raised by the wolves in jungles of India. The Jungle Book was written, almost after 20 years after the capture of this real 'wolf boy'. This 'wolf boy' was captured by hunters, who first found him walking like a 4 legged animal along with a pack of wolves. Later he was shifted to an orphanage, where he was given the name of Dina Sanichar. The reason for choosing the name was, his discovery on Saturday. (Dina, means day in Hindi & Sanichar means Saturday).
In the orphanage all attempts to teach him to speak and write failed & he was declared to be mentally retarded. In spite of many efforts, he found extreme difficulty to walk on 2 feet & hated wearing clothes or eating cooked foods. The only bond he formed was with another wild child, who also had a similar background. In 19th century India Sanichar's discovery was not the only incidence where wild child (feral child) was found but 4 other children were also discovered, who also grew up with wolves. Dina Sanichar passed away in 1895 due to Tuberculosis. This extraordinary life of this feral child inspired Kipling to write "Jungle Book".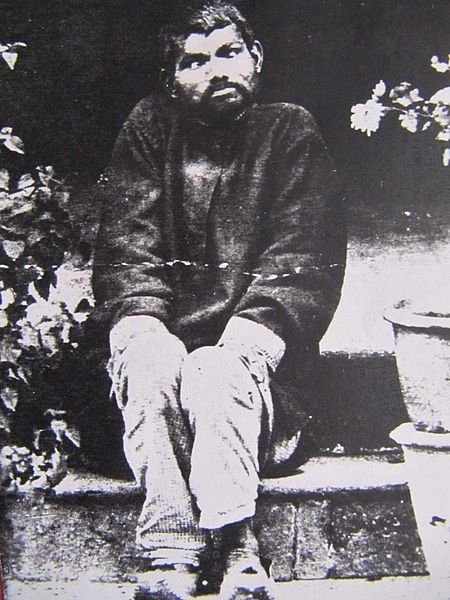 Famous wolf child Dina Sanichar
Rudyard Kipling spent a considerable part of his life in India and was greatly influenced by the country. The setting of the story is in Indian Jungle. The names of many animals and people described are also of Indian origin. The dilemmas faced by Mowgli and values espoused, reflected human traits. The separation of Mowgli from his human parents and subsequent growth with a wolf family as an integral member, reflected the emotions that Kipling himself had in his childhood, when he had to stay in a foster home. The law of the jungle, mentioned in the stories reflected Kipling's obsession for rules and orderly conduct. The story also demonstrates 'humanity' among animals, as well as their camaraderie and compassion. The children reading the story were expected to learn about basic human nature & virtues, through a relatively easily understood story.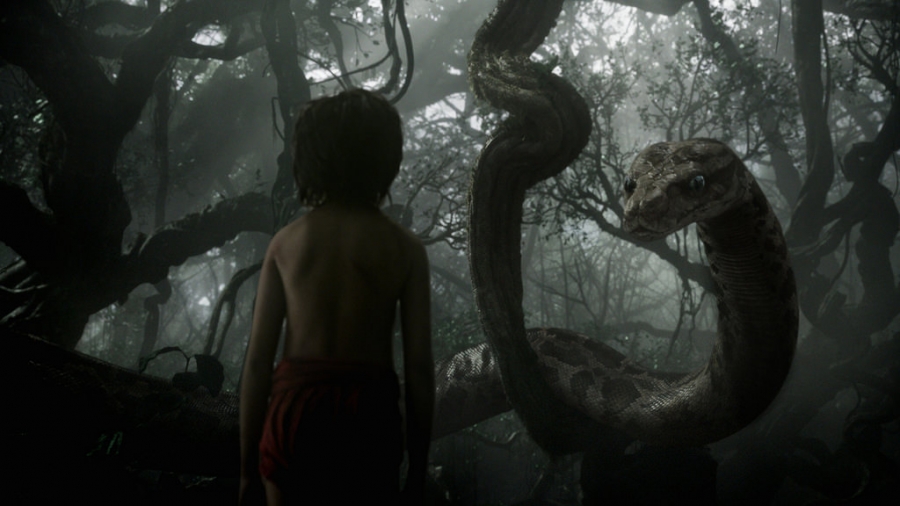 A still from the 2016 movie
Lot's of people believe that as Rudyard Kipling was a staunch advocate of British rule in India, this fact also reflects in his creation of jungle Book. Mowgli is believed to represent the British might, which defeats and ends Shere Khan's life. The lame tigers in this context is believed to be, the Mughal dynasty (the last emperor of India), who by the end were very weak & easily eliminated by the British Imperialist forces. This is a controversial issue, & it is best not to discuss this any further, in this context.
Tragedy of Macbeth – Uneasy Lies the Head That Wears a Crown
Although the quote mentioned above, is from King Henry the fourth (part 2), by William Shakespeare, but the fact is also true in the story of Macbeth. The Tragedy of Macbeth is a very popular play of Shakespeare & also his shortest tragedy. The story describes different human emotions like – greed, superstition, fear, grief, paranoia and also courage. The story revolves around Macbeth, a Scottish general, who is in services of the King of Scotland.
In the beginning Macbeth is depicted as a valiant hero, who achieves victory over the forces of Ireland & Norway, for his king & kingdom. For his achievements, he receives praise from all quarters. A chance encounter with a trio of witches, who predict that Macbeth would become a king, set off a series of unfortunate events. Lady Macbeth believes the prophecy wholeheartedly & instigates her husband, to kill the King. On account of his wife's continuous insistence & personal greed, Macbeth stabs to death the unsuspecting king in his sleep.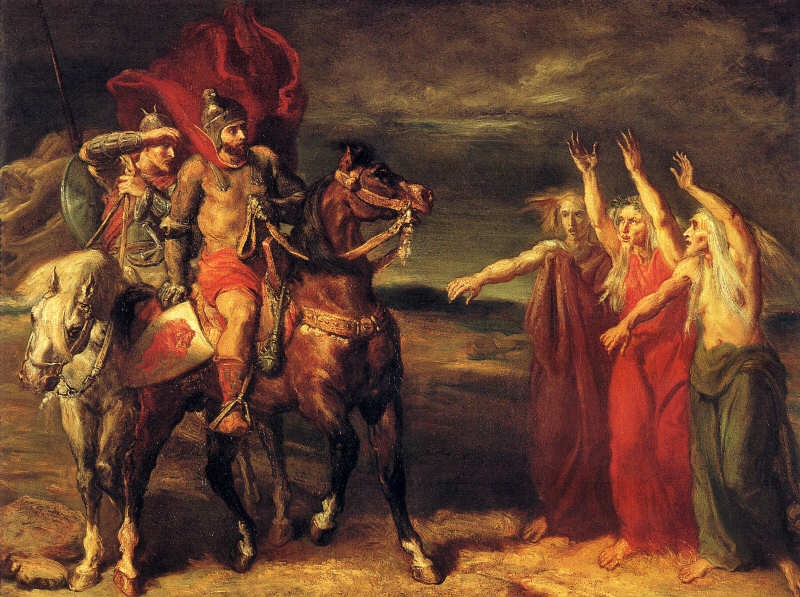 Macbeth and Banquo meeting the witches on the heath
After death of King Duncan, his loyal chamberlains are accused of doing this heinous crime, by Macbeth and promptly executed. After a few more manipulative plots, Macbeth manages to establish himself as the new king, while king Duncan's sons flee the kingdom. In spite of becoming the king, the guilt of Macbeth makes him paranoid and leads him to take life of many other innocent people. As the tyrannical acts of Macbeth increases, to cause a madness of mayhem in his kingdom; the numbers of his enemies also begin to increase.
On the other side, Lady Macbeth starts losing her sanity, with each passing day because of her guilt. This results in her sleepwalking, seeing imaginary blood stains in her hands (which she tries to wash off) & indulgence in soliloquy. Her miseries end only when she commits suicide. The news of his wife's death, plunges Macbeth to the deepest depth of despair and pessimism. It is in such a negative mental condition, that he is forced to face his enemies, who had attacked with a large army. In the fight that ensues, Macbeth is killed.
The Historical Facts
Most people well versed with British History would know that many of the characters mentioned in the play really lived. That being said, it has to be mentioned that the Bard of Avon, took few artistic liberty to mix fact & fiction, to come up with – The Tragedy Of Macbeth. It was an age when existence of witches was widely believed. Trial and burning at the stake were rather common & Shakespeare added the contemporary notion of witches, to his story. Holinshed's Chronicles having a comprehensive description of British history, was an inspiration for many events that Shakespeare described in Macbeth.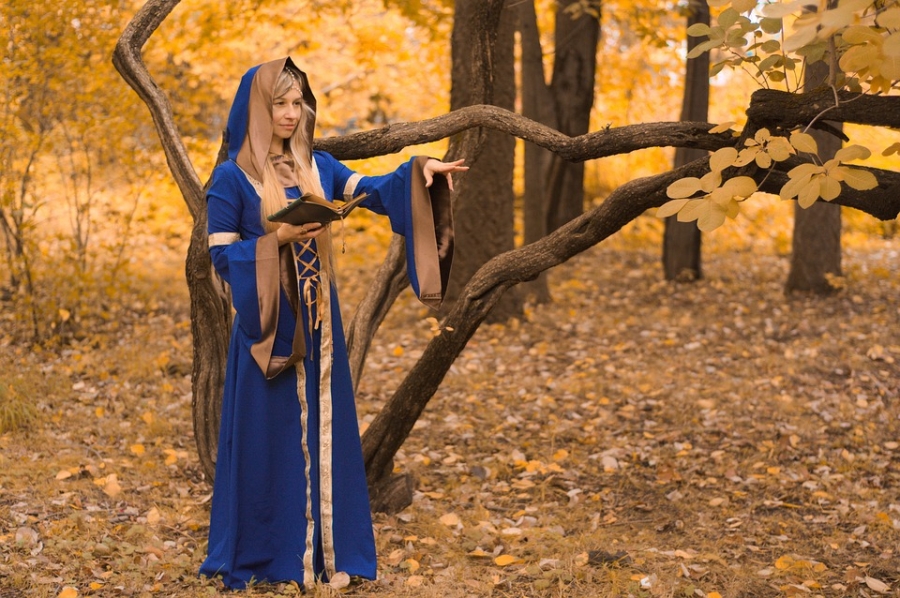 Shakespeare may have been influenced by widespread stories of witches, which were believed to be real
The real Macbeth – king of Scotland, reigned from 1040 AD to 1057 AD, more than 500 years before Shakespeare's time. A confrontation between, forces of Duncan I (then king of Scotland) and troops of Macbeth (then lord of Moray), resulted in death of Duncan I and Macbeth succeeding him as king of Scotland. The historical king Duncan was a relatively younger man, whose conniving & jealous nature made him invade, Macbeth's domain. In the ensuing battle, he is killed in action in contrast to Shakespeare's play where a kind old king is killed in his sleep by Macbeth.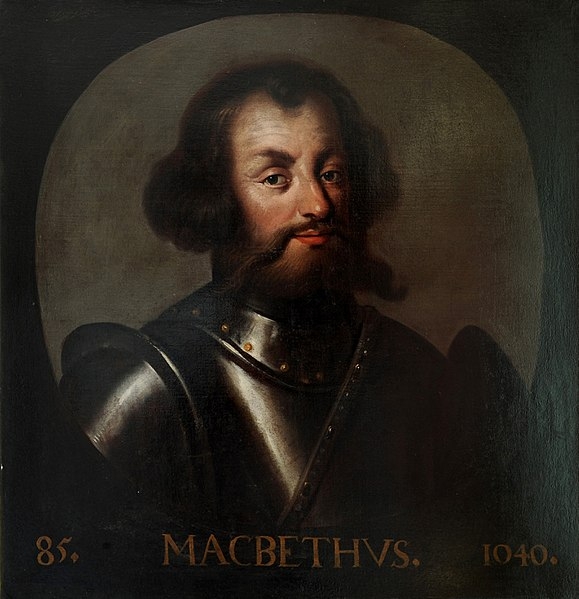 Macbeth, as depicted by Jacob de Wet II c. 1680
The two sons of the King Duncan of history escaped to safety, like in Shakespeare's play. Macbeth (Historical) rules for the next 17 years, in a relatively peaceful atmosphere. He afterwards dies in battle against King Duncan's son, who later becomes King of Scotland as Malcolm III. Macbeth, the historical king was a very different character than what was portrayed by Shakespeare. He was certainly not tyrannical and did not suffer from any paranoia. His subjects considered him generous & of pleasant nature and praised him. His throne was so secure, that he became the only reigning monarch of Scotland, to visit Rome for pilgrimage.
The Count of Monte Cristo – Tale of Epic Revenge
Written by the French author Alexandre Dumas & completed in 1844 AD, The Count of Monte Cristo is certainly a masterpiece and very popular with everyone who has read it. Encompassing a gamut of human emotions, it is certainly one of the best creations of Alexandre Dumas. Basically it is a revenge story, that deals with extremes of love & hate. It also highlights the main protagonist's struggle with despair & optimism of hope. The emotions displayed in the novel, highlights the entire spectrum of human reactions in a way, that could only be done by a master with finesse; something Alexander Dumas really was. There are reports of help from ghost-writer in writing the text, but we will leave that discussion for another day.
Cover of a comic book published in 1942
The story describes the life of the main protagonist – Edmond Dantes. The story starts with the young merchant sailor – Edmond, having the best time of his life, as he is going to become the Captain of his ship and is about to get married to the love of his life – Mercedes. The story then progresses, where Edmond Dantes is framed on false charges by 3 men – Fernand Mondego (who wants to marry Mercedes), Danglars (a colleague of Edmond Dantes, who is jealous of his success), and Villefort, who also has personal reasons to frame and punish Edmond Dantes. Prisoned in an isolated island, Edmond Dantes finally is able to escape after many years. With the change of fortunes Dantes also is able to acquire a hidden treasure, which makes him tremendously rich. The rest of the story, goes on to describe the elaborately planned revenge, that Edmond Dantes engages against the people responsible for his misfortune.
The Historical Facts
Alexandre Dumas was inspired to write, his famous revenge novel after he read a real life revenge story, in a book, that had been written by Jacques Peuchet, who was a French police archivist. The book published in 1838, described the life of a shoemaker Pierre Picaud who lived in the French city of Nimes in 1807. Pierre Picaud was engaged to a rich woman and the two were soon to be married. Like the story, in real life also 3 friends (Loupian Solari, and Chaubert), who were jealous of Pierre Picaud, frame him on false charges of spying for England. Just when Pierre Picaud had hoped for his life turning for better, he landed in prison on false charges. In the Fenestrelle Fort, where he was held, he got into good books of a wealthy Italian priest – Father Torri.
Fortunes turned once again for Picaud, when he inherited all the fortune of the rich cleric, after his death. Over the years the priest had become very fond of Picaud and considered him like his son. So it was natural that he left all his property, as inheritance for Picaud. After getting released, Picaud spent many years plotting revenge against the men who had falsely implicated him. Using the newly acquired wealth and a new false identity he found out his old enemies.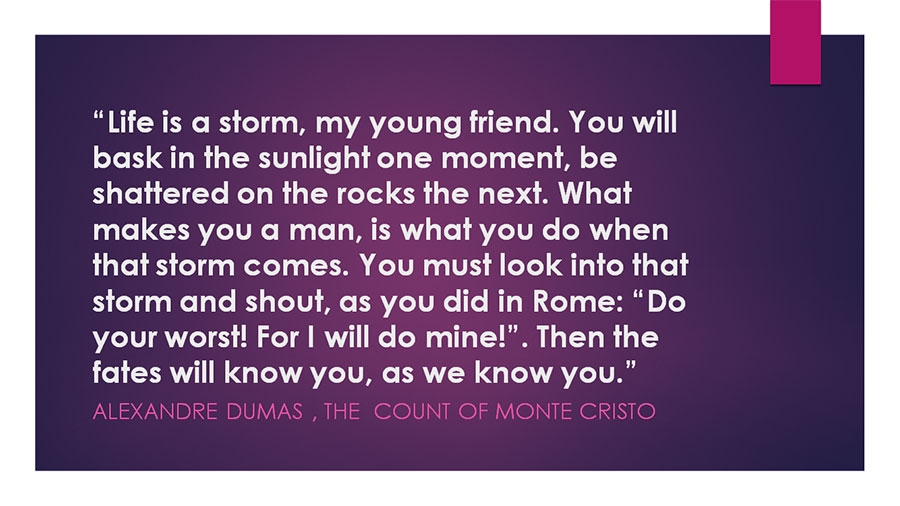 Famous lines from - The Count Of Monte Cristo
He devised different punishment for his 3 enemies. He murdered Chaubert with a dagger, on which number one was printed. Solari was poisoned. The worst punishment was left for Loupian, who got married to Picaud's ex fiancée, while he was in jail. He manipulated Loupian's son into a life of crime, for which he was jailed. He also burnt down Loupian's restaurant and lured his daughter into prostitution. Picaud's final act of vengeance was to stab Loupian to death. However the end of the real life incidence is different from the story. The 3 people killed by Picaud, had another friend by the name of Allut, who knew about the whole incident. He finally decided to avenge his 3 friends. He did so by abducting Picaud and killing him.
CONCLUSION
Some people may disagree with the choices (of stories/plays/novels) made here & the fact even if these stories technically, deserve mention as European Classics. But the stories mentioned are quite popular throughout the globe, retold in different versions in different countries across different Continents. Vast popularity of the stories have given rise to many movie adaptations, which many times, did not do justice to the original writings written by the masters long ago. These stories have encompassed different emotions of humans, highlighting the ills prevalent in the society and many times championed the indomitable human spirit. Truly, anything written by a master is indeed a masterpiece.