January 16, 2019
Admin
8 min.
Lifestyle
---
"Paneer" is a variety of fresh cheese, which is very commonly used, in the Indian subcontinent and also in some neighbouring countries like Iran, Azerbaijan, Armenia; either in same form or in a closely related version. This Asian variety of cheese has been in use in the Indian Subcontinent, since ancient Vedic times, according to some experts. The word "Shahi" means royal in Urdu, a language commonly used by the erstwhile Muslim rulers of the Indian subcontinent. So, when you join these 2 words, you get a dish, which is fit for consumption by the royals and the rich and the powerful.
The History & Origin of Shahi Paneer
Shahi Paneer is indeed a very old and popular food of India, with many believing that the Mughals, (who ruled over India for almost 300 years) were very fond of this dish. The story of how this dish was invented, is itself as interesting as the dish itself. It is believed that once, a chef employed by the Mughals was preparing a different dish – Malai Kofta (we will talk about that dish, some other day), while cutting a big slice of paneer into smaller pieces nearby, for preparing a different item (You can't expect the emperor to eat with just 1 dish, so the poor chef guy was multitasking).
Accidently 2/3rd of the paneer cubes from his hands fell into the gravy of Malai kofta. The poor guy was scared and decided to remove the cubes from the gravy, which he kept separately. Finally, in his free time he decided to taste the mess, that he had created. We don't not know if he said Eureka, or not; but he was certainly pleased with the results. This can be known from the fact that this accidental invention, soon found a place in the menu card of items, that could be offered to the emperor and royalty. Thus, Shahi Paneer was born.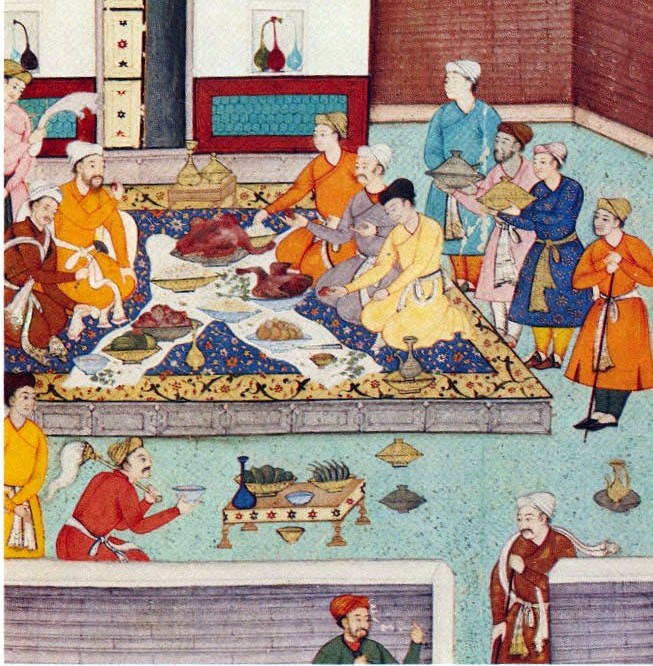 Shahi Paneer emerged as a popular dish in India, during the Mughal empire
How to Prepare Shahi Paneer
After so much discussion about Shahi Paneer, it would be very wrong to end the topic without discussing the recipe, for those who are interested to get a taste of the dish themselves.
A) The Ingredients for Making Masala
Coriander (Raw and intact) – 10 grams
Red Chilli – 1 large size
Cumin (Raw and intact) – 5 to 6 grams
Bay leaf – 1 piece
Garlic – 3 to 4 cloves
Black Pepper – 5 grams
Turmeric powder – 1/4th teaspoon
Dry Ginger – 5grams
Black cardamom – 10 grams
Clove – 6 to 7 pieces
Fenugreek – 2 to 3 grams
Star anise – 2 to 3 pieces
Cinnamon – 1 medium stick
Poppy seed – 1 teaspoon
Fennel – 1 teaspoon
All the above-mentioned components are roasted in a cooking pot (Karahi) in moderate heat and thereafter grinded in mixer to make the masala powder. Many people may find this whole exercise difficult and cumbersome, so they can try the option that we have tried here – to buy a Shahi Paneer Masala powder packet from the market.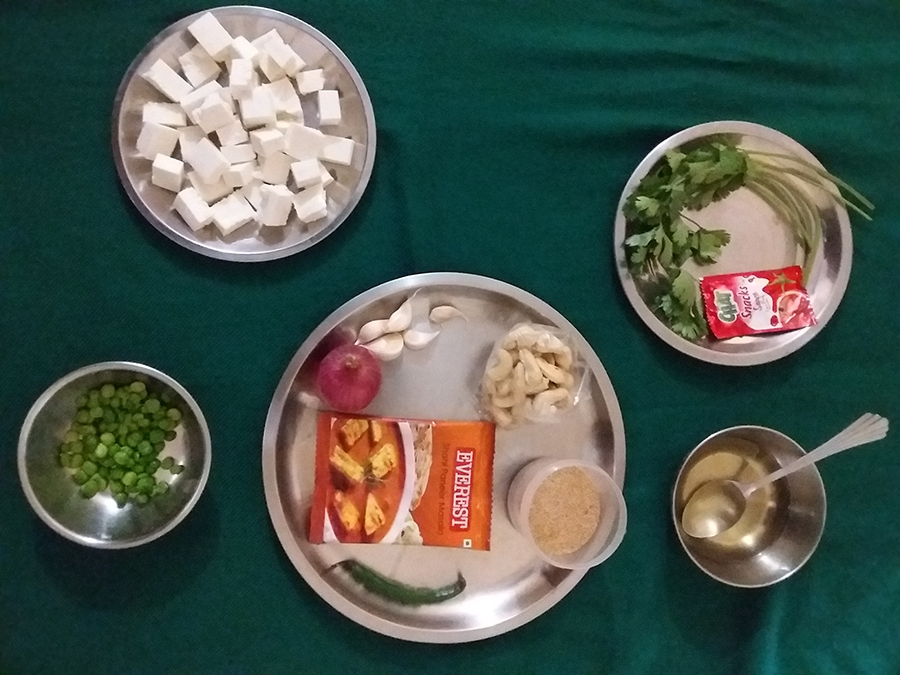 The Ingredients
B) Ingredients for Making Gravy
Coriander leaves – A few, cut into small pieces.
Cashew – 50 grams (paste)
Coconut – 100 grams (paste)
Onion – 1 medium sized (paste)
Oil for frying – 100 ml
Tomato puree/Tomato sauce – 2 table spoons (obtained from raw tomato)
Sugar – 1 teaspoon
Fresh Cream – 4 table spoons
Salt – ½ teaspoon or as per taste desired
All the above ingredients would become the main component of the liquid gravy. The above-mentioned items are turned into a paste, from their original source, by putting them in a mixer.
C) The Main Component
D) The Procedure of Preparation
After preparing the components of the gravy & the masala (which can be purchased from market, as mentioned previously) the focus is turned to prepare Shahi Paneer. The paneer cubes are fried and kept aside. Now in the same oil, onion paste is put and is stirred constantly, till it becomes brown in colour. Afterwards Cashew paste, coconut paste and tomato puree is poured into the same container, one by one and fried for 2 minutes. Afterwards sugar, salt and the Shahi Paneer Masala powder (2 teaspoon) is added in the same oil mixture, followed by addition of 1 cup of water.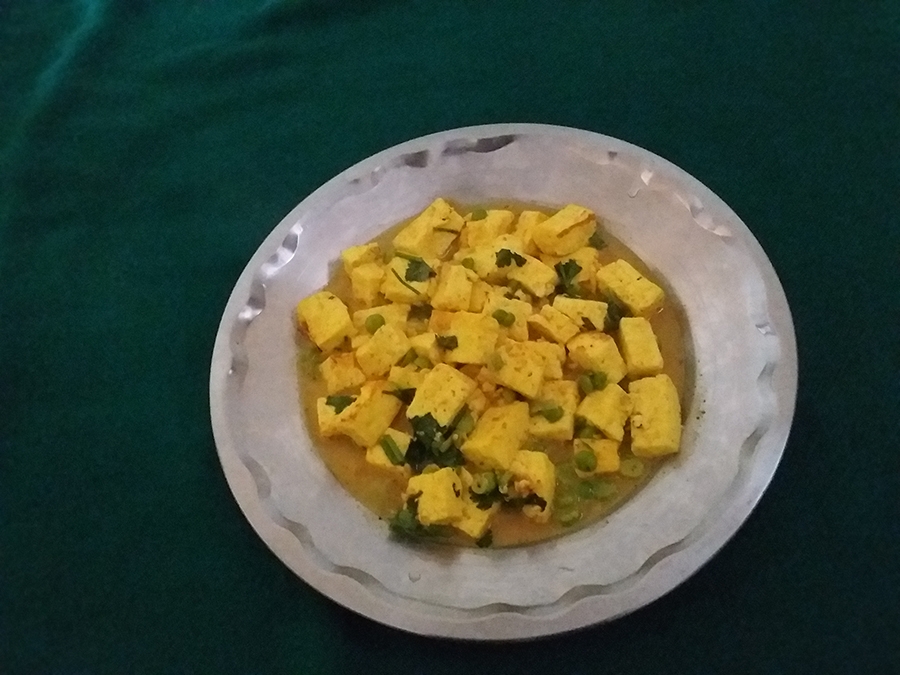 The Final Dish
Paneer cubes are added to the mixture, when the gravy starts boiling. The whole compound mixture is boiled, till a thick consistency is obtained. Fresh cream is added to the dish being prepared & the oven is turned off. Coriander leaves are sprinkled over the newly prepared dish. Shahi Paneer is now ready for consumption, for kings and commoners alike.
Conclusion
The different variety of food dishes available in the Indian Subcontinent is a dream come true for most gastronome. The different varieties and modifications of the variety of dishes are a testimonial of a history that has seen amalgamation of different cultures, throughout centuries of its existence. Shahi Paneer, the matter of discussion today has been a popular dish in India, since many centuries. One who tastes this delight would know, that its reputation as a favourable dish of high and mighty of a bygone era is well deserved.
---
( DECLARATION - All the images used in this site, are either from personal collection, or are images available in Public Domain. The owner of this website is grateful to all those, who donated their images to – Wikipedia, Wikimedia, Flickr, Deviant Art, Pinterest, Pixabay and all other sites; for free use, as images in Public Domain.)