The Formative Years, Which Scarred him for Life
Genghis Khan( meaning Universal Ruler), was born Temujin in 1162 AD, with his fist tightly clenched around a blood clot, a sign interpreted as a man destined to be a great leader to his people. But the incidents which followed soon after were certainly, not the promise of a comfortable life, but a struggle for survival. His father, a chieftain, was treacherously killed by a rival Tatars, who gave him poisoned food, which killed him. The young boy Temujin, rightfully claimed his father's position as chief of his tribe, but his people refused to obey a young boy and abandoned the family, leaving them in dire straits. The coming years would expose the family of a helpless widow and her 6 children, to tremendous hardships and poverty & they barely survived hand to mouth.
Few years later, some tribesmen who previously were friend of his father, captured Temujin and took him as a slave, and he was publicly humiliated & paraded as a slave. But one day luck favoured him and young Temujin, could escape, thanks to efforts of a sympathetic guard. All these toughened a young boy to a sceptical young man. The frequent clashes between different tribes, made him realise the need of unity to bring peace- a fact which was also impressed upon him by his mother, who wanted stability and progress of Mongolia.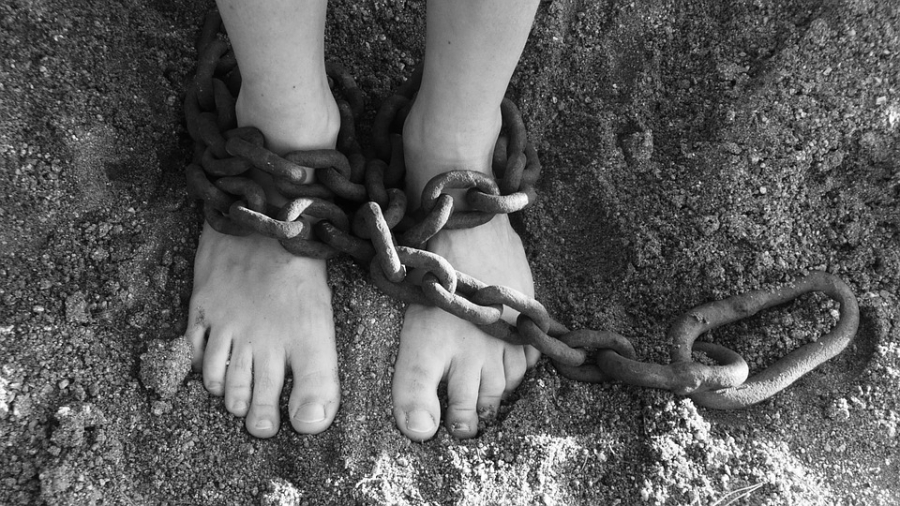 Genghis Khan's wife was Kidnapped & forcibly given to another man
His first marriage, to Borte who later became Grand Empress of his empire, was one of his first actions to get allies, by marital relationships. But Borte was kidnapped & given as a wife, to another person. Temujin was able to rescue her by help of select friends and their armies, but a son was born to his kidnapped wife (named - Jochi) after 9 months, creating doubts about the parentage of the first born son of Temujin, a fact which would have far reaching consequences. His first wife, who was also his first love later gave him 3 more sons. A few years later, Temujin faced another major betrayal, when his childhood best friend - Jamukha, declared war on him. Stunned by this unprovoked attack, Temujin tried to defend himself but lost badly & many of his men were killed.
The Rise of an Emperor
The hardships faced by Temujin, betrayal by people he trusted & kidnaping of his wife for no fault of hers; left deep scars on his mind. The quest for power had it's roots in these events, which showed Temujin, how vulnerable he was. He started consolidating his position & formed alliances with many. Those who opposed his leadership, had to fight battles against him, which Temujin always won. Slowly Temujin began to rally his armies against his former friends, who had betrayed his trust. As an astute strategist he defeated all his those who betrayed him and united all the tribes of Mongolia by 1206 AD. Gradually a young man changed into a feared warrior and charismatic leader of a united Mongol Confederation & was honoured with the title of Genghis Khan (meaning Universal Ruler).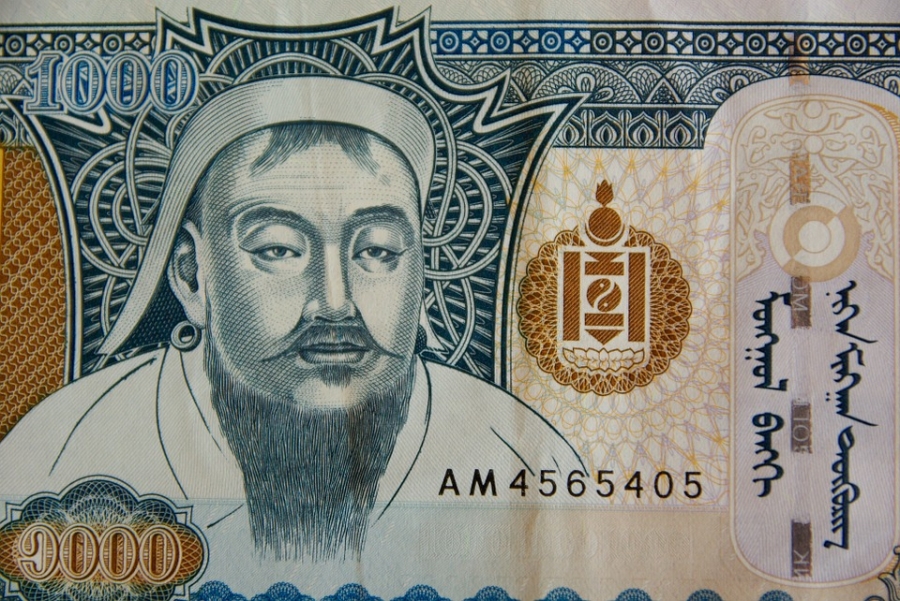 Genghis Khan's image in currency of Mongolia
After uniting the tribes of Mongolia under him; one of the initial kingdoms which Genghis Khan attacked was the Jin dynasty, ruling over northern China. There was a logical explanation for doing this. The Jin dynasty were overlords of Mongolian tribes for centuries & had also demanded Genghis Khan should bow down before them. The only choice left for the Mongol ruler was war. Defeating them was the only way, sovereignty for Mongolia and independent rule of Genghis Khan could be achieved. This led to Mongolian conquest of city of Zhongdu (Modern day Beijing).
Proof of Noble Heart & Balanced Mind
The rise of power of Genghis Khan had a lot to do with his love among his subjects. The reasons for this was many. He gave position to men on his army, based on merit and not on family status. His subjects and soldiers were also given incentives from the, riches Genghis Khan acquired by his victories. The civilians of the defeated tribe were also integrated as his own people and soldiers given an opportunity to join his forces. Orphans of the defeated tribe, were even adopted and given protection. So ethnicity and race were in no way cause of hindrance in ascending the levels of administration. In his whole system of governance, emphasis was only on loyalty and meritocracy i.e. the merit or qualities of an individual.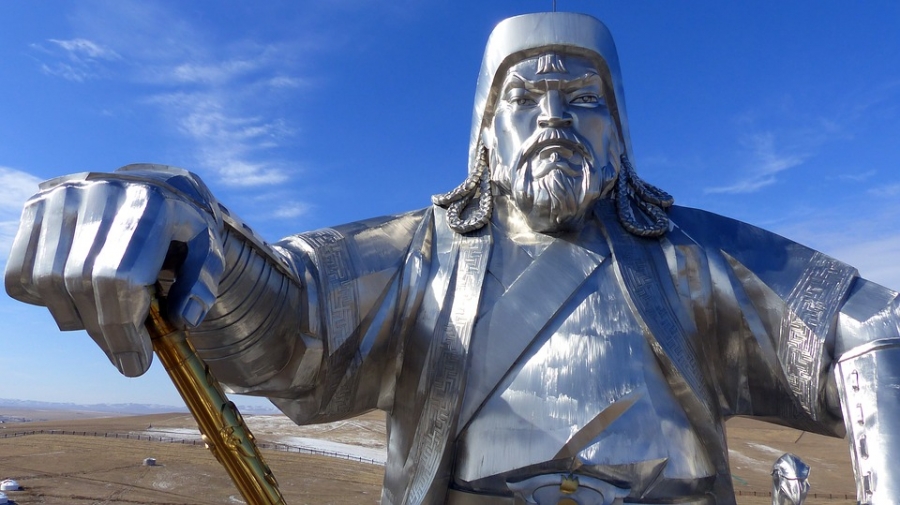 Genghis Khan was a benevolent king for his people
Tax cuts were given to given to teachers, doctors & religious figures. All the skilled artisans & workers belonging to an enemy nation were spared after victory & given employment by Mongol administration. Slavery of Mongol individual by another, was declared illegal. The kidnapping & selling of women was forbidden by Genghis Khan. In comparison to many cultures of the time, women had a very important role both inside the family as well as in official matters outside. The daughter in law of Genghis Khan & wife of the next emperor Ogedei Khan - Toregne Khatun, was the regent of Mongol empire after her husband's death.
One of the greatest example of Genghis Khan's forgiving nature was seen, when his childhood friend Jamukha - who had fought many wars against him, was betrayed by his own Generals & turned over to Genghis Khan. Genghis Khan not only offered to forgive his friend, but also killed the generals who had betrayed, his childhood friend. Jamukha however refused his friendship and instead chose to die a noble death.
Genghis Khan was religiously very tolerant to all religions. He tried his best to learn the basic lessons preached by all religions & was known to consult Muslim religious leaders, Buddhist monks and Christian missionaries. Although he also forbade some religious customs, he did not agree with; but he never forced people to change their religions & citizens of his empire, were free to practice, their own religion --- a trait which was absent in most conquerors of those days.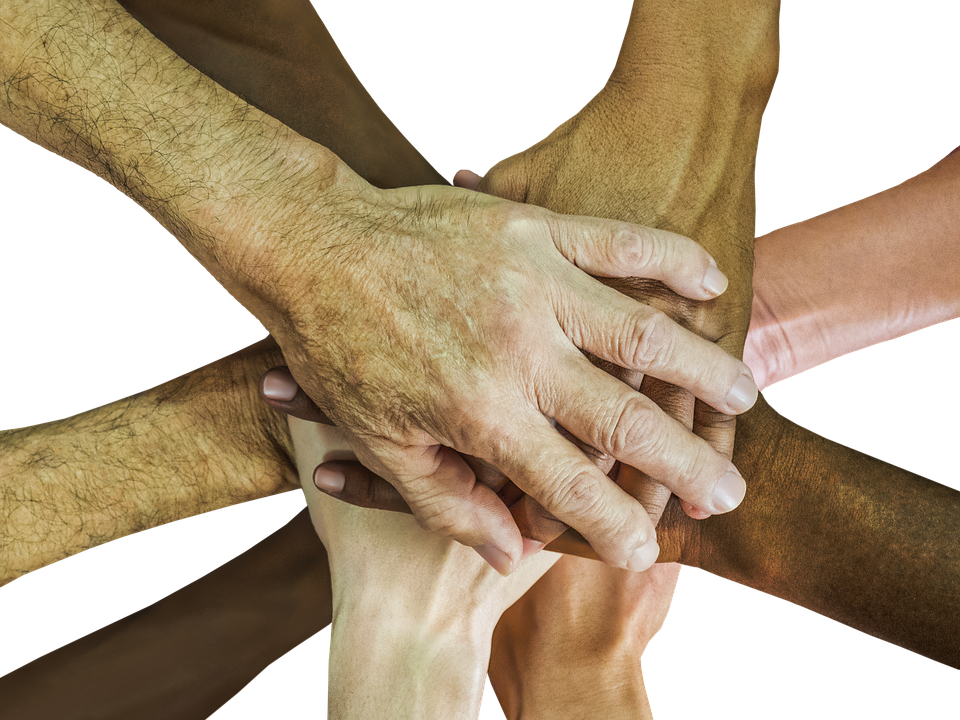 Genghis Khan brought togther, people of different - religion, nationality & ethnicty
The eldest son of Genghis Khan, Jochi was always believed by many to have disputed parentage, as his mother was kidnapped in a period, when he was believed to have been conceived. This fact was also used by other sons of Genghis Khan, to challenge their eldest brother's claim to the throne after death of their father. Foremost among those brothers was Chagatai, who by disqualifying his elder brother's candidature was hoping to succeed his father. Genghis Khan had himself accepted Jochi as his own son, but he realised that his other sons were not so magnanimous & that infighting between brothers would destroy his Empire. Taking a balanced approach, Genghis Khan decided to make another son - Ogedei, who was more balanced & stable, his successor. This decision on a neutral candidate was believed, would diffuse the tension between the previously mentioned 2 brothers who could not see eye to eye.
How true was the Notion of a Savage Barbarian?
Although many incidents of Barbaric act has been said to be committed by Genghis Khan & Mongols in general, but the incident which brought him notoriety was the conquest of Khwarazmian dynasty, which ruled over a vast area corresponding to modern day Iran, Afghanistan, Uzbekistan and Turkmenistan. The question nobody asks is, why did Genghis Khan commit, the so called notorious and barbaric annihilation of rulers and administrative class of this empire??
The first intention of the Mongol Emperor, for this area & it's rulers were quite honourable. He sent a 500 men caravan of businessmen to establish trade relations with the King - Shah Ala ad-Din Muhammad. But a local governor of the kingdom, attacked and killed the Mongol merchants without any provocation, after accusing them of being spies. The Genghis Khan administration, tried to clear the misunderstanding and asked for the attackers to be punished & wanted reimbursement for the damages. This was refused by the governor. In spite of all this, Genghis Khan sent 3 ambassadors directly to the Khwarazmian King's court, to find a solution for the misunderstanding. The king ordered the death of one of the ambassadors & shaved off, the head of the other 2 and sent the cut head of the killed ambassador, back to Genghis Khan. The death of a innocent diplomatic envoy and insult to others, infuriated Genghis Khan beyond control and with good reasons. Genghis Khan himself gave diplomatic immunity to ambassadors of other kingdoms, but his own did not get, any such consideration.
The Mongol emperor was infuriated and organised an army of 100,000 soldiers and attacked Khwarazmian Empire. In the ensuing war, the governor who had started all this misunderstanding was executed. Soon the King who had escaped from the battlefield as a coward, also died in mysterious condition in an isolated island. The empire and associated royal buildings & other infrastructures were wiped out. Unfortunately many innocent civilians also lost their life. But all this calamity was initiated by a short sighted Governor of an arrogant king, who challenged the Mongol pride & events that followed thereafter were an unpleasant reaction of a rash provocable action.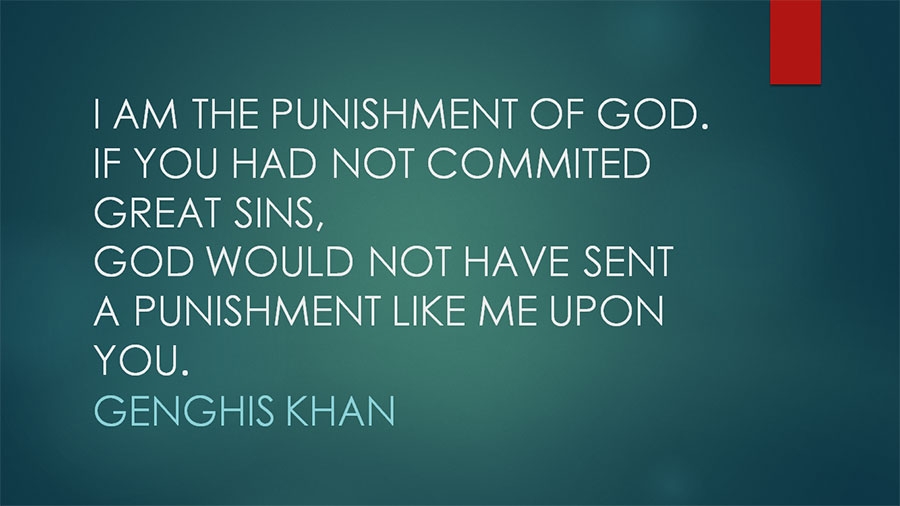 Genghis Khan after victory over Khwarazmian Empire
Even the last expedition, of Genghis Khan's life was also directed against a royal dynasty, who had previously accepted Mongol superiority -- which resulted in Mongols sparing the life of the royal family & they were given permission to continue as ruler of the land. The emperor of Tanguts(Western Xia), betrayed the Mongol trust, when he did not help the Mongol forces in war against Khwarazmians and instead rose up in mutiny against the Mongol empire. For this mistake, the royal family was eliminated.
Comparison With Alexander - The Mongol Emperor was, First Among Equals
In modern world, specially in the west -- Alexander, is considered the greatest conqueror of all times. But unlike Genghis Khan, who rose from nothing, Alexander inherited an army with many resourceful people, from his father, who was a king. He himself was educated by Aristotle, the greatest scholar of the time. All of Alexander's generals were either his closest friend or were of noble birth. Genghis Khan started all alone in a world that was much more ruthless than the one Alexander grew up in. He advocated meritocracy, instead of family lineage.
Alexander spread Greek culture and Laws, throughout his empire. The Ptolemaic dynasty, founded by Alexander's friend & general- Ptolemy, which ruled Egypt after Alexander's death never learnt Egyptian Language. Genghis Khan allowed diverse religion and culture to prosper in his empire. In fact his descendants assimilation to the different areas they ruled, which included a changing of their own religion, was one of the important reasons for collapse of Mongol empire.
Alexander died without leaving any heir to the throne, giving rise to immediate collapse of his empire. Genghis khan's descendants increased the boundaries of Mongol empire, to much greater than what was present in Genghis Khan's time.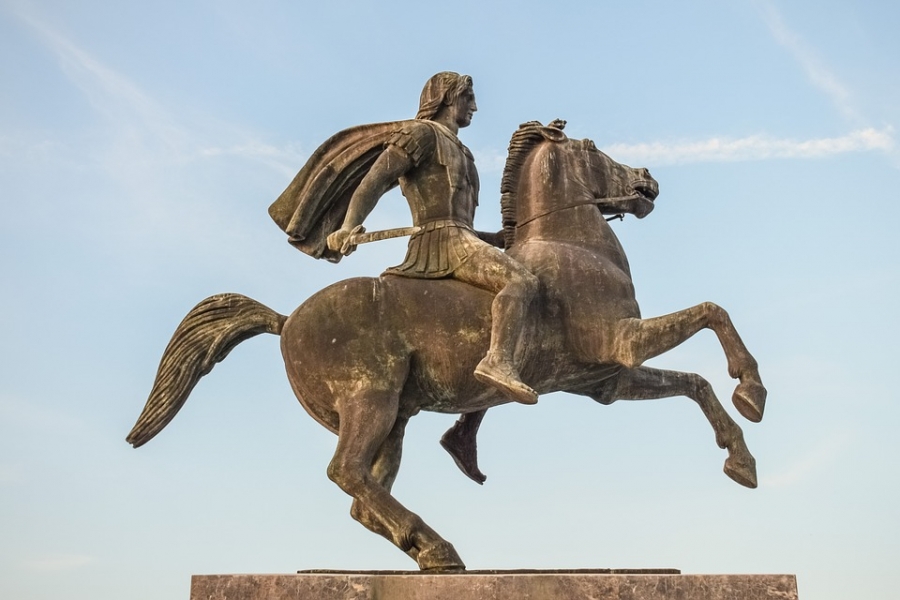 Alexander had teachers like Aristotle & inherited his father's kingdom- Genghis Khan started as a slave
It has been said that Alexander conquered almost 2 million square miles and had around 50 thousand soldiers in his command (many of whom were part of the army, he inherited); compared to 12 million square miles by the Mongols at their peak (The Mongol empire grew much more after Genghis Khan's death covering vast areas of Europe and Asia). The size of the Genghis Khan's army at it's peak was 100,000 soldiers. This was a really impressive figure, considering the fact, that he started from nothing.
Pax Mongolica - The Golden Age
Pax Mongolica is the term describing the peaceful period, which brought cultural and economic growth and social stability in the vast areas of Europe & Asia, due to conquest of Genghis Khan and his descendants. As the administrative units in such a vast area shared a common ancestry, so they led to development of communication and commerce, between previously vastly separated entities. Genghis Khan himself ordered, a writing system for use in all aspect of daily life. One specific way by which, the founder of Pax Mongolica -- Genghis Khan, contributed to increase in trade & other interactions between Asia, Middle East and the West; was because of his important role in bringing the Silk Road (the trade routes connecting the East and the West) under one political dominion.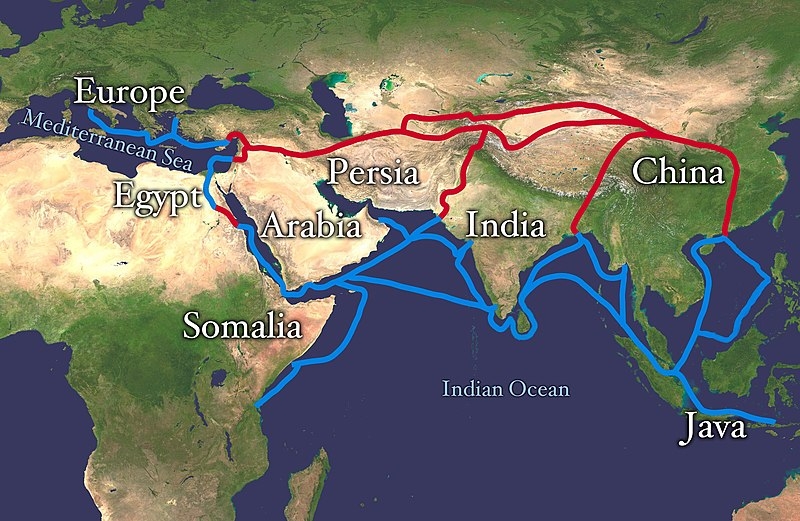 The Silk Road was a system of trade routes connecting East and West
This era also saw the development of one of the first international postal systems of the world, which was known as -- Yam. This enabled communication between remote parts of Mongolian Empire. It consisted of multiple stations and messengers (an older version of modern postman), who would travel from one of these stations to the next and transfer the message to the next messenger, and this would carry on, till the message reached to the person, for whom it was meant for. Never before were so vastly separated areas of the world connected so efficiently. Knowledge & information about the revolutionary developments of the period like - paper, printing press, compass and methods to make big ships; spread far and wide, thanks to these infrastructure.
This golden period lasted almost a 100 years, but the end started, when the values and rules founded by Genghis Khan were broken a century later. Rivalry between different Mongolian princess led to decentralisation of power, religious intolerance, factional struggles, revolutions and collapse of the trade facilities. The final blow was the outbreak of Bubonic Plague or Black Death, which caused the end of this golden period.
Eternal Legacy of a Bygone Empire
By the time Genghis Khan died, the Mongol empire stretched from east coast of China to Aral sea in the west. After the death of Genghis Khan, his empire was divided between his successors. The Yuan dynasty ruling China in 13th century, was founded by Kublai Khan, grandson of Genghis Khan. Similarly Southern Russia and parts of Europe, Central Asia & Iran was distributed among different descendants, who ruled these areas (Golden Horde, Chagatai Khanate, Ilkhanid dynasty respectively). Even the Mughal dynasty, which ruled India for more than 3 centuries, traced their ancestry to Genghis Khan. With family members, administering so vast areas of the world, it is not surprising that 0.5% people of the world are genetically related to the great Mongol emperor -- Genghis Khan.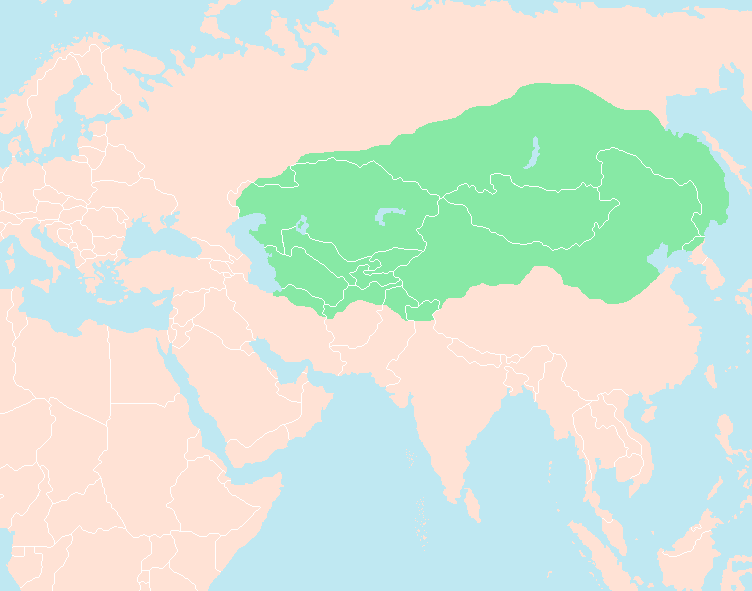 Genghis khan's empire at the time of his death
With passage of time, the Mongol empire disintegrated and the it's great achievements gradually disappeared. China and India were the richest countries of the world till 18th century. But spread of imperialism and colonial subjugation by European masters, drained Asia of it's glorious past and vast riches. In the present day, the western world views Asia with contempt and disdain, with good reasons. Most countries in Asia are regarded as 3rd world countries, where ethnic clashes & sectarian violence, corruption, inconclusive wars and religious intolerance have inflicted endless suffering to the common men and women & hampered the growth of society and nations, by and large.
The Asian continent misses a strong leader like Genghis Khan, who could bring back the glory, power and respect that it commanded in the ancient times - which was the envy of the world.