Is it just coincidence that Shakespeare's famous play - Romeo and Juliet is based on Verona (which is located just 46 km from Mantua) and Romeo's being banished from Verona and exiled to Mantua ? Sometimes truth is indeed stranger than fiction. We will never know the cause of their death of the couple and their life may not have been so happy, but now they lie in archaeological museum of Mantua (in a shatter proof glass case) in an eternal embrace, for the whole world to see and cherish the love, which withstood the ravages of time.
Tale of Roman Leader Julius Caesar, General Mark Antony & Egyptian Queen Cleopatra (100 BC - 30 BC, Rome/Egypt)
"Cleopatra's nose, had it been shorter, the whole face of the world would have changed"-Blaise Pascal
Cleopatra VII was the last queen of Egypt that belonged to a dynasty that was founded by Ptolemy, one of the main generals of Alexander the great, who became king of Egypt after the death of Alexander. Cleopatra was described as a woman with unparallel beauty .That being said, she was extremely intelligent, could speak nine languages, was a great mathematician and had a charming voice and successful diplomatic abilities & was well versed in naval warfare. After death of her father, 18 year old Cleopatra and her younger 10 year old brother Ptolemy XIII, inherited the throne. But the siblings soon developed serious differences, which progressed to civil war and Cleopatra was forced to escape from Egypt.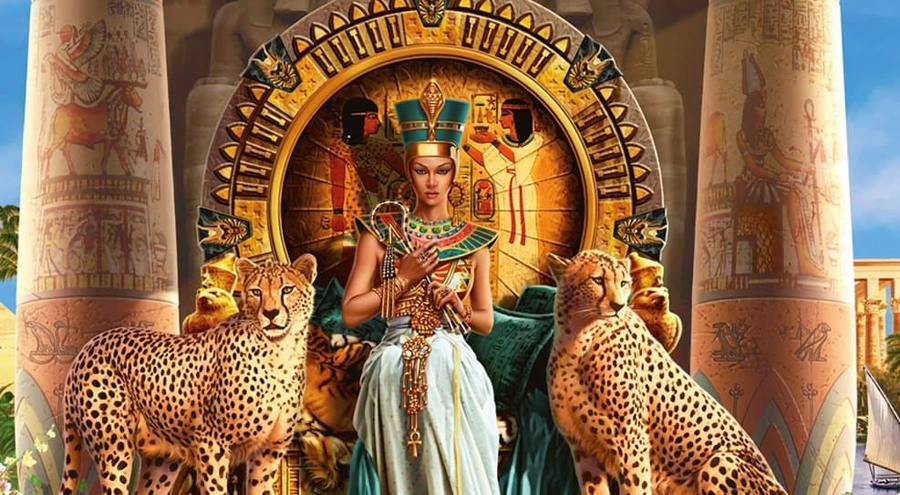 Cleopatra VII – Queen of Egypt
At the same time, a power struggle had ensued in Rome which put Julius Caesar, one of the prominent generals of Rome against the Roman general Pompey, who escaped to Egypt, as it was under Rome's rule. Ptolemy had Pompey killed and welcomed Julius Caesar, who had followed Pompey to Egypt. Caesar tried to reconcile the two feuding Egyptian siblings. But advisors of Ptolemy advised against this reconciliation. Cleopatra believed that, she could use the differences between the two to her favour. She dressed herself in the best of jewelleries and dresses and managed a secret meeting with Caesar. History books describe how she was hidden in a carpet roll, which was smuggled to Alexandria, where Caesar was staying. The carpet was presented as a gift to Caesar and Cleopatra, who was inside the carpet made a dramatic entrance, when the carpet was unrolled.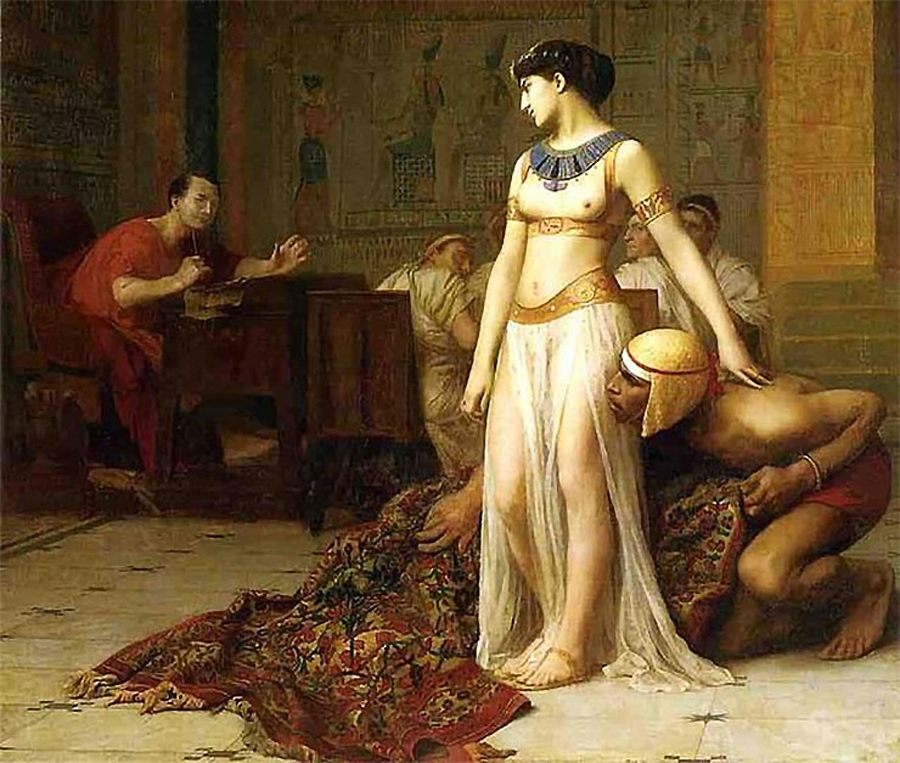 Cleopatra meets Caesar(Artist-Jean Leon Gerome)
Caesar was enamoured at the sight of Cleopatra, who was around 21 years of age at that time. Caesar himself was from a humble background, he rose in stature only by his grit and determination. So it did not take him long to realize that Cleopatra, was not just beautiful, but a charismatic, courageous and intelligent queen, who could be a resourceful ally. Their need and respect for each other gave birth to a love story, that would soon effect both their kingdom and themselves. When Ptolemy XIII came to know about this, he tried to poison the mind of local people against Caesar, but failed miserably thanks to Caesar's intelligence and diplomacy. This set in motion the events, in which Ptolemy XIII directly declared war on Caesar, which ended with death of Ptolemy XIII and established Cleopatra as the queen of Egypt (along with her younger brother Ptolemy XIV ) and Julius Caesar married her (but this marriage was not recognized in Rome, as Caesar was already married) and the two, had a son – Caesarion.
Afterwards Caesar was forced to return to Rome to attend to the matters of the state. His decision of marrying Cleopatra, was not liked in Rome, still the people ignored the matter as a mark of respect for Caesar. Later when Cleopatra visited Rome, along with her brother Ptolemy IV and son Caesarion, they were welcomed as friends and allies of Rome. During her stay in Rome, she became friends with people who were close to Caesar, including his deputy- Mark Antony.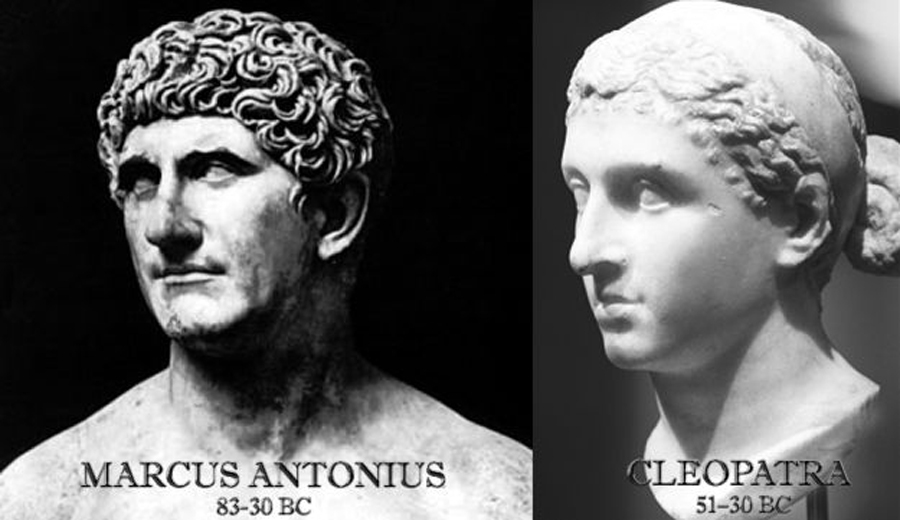 Marc Antony and Cleopatra, as viewed by ancient Greek sculptors
Julius Caesar soon became the all powerful dictator of Rome. He made statues of himself and placed them all over Rome. He also made golden statue of Cleopatra in form of Egyptian goddess Isis and placed it in the temple of Venus. He also replaced the Roman calendar, with a new Julian calendar, (which is followed now) consisting of 365 days. His changes along with the act of ignoring his Roman wife, (who was docile and submissive ) and encouraging Cleopatra – a dominating woman ( who would often control Caesar's decision )created many enemies, who were not happy with the fact that their republic had turned into a dictatorship. They believed that Caesar was under Cleopatra's control and would move the capital of the empire to Alexandria, in Egypt. Caesar's thirst for increasing power made a lots of people in the senate his enemies, which culminated in his assassination on 15th March, 44 BC.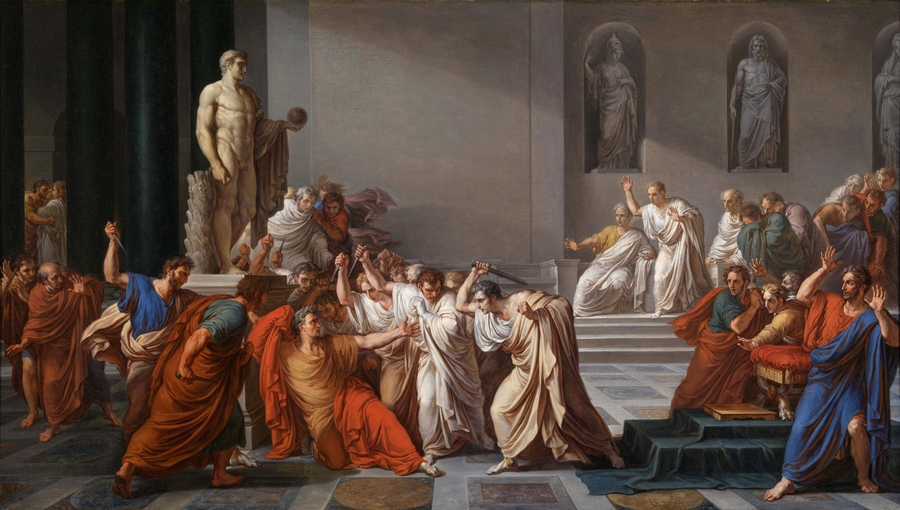 The Assassination of Julius Caesar (Artist - Vincenzo Camuccini)
The people who had killed Caesar thought that people of Rome, would support them, but when the will of Caesar was read out, it was found that he had left 3 gold coins to every Roman citizen and had changed the garden of his villa into a public park. These and many other charitable actions made the people very angry over the murderers, and created a scenario where Mark Antony and Caesars great nephew – Octavian, could take charge of Rome (Julius Caesar was maternal great uncle of Octavian, who later took the name of Augustus Caesar on becoming emperor)
Octavian (Augustus Caesar) had been named as the political heir of Caesar, as his son with Cleopatra – Caesarion, was not considered legitimate, because Caesar's marriage with Cleopatra was not recognised officially- as according to Roman law, marriage with a foreigner was not allowed & Caesar was already married before meeting Cleopatra. In such a volatile scenario to ensure safety for herself & her son, she returned back to Egypt. Once she was back she got her younger brother Ptolemy XIV killed, and declared herself ruler of Egypt with her son Caesarion ,as co ruler and slowly but firmly established herself in total control of Egypt.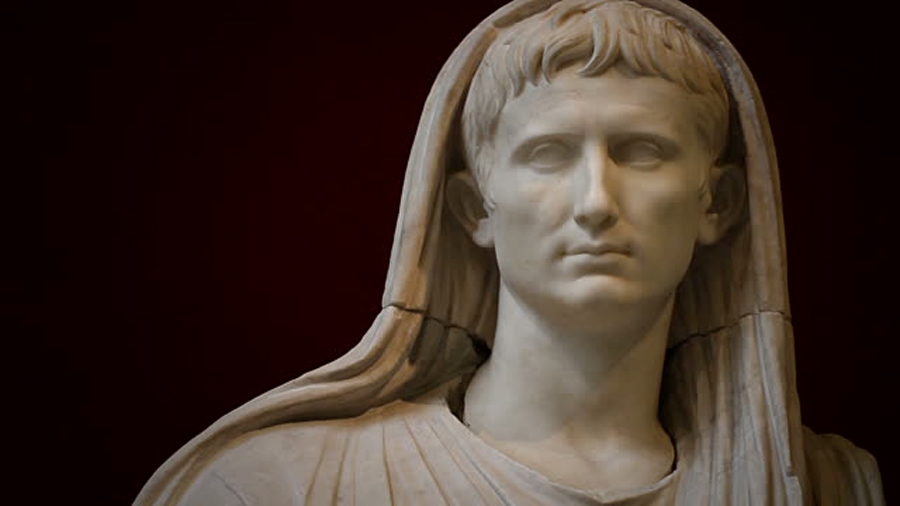 Statue of the Emperor Augustus
In contrast to a stable Egypt, Rome was in middle of a civil war. Mark Antony, Octavian and Lepidus rallied in one side to take revenge against the murderers of Caesar. Once they were eliminated, the Roman empire was divided into three parts for the concerned three. Mark Antony received the eastern part of the empire, which included Egypt.
Mark Antony and Cleopatra met again. This time to impress Mark Antony she was dressed as a goddess and wore her best jewels .The sails of her ship was also drenched in perfume. Mark Antony was certainly impressed when he met her. They were both close to Julius Caesar and knew each other very well. With Caesar dead and Mark Antony in helm of affairs in the east, Cleopatra believed he could give her security and safety, in a turbulent situation. Finally they fell in love and Mark Antony married Cleopatra. They had three children – Alexander Helios, Cleopatra Selene II and Ptolemy Philadelphus. Mark Antony distributed his lands to his children with Cleopatra and divorced Octavia, sister of Octavian, whom he had married previously, to strengthen his ties ( with Octavian).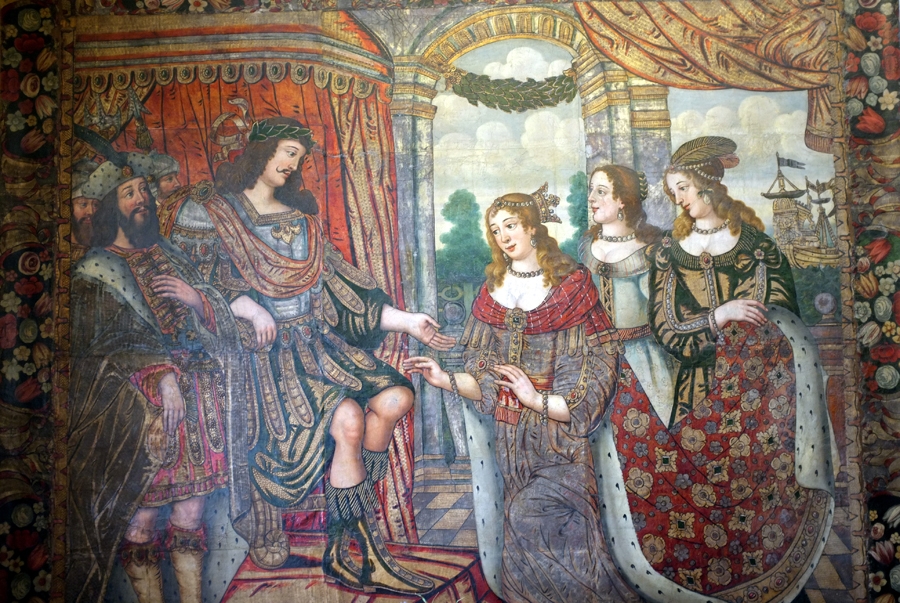 Cleopatra Meeting Mark Antony
This ensured a showdown between the two sides, which resulted in a full scale war, in which Cleopatra and Mark Antony lost. Mark Antony committed suicide, as he did not wanted to be taken as a prisoner. Cleopatra realised that Octavian, wanted to take her as a prisoner to Rome, so she also committed suicide. After their death Caesarion was also murdered, but the other children (which Cleopatra had with Mark Antony) were raised by Octavia.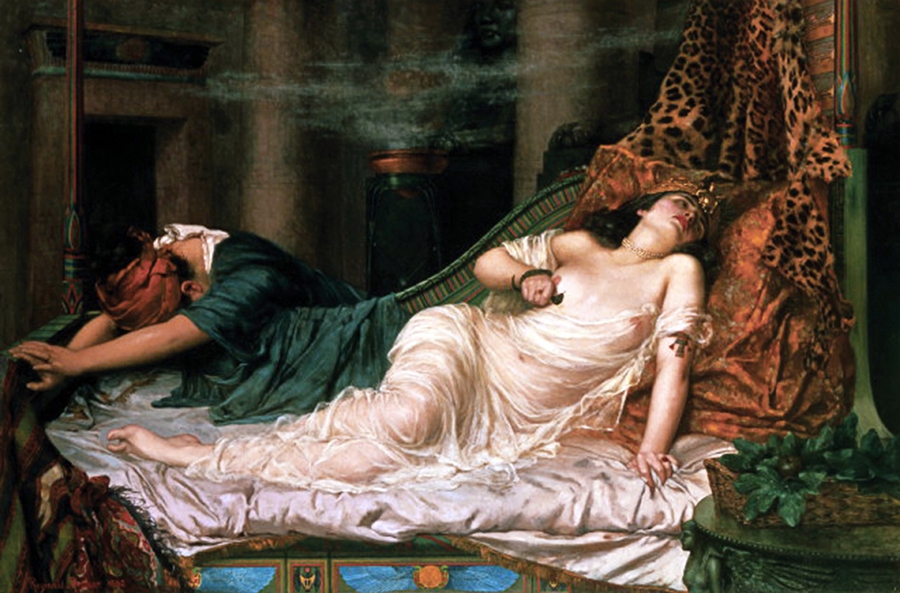 The Death of Cleopatra ( Artist-Reginald Arthur)
Justinian and Theodora – From Underdogs to Power Couple of Eastern Roman Empire (6TH Century AD- Constantinople/Istanbul)
"Fortune favours the brave "
The next story is set in Eastern Roman Empire or more commonly known as - Byzantine Empire, which is the continuation of Roman Empire in it's eastern province, with the capital being Constantinople (modern day Istanbul). The story happens, almost 5 centuries later and again involves the Emperor – Justinian and his queen – Theodora.
Theodora was born in a very low strata of the society, which just struggled to stay alive. Daughter of a bear keeper of a circus, her tragedies started when her father died and left her family in dire financial state. From a very young age, she had to struggle to make ends meet, working as an actress, entertainer and sometimes even as a prostitute. For a time she was also the mistress of governor of Libyan Pentapolis, but later he abandoned her. On her way back, she met some religious personalities, which changed her way of life and made her very spiritual. After returning to Constantinople, she took up work of a wool spinner.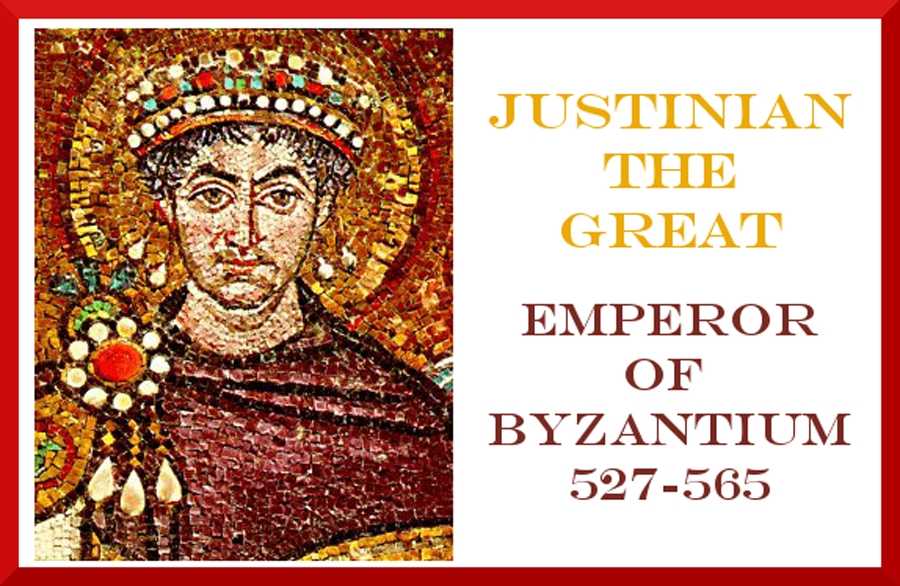 Emperor Justinian
Justinian had a relative better background compared to Theodora. Son of a farmer, he was expected to be a farmer, like his father. But he had a uncle – Justin, who was also from a very humble background, but had worked his way up to become the commander of the palace guards .As he had no heir, he brought his nephew, so he could get the best of education and know the ways of the imperial court. The incumbent emperor died leaving no successor, taking advantage of which Justin became the emperor. Justinian played a very important role in this power play, by manipulating people, to support his uncle's candidature. The changing fortune of Justin, also improved the stature of Justinian, as he became his uncle's right hand man.
It was during this period ,Justinian met Theodora and fell in love with a woman, who was not just beautiful, but also intelligent and had a strong personality. To marry her, he got his uncle – the Emperor to change the laws of the land (which forbade marriage between high ranking people to a low courtesan like Theodora), so he could marry her. After death of his uncle, he became the next emperor and Theodora, became his empress.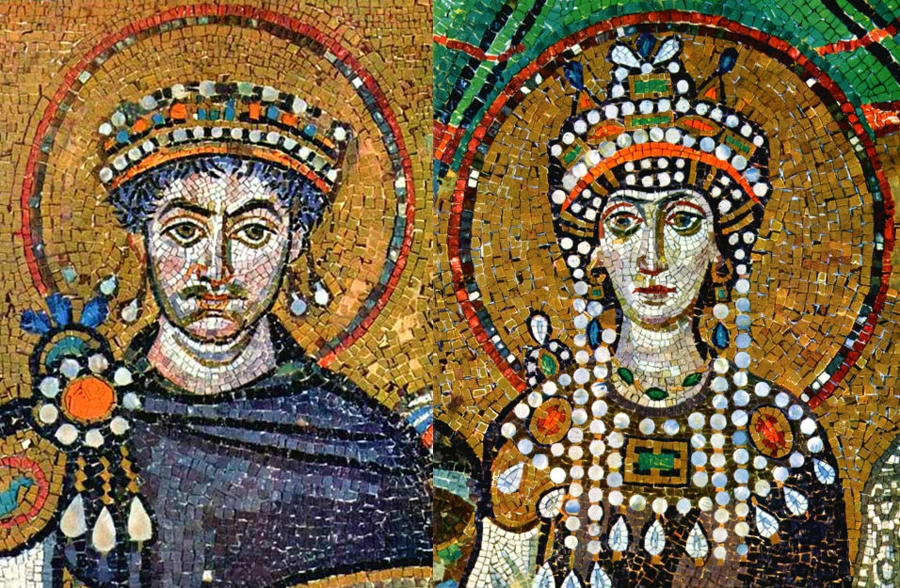 Mosaics from a church in Ravenna, Italy - Justinian on one wall faces Theodora on opposite
Theodora was not just the wife and queen of Justinian, but also his closest advisor. She influenced the political and social decisions of Justinian greatly and proved herself to be his equal in all way. Keeping her own background in her mind she made laws for women's rights like - laws to stop prostitution and exploitation of women, rights for divorced and widowed women to retain property of their former husband ,outlawed pimping, ensured girls inherited property like boys, daughter of slaves were freed and women were allowed to change their profession.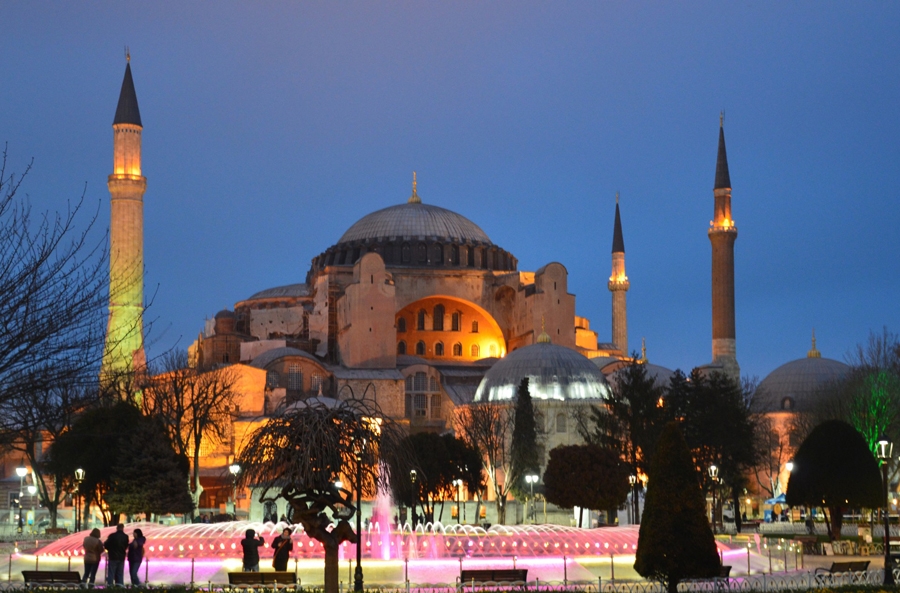 Hagia Sofia - The Royal Couples Gift To The World
Theodora demonstrated in many occasions that she was a strong queen .Once Justinian was thinking of escaping from Constantinople during a major rebellion against his rule, but Theodora advised and inspired him to stay back, fight and suppress the revolt ; which he did. During their rule the boundaries of the empire were increased by bringing new lands into the empire's dominion and prosperity of the people of Constantinople also increased tremendously. Many new improvements were done for the city and it's people. The famous Hagia Sophia made by the royal couple, stands till date as a testimonial of the Great Emperor and his Queen.
Emperor Gaozong and Wu Zetian- Tale Of China's Only Female Emperor (7TH Century AD -China)
"When it comes to love, even the smartest people become stupid"
7th Century AD – China, was under rule of Tang dynasty. The second emperor of the dynasty – Emperor Taizong, one of the greatest emperors in China's history, had many sons and many concubines. This is the story of one of his son – Li Zhi (later emperor Gaozong ) and one of his concubines – Wu Zetian.
Li Zhi, was one of the younger sons of the emperor. There was no chance of him, succeeding his father, as he had neither the capability nor the seniority, to become the next emperor; in fact he was not even a crown prince. As they say, god works in mysterious ways. His senior brothers were trying their best to undermine each other, so they could inherit the empire. This infighting was known to their father, the emperor and he was absolutely disgusted with his elder sons .On the other hand Li Zhi was weak but was very attached to his father or that was the impression he gave .In the last days of his father, he stayed close to him and his constant weeping and sadness, moved the sick emperor and he appointed him, his successor. After his fathers death Li Zhi, took over as the third emperor of Tang dynasty – Emperor Gaozong .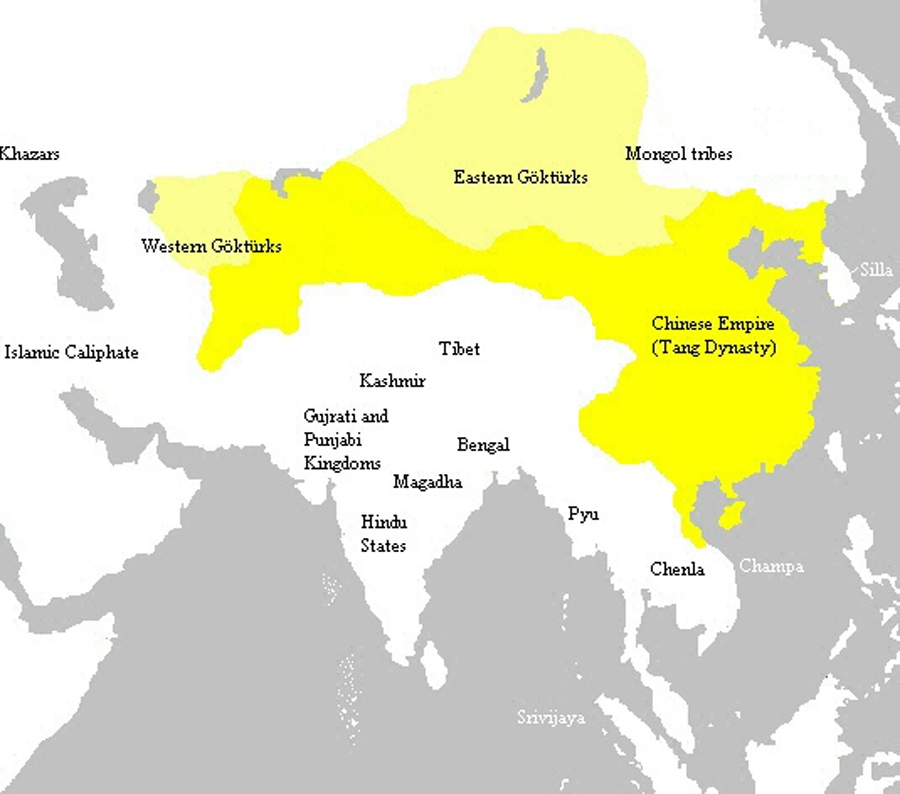 Tang China 669AD
Wu Zetian was born into a rich family and her father encouraged her to pursue her education, which was very rare on those days for Chinese women. When she was taken to be the concubine of emperor Taizong (he had many ), her mother was very sad, but she convinced her mother that everything would work out for the best, showing that from very early age, she had a ambitious streak. During her stay in royal palace, she came into contact with Li Zhi, as one of his father's low ranking concubine. Some believe that their affair started from this point. After death of emperor Taizong, when all the concubines had their head shaved and were shifted to a monastery, to become Buddhist nuns; Wu Zetian stayed back in the palace, with little help from Empress Wang – wife of Emperor Gaozong.
When Li Zhi became the emperor he was already married and his wife was Empress Wang, but he was strongly enamoured by another lady – consort Xiao. Empress Wang was deeply disturbed by this and considered consort Xiao a threat to her position. So after death of Emperor Taizong, when Emperor Gaozong came to power, his wife advised him to take Wu Zetian as his concubine. She believed this will divert the emperor's attention from consort – Xiao. Wu Zetian did not become a Buddhist nun and grew her hair back. In the initial stages she always went out of her way to please Empress Wang, but soon her ambitions, would make her a threat to all those close to the emperor.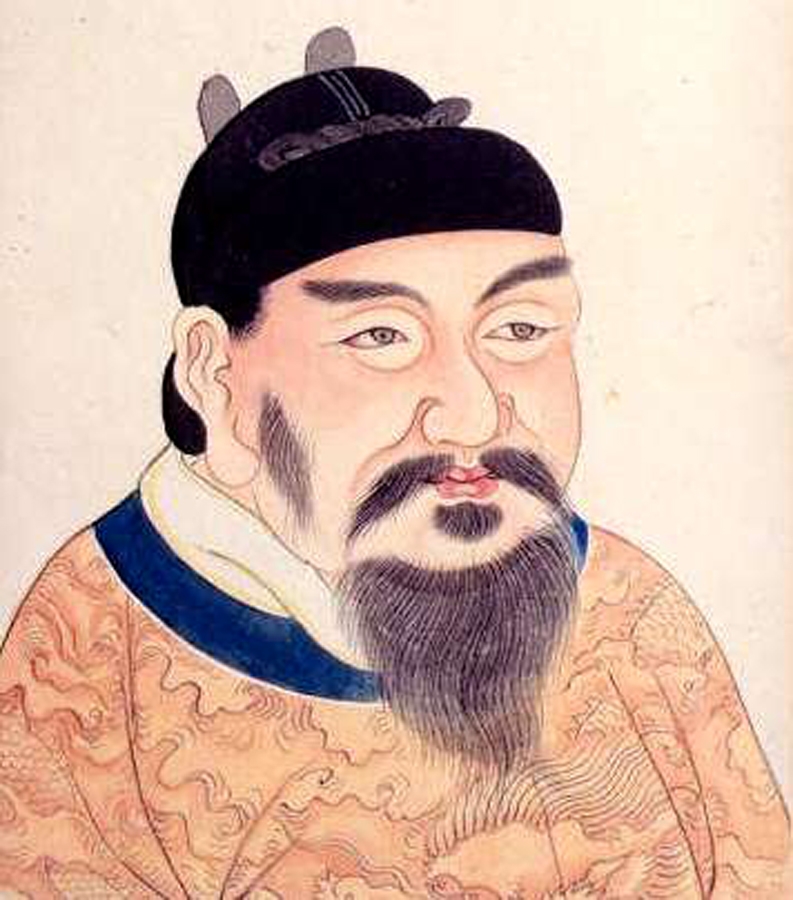 Emperor Gaozong of Tang Dynasty
Within a couple of years, Wu Zetian, had replaced both the Empress Wang and consort – Xiao, as the emperor's most closest person, which created an uneasy alliance between the empress and consort – Xiao, but nothing could decrease the emperor's love for Wu Zetian. Later Wu Zetian gave birth to a daughter, who died in mysterious circumstances. Some believe that Wu Zetian killed her baby herself to implicate the empress for her murder, citing jealousy as the reason. The emperor started to doubt his wife and their relation became worse. After sometime Wu Zetian accused the empress of witch craft and also spread rumours about consort – Xiao. This time the emperor responded by putting empress Wang and consort -Xiao under arrest and declared Wu Zetian the unofficial Empress.
With passage of time, the emperor grew soft on Empress Wang and consort – Xiao and was considering releasing them. But before he could do that, Empress Wang and consort – Xiao were killed on Wu Zetian's order, who by now had become a formidable power to reckon with. Slowly she began to punish all those, who had or were opposing her. Many were executed, some were forced to commit suicide and the rest were demoted or exiled. The Emperor Gaozong was of week personality and stayed sick most of the time, which made Wu Zetian more powerful. The last 23 years of his life, Emperor Gaozong, had little practical importance, as Wu Zetian was the real ruler of China and even after his death, her hold in power continued.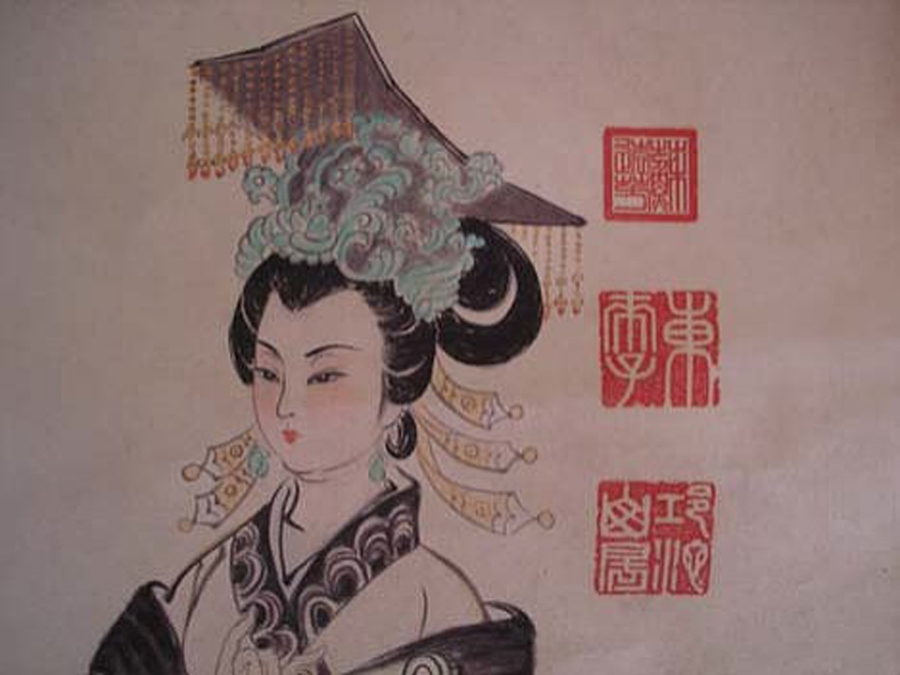 The only crowned female empress in Chinese history, Wu Zetian
Wu Zetian was ruthless, with her own children too, when it came to fulfilling her own ambitions. She was always suspected of killing her baby daughter, after birth, so she could implicate Empress Wang .Next was the turn of her eldest son – crown prince Li Hong, who had became a threat for his mother, in power balance. He was poisoned and killed by his mother. His father was greatly distressed by this death and ordered that his son's final rites should be done, like an emperor. The second son who became emperor after his father's death, was soon sent into exile by his mother, after falsely accusing him of many wrongdoings. She put her youngest and 3rd son into the throne, as a puppet, but just after few years he was forced to abdicate and Wu Zetian as a empress, took powers in her own hand.
At the fag end of her life, many ministers, generals and senior officials revolted against her, by this time she was too sick to do anything .Her exiled son was brought back and reinstated as emperor, but Wu Zetian carried the title of emperor, to her death which happened soon after. Her son buried her, beside his father's burial site.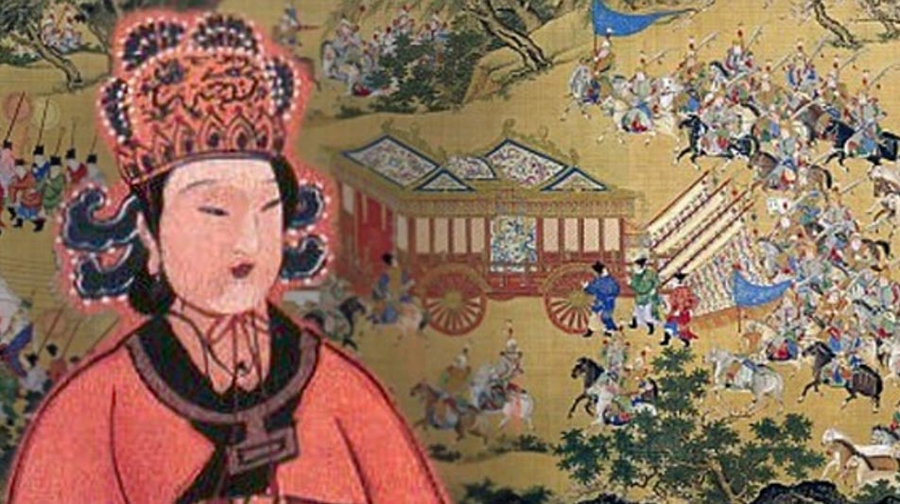 Famous work of art depicting the Chinese emperor's (Wu Zetian's) large procession
Wu Zetian was a very capable administrator and selected the best educated, talented worthy men as officials without any bias .She also allowed commoners and people from weaker sections of society to get into high government posts, which was not allowed previously. Her wish to help the people of lower classes, caused her to become popular with masses. She also reformed the agriculture and taxation system, opened the previously closed Silk Road and improved business .She unified the empire and also increased the boundaries to Central Asia and defeated Tibetan – Western Turk alliance which was creating serious problems for China .But as the only female emperor of China, she stays infamous for the atrocities she committed in her rise to power.
Hernan Cortes and La Malinche- The Slave Who Changed the Destiny of a Nation (16th Century AD- Mexico/Spain)
Hernan Cortes was a Spanish explorer, who began the first phase of colonisation of Americas, for the Spanish. It was him, who was responsible for bringing large part of Mexico under Spanish rule (more specifically- under king of Castile). But this would not have been possible, without the help of La Malinche, who changed the course of Mexican history and remains one of the most controversial person in Mexico, till this day.
She was born in a indigenous tribe of Mexico (that spoke Nahuatl) in a region, which had Aztec ruled valley of Mexico on one side and Mayan state of Yucatan peninsula on another. These were the regional powers as Mexico was not yet under Spanish rule. It is believed that her father died, when she was very young and her mother remarried and had a son. Now an undesirable family member, she was sold to Mayan slave traders .As a slave she was forced to learn Mayan language which proved very useful to her later in life.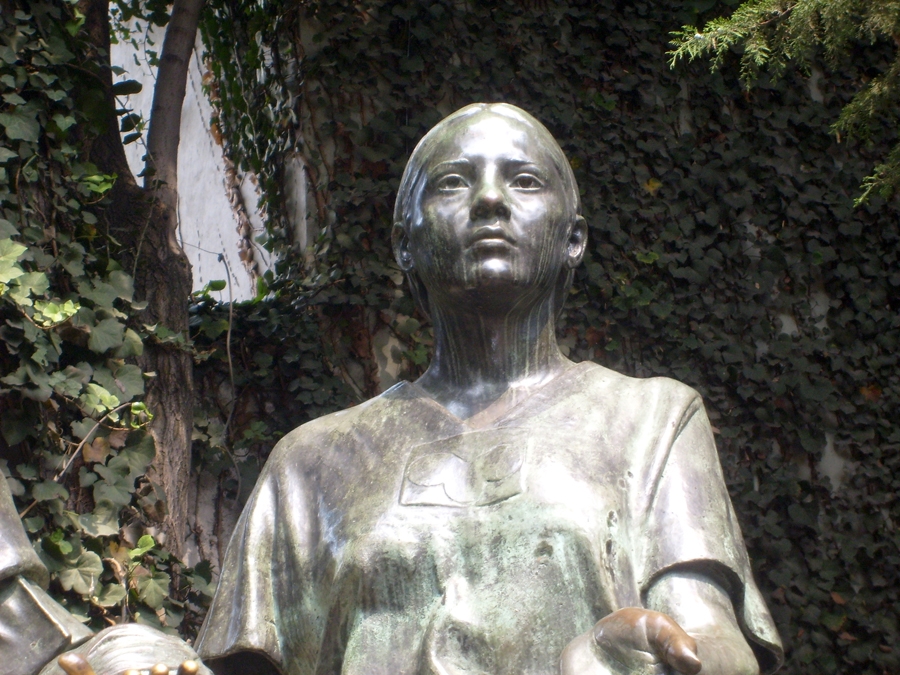 La Malinche statue
The world around her was changing, and soon it would effect not just La Malinche's life but life of all the indigenous people around her. The Spanish had arrived under Hernan Cortes and had already defeated the Chontal Mayan tribe, who as a tribute to the Spaniards, gave them 20 slave women, one of which was La Malinche. The Spaniards made the slaves change their religion to Christianity and La Malinche became Dona Marina.
Soon Hernan Cortes found that she could be very useful as an interpreter, as she could speak two indigenous languages- Mayan and Nahuatl. She was the second interpreter in the Spanish team, the first one was a priest, who had spent several years with the Mayans after a shipwreck. La Malinche would translate, Nahuatl- the language which was spoken in the area, to Mayan & the priest would convert Mayan to Spanish, for Hernan Cortes to understand .This continued till La Malinche/ Dona Marina, learnt Spanish herself, so she could serve as the sole interpreter to Hernan Cortes.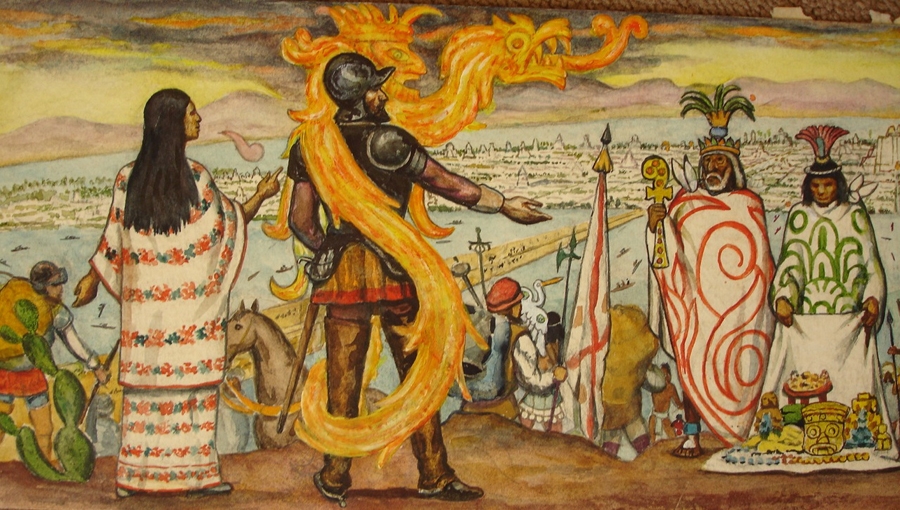 La Malinche with Cortés
The help of this local girl helped the Spaniards tremendously. The tribes of Cholula were planning to join the Aztec tribe to launch an offensive against the Spanish .La Malinche came to know about this and informed Cortes about this. Cortes planned a counter attack, which foiled the attempts of the natives and many indigenous people died.
By this time Cortes had grown very fond of La Malinche and la Malinche soon gave birth to a son – Martin Cortes, who is considered by many to be the first person of mixed race to be born in Mexico (Mestizos). La Malinche accompanied Hernan Cortes in many other expeditions, serving as a interpreter and sometimes also as an advisor. Her verbal and negotiating skills allowed the Spanish to pass through many tribal territories without being attacked. She was a skilled diplomat and helped the Spanish to form alliance with many other indigenous tribes, who were opposed to Aztecs, the most dominating tribe in the region. Thanks to diplomatic skills of La Malinche and help of other tribes very soon the capital of Aztec empire- Tenochtitlan city fell into Spanish hands, who rebuilt it as the modern Mexico city.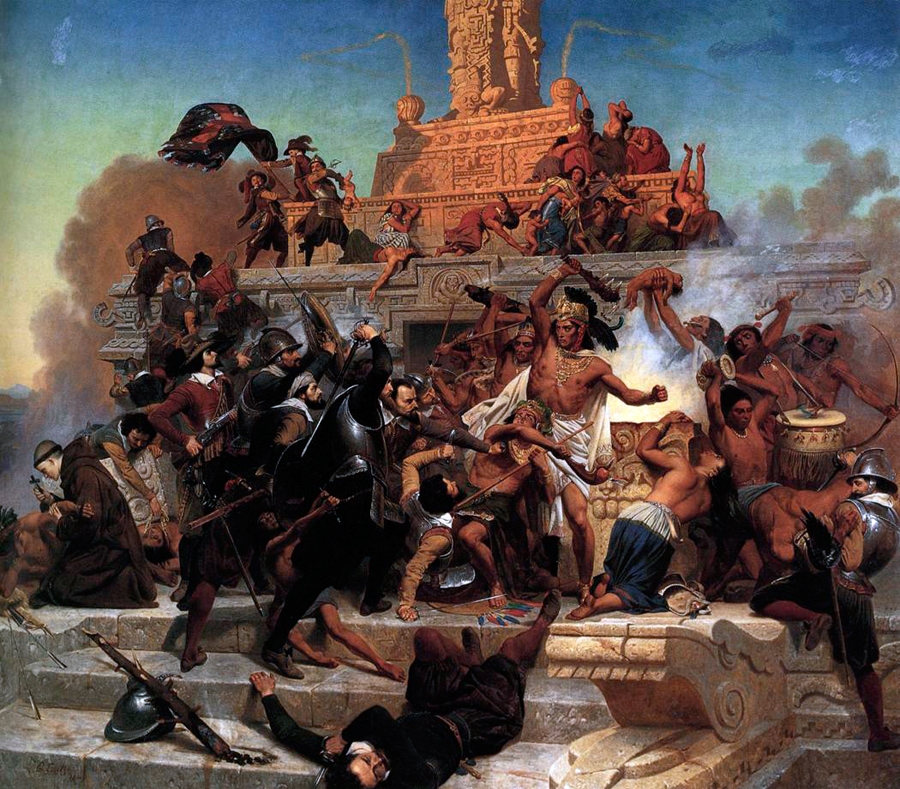 Storming of the Tenochitlan by Cortez and His Troops
Many people believe that without the help of La Malinche, the Spanish would have never been able to conquer Mexico. Her name has become synonymous with treachery and betrayal. Word – Malinchismo & Malinchista, are used to describe Mexicans, who are disloyal & prefer foreign culture and lifestyle instead of their own. There are also people who believe that what la Malinche did was because she had no better option as a slave ; and she is a victim of circumstances and not a traitor .Some also credit her for changing Mexico to the ways of modern world. The religious believe that without La Malinche, there would not have been any Christianity in the new world including Mexico. In spite of the varied feelings, it is no doubt that, never has a person sold into slavery changed the destiny of a nation like she did.
Henry Viii and Anne Boleyn- The King Who Took "Till Death Do Us Part" Very Seriously (16TH Century AD- England)
Anne Boleyn, the future queen of England, was born at the same time as La Malinche in 1501, in a different part of the part of the world. Daughter of nobleman – The Earl of Wilshire, she had the best of upbringing. But somehow her luck was never her strongest point. At least twice her marriage had been fixed ( to Earl of Ormond and to the son of Earl of Northumberland ) but each time it didn't happen, and for no fault of her & instead she became maid of honour to Catherine of Aragon, the first wife of Henry VIII (and also widow of his elder brother), the king of England.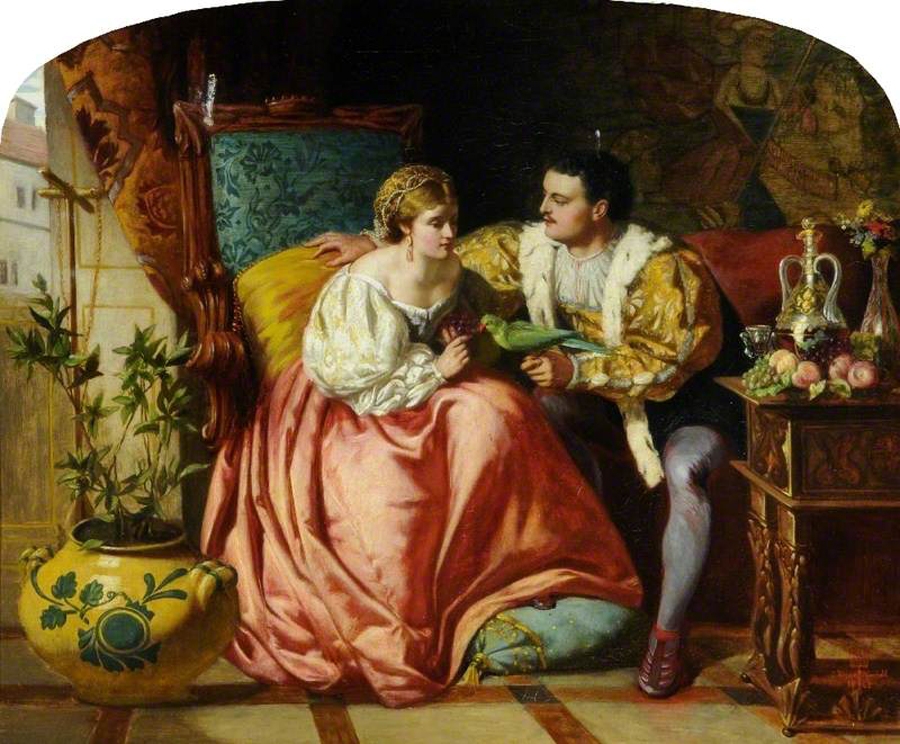 Henry VIII and Anne Boleyn
It is believed that King Henry really loved Queen Catherine a lot, but over time this love began to decrease, when she could not give him a male heir. Under these circumstances, his eyes fell on Anne .Anne knew that the king had many mistress and she didn't want to become one of them .Her elder sister had been a royal mistress, who was discarded and later disgraced, she didn't want to suffer the same fate. When the king realised that the only way he could have Anne was by marriage, he contemplated ways to divorce his queen Catherine. The Pope – Pope Clement VII, refused to annul the marriage.
Henry and Anne married on 25 January 1533 and soon the newly appointed Archbishop of Canterbury declared Henry and Catherine's marriage null and void. The Pope was furious and excommunicated the King and Archbishop. This act forced the king to separate Church of England from papal authority(of Roman catholic church) and he appointed himself the head of Church of England. Anne was declared queen and soon gave birth to a baby girl, who in the future would become the famous Queen Elizabeth I .King Henry was not happy, as he wanted a male heir, to carry on the family's name. Next three pregnancy of Anne ended in miscarriages.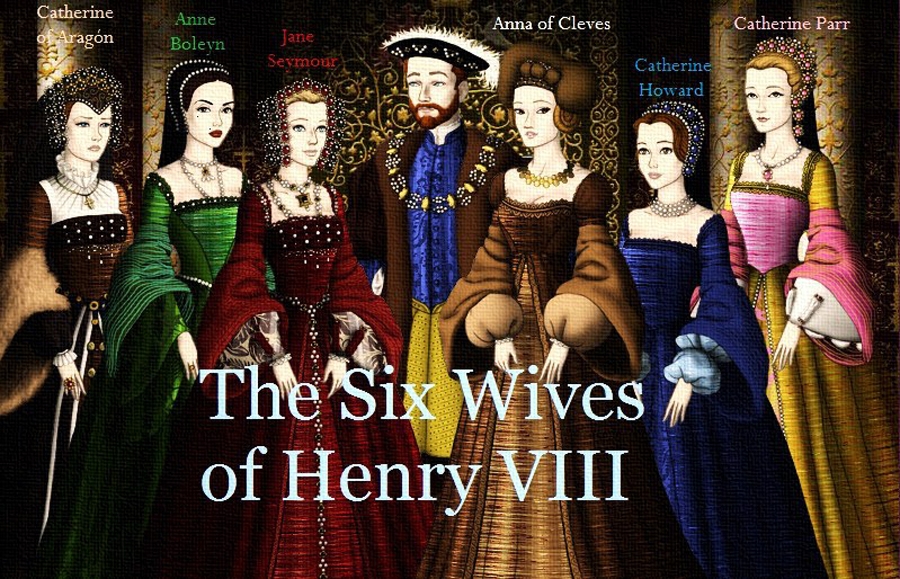 The Six Wives of Henry VIII
The King's disillusionment with the marriage was complete and he wanted to end the marriage, so as to marry someone else (He was courting Jane Seymour). To achieve the mentioned goal, Anne was framed on the false charges of adultery and plotting to kill the king, tried falsely and found guilty. After four days she was beheaded. Modern historians believe that the charges against Anne were fabricated for the sole purpose of King's remarriage, he could not take a new wife, as long as he was married to somebody else. In the end King Henry had six marriages and paradoxically his daughter with Anne Boleyn ,who was declared illegitimate after annulment of her parent's marriage, went on to rule for 44 years, which were considered to be one of best era of England.
Shah Jahan and Mumtaz Mahal and The Story of Taj Mahal (17TH Century AD- India)
Mumtaz Mahal was a daughter of a high ranking Persian nobleman who was an employee of Mughal Empire (The dynasty ruling India in 17th century). Her aunt – Noor Jahan was the chief wife of the Emperor Jahangir and step mother of Shah Jahan. Mumtaz was engaged to Shah Jahan, when she was 14 and he was 15. However the marriage took place five years later, by this time the prince had already married once and had another marriage after marrying Mumtaz Mahal, both of these marriage are believed to be because of political compulsions. Mumtaz was the queen he was closest to and maybe the only one he really loved. Mumtaz was also a trusted advisor and accompanied Shah Jahan even in his military campaigns. She also received maximum money, jewelleries and other allowances compared to other queens.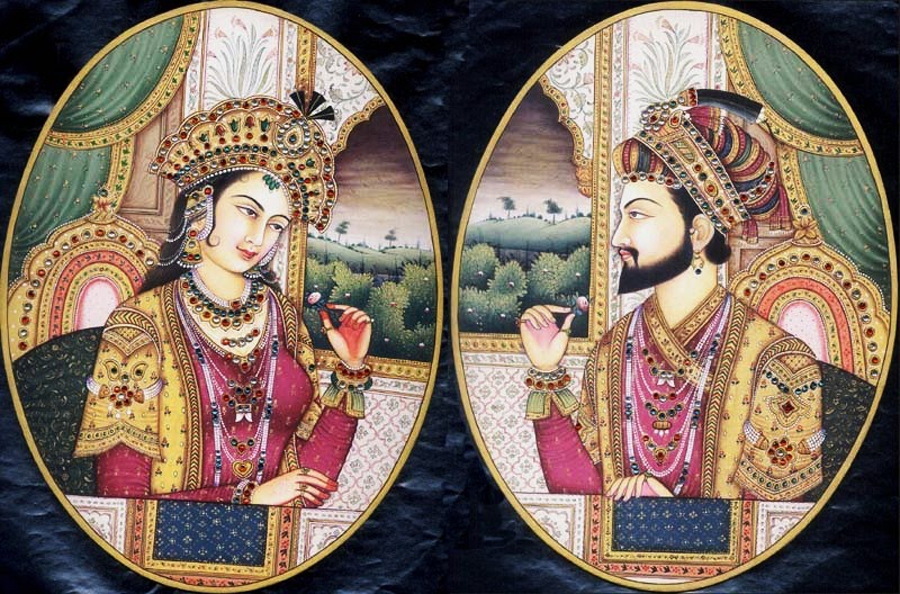 Emperor Shah Jahan and Mumtaz Mahal
It was on a military campaign, on which Mumtaz Mahal was accompanying her husband that, she died of excessive bleeding at the time of giving birth to her 14th child. The emperor was inconsolable at the death of his favourite queen and went into mourning for a year. The dead body of the queen was initially buried in a place, where she had died (called – Burhanpur) but after almost 6 months her body was again exhumed and transported in a golden casket to Agra (a distance of almost 800 kilometres), where the Emperor had his palace. Here the body was again placed in a grave on a suitable location on the bank of river Jamuna and Taj Mahal built over it.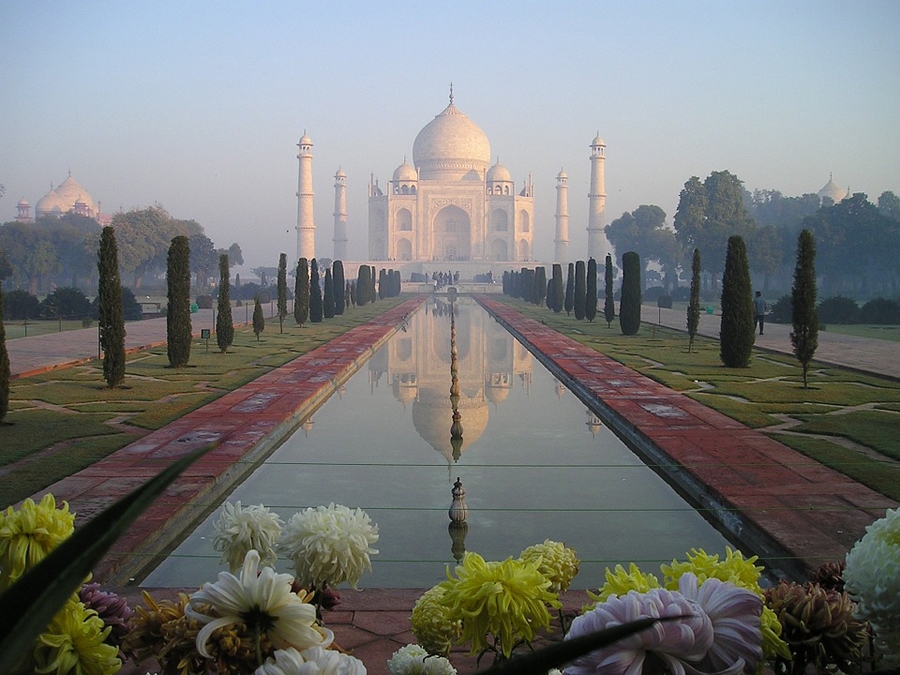 Taj Mahal
The chief architect for building Taj Mahal was – Ustad Ahmad Lahouri, who also designed the Red Fort in Delhi. The materials needed were brought from all across Asia. The white marble from Rajasthan, Turquoise from Tibet, Sapphire from Sri Lanka, Crystal and jade from China, and Lapis lazuli from Afghanistan. The architecture is a combination of Islamic, Indian (Hindu), Persian and Turkish styles and it is believed that 20,000 workers from the mentioned countries, worked with 1000 elephants for 20 years, to build an architectural marvel.
Giuseppe and Anita Garibaldi- Rebels who Changed History of Two Continents (19TH Century AD- Italy/Brazil)
"At the risk of seeming ridiculous, let me say that the true revolutionary is guided by a great feeling of love" - Che Guevara
Two people, two continents, but fate intervened. Giuseppe Garibaldi, was an Italian general and revolutionary, who has been called hero of two worlds – for his military campaigns. Born in the French city of – Nice in 1807, to a family involved in coastal trade, he became a merchant navy captain by the age of 25 years, which forced him to travel extensively. It was during one of these journey's that he met activists, who wanted to unite Italy as one country (Italian was divided into many independent states till then). Garibaldi was very much influenced and joined the movement. But one of such revolution, of which he was part of- failed, which forced him to escape from Europe and he reached, Empire of Brazil in South America.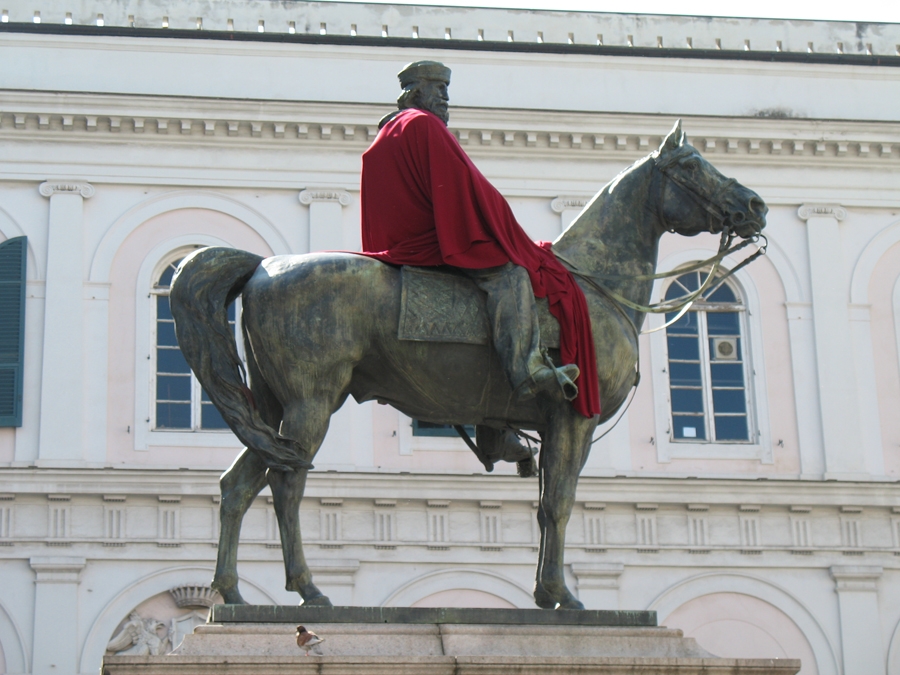 Giuseppe Garibaldis statue in Genoa, Italy
Once in Brazil, he joined the separatist movement of Brazil, in which the southern state of Rio Grande do Sul, had declared itself a separate republic and was in middle of an armed movement for secession. It was during this movement, that he met Ana Ribeiro da Silva or Anita, who would be his future wife.
Anita was from a totally different environment. Born in southern Brazilian state of Santa Catarina, she at the age of 14 years was married to a person, who abandoned her. But fate brought her in touch with Garibaldi, and the two fell in love. Soon she joined Garibaldi in his ship and got involved in fighting the government forces. Unfortunately for them the Brazilian separatist movement ended in a reconciliation between the two sides, after which Garibaldi and Anita, moved to Uruguay, where they got married.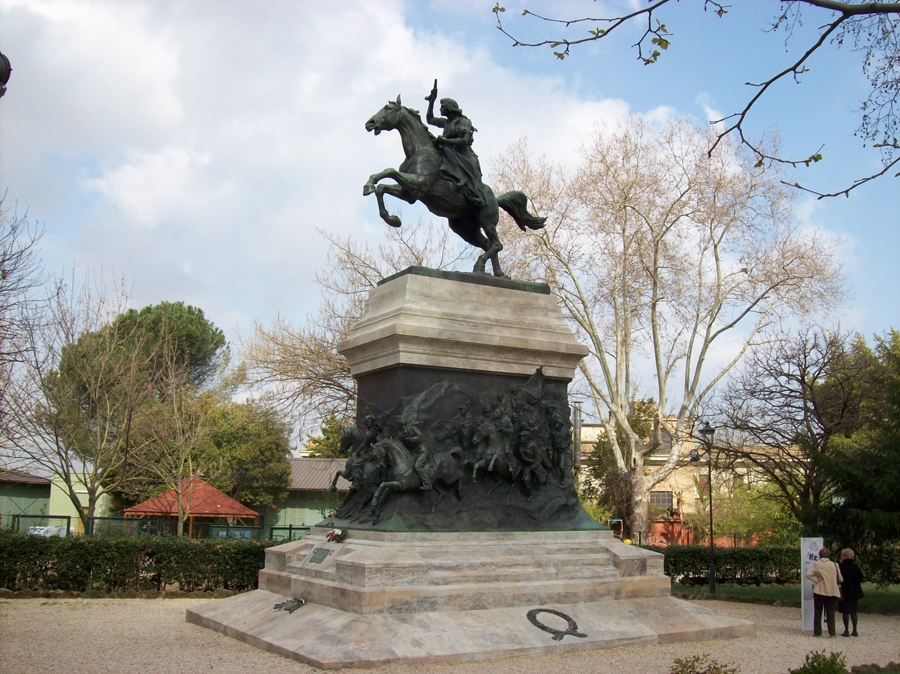 Bronze statue of Anita Garibaldi on the Gianicolo Hill, Rome
They had four children and by this time Garibaldi had taken up the job of a school teacher. Anita was a skilled rider and she taught Garibaldi about the south American cowboy culture. The idealist that Garibaldi was, he soon became a part of Uruguayan civil war in which he raised his own – Italian legion. Throughout these fighting Anita fought alongside of her husband.
By this time, revolution of 1848 in Italian states had started and Garibaldi returned to his home country along with his wife and joined the forces fighting against the Austrian Empire. It was in one of such fights when Garibaldi's army was retreating, that Anita – who was pregnant and sick from Malaria, died .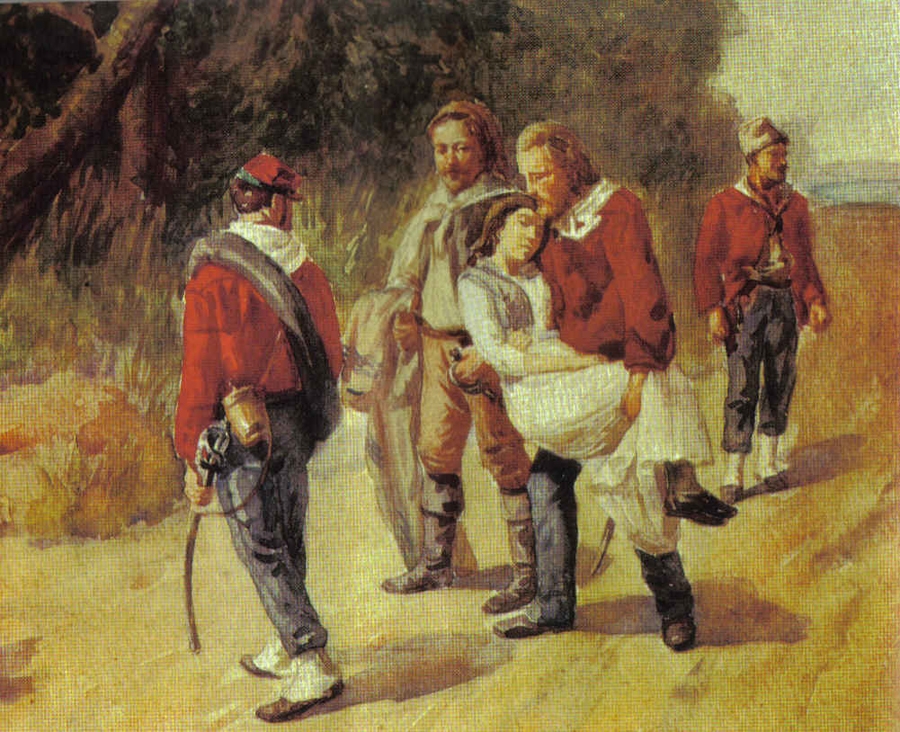 Italian revolutionary Giuseppe Garibaldi and his dying wife Anita Garibaldi fleeing from San Marino in 1849.
Garibaldi was involved in many military campaigns in the future, but Anita's memory always stayed in his heart. Much later when he went to meet, the king of United Italy, he went wearing Anita's scarf. Later on Anita became a national heroin in Brazil and also in Italy, where a statue of her riding a horse, holding her baby in left in left arm and pistol in right hand was inaugurated in Rome by Mussolini. Similar statues of her husband Garibaldi, is also found in many countries like – Italy, Brazil, Argentina, Bulgaria, France, Hungary, Russia, Turkey, Uruguay and USA, proving that some stories live on for ever.
Wallis Simpson and Edward VIII - The Man Who Would Not Be King (20th Century AD- England)
"When love is not madness, It is not love" - Pedro Calderon De La Barca (Spanish poet & writer)
While most people would kill to become a king, but here was a king who gave up his throne for love. Wallis Simpson was an American lady, who faced multitude of problems in her life, starting from childhood. Her father died, when she was just a child. She and her mother got financial help from their wealthier relatives. Her first marriage to a naval officer ended in a divorce. It was during her second marriage to a shipping executive, she met prince Edward, heir apparent to the throne of England, through a mutual friend.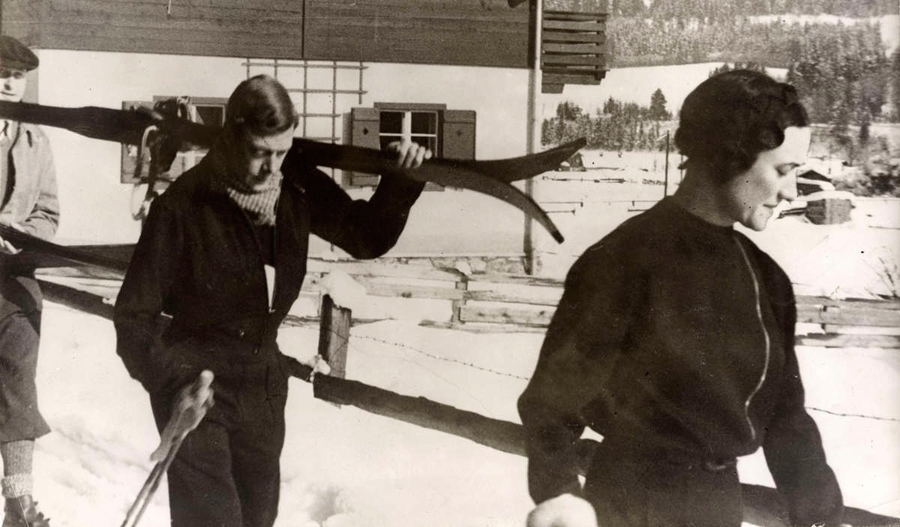 Wallis Simpson and the Prince in 1935
This meeting led to multiple meetings in future and Edward, Prince of Wales, fell head over heels for Wallis Simpson. When the prince introduced her to his family, they were not at all happy. After death of King George V, Edward became the King Edward VIII. Soon Wallis Simpson, divorced her second husband. By this time, the King was thinking of marriage to the love of his life, but the he faced strong opposition from the British Government, Church and his own family, who believed it was not fitting for a King to marry a twice divorced foreigner. This created a highly disturbed situation along with much political and social drama & the King finally decided to abdicate. His brother, the Duke of York ascended the throne as King George VI. Edward married Wallis Simpson after six months and later the couple moved to France and retired from public life.
Tsar Nicholas Ii and Alexandra Feodorovna- Last Royal Couple of Russia (20th Century AD- Russia)
The last empress of Russia -Alexandra Feodorovna was born as a German princes – Alix Viktoria Helene Luise Beatrix. As grand daughter of Queen Victoria of United Kingdom and a beautiful princess, she received many marriage proposals from a young age. One of the proposals she rejected was from her cousin, the son of Prince of Wales, who was also a grandson of Queen Victoria. Even insistence for the marriage, from Queen Victoria herself, was unable to change her mind. The reason was that she had already met and had fallen in love with the crown prince of Russia – Nicholas, during a marriage ceremony between their relatives. Like most royal families of Europe on those days, Nicholas and Alix were distant relatives.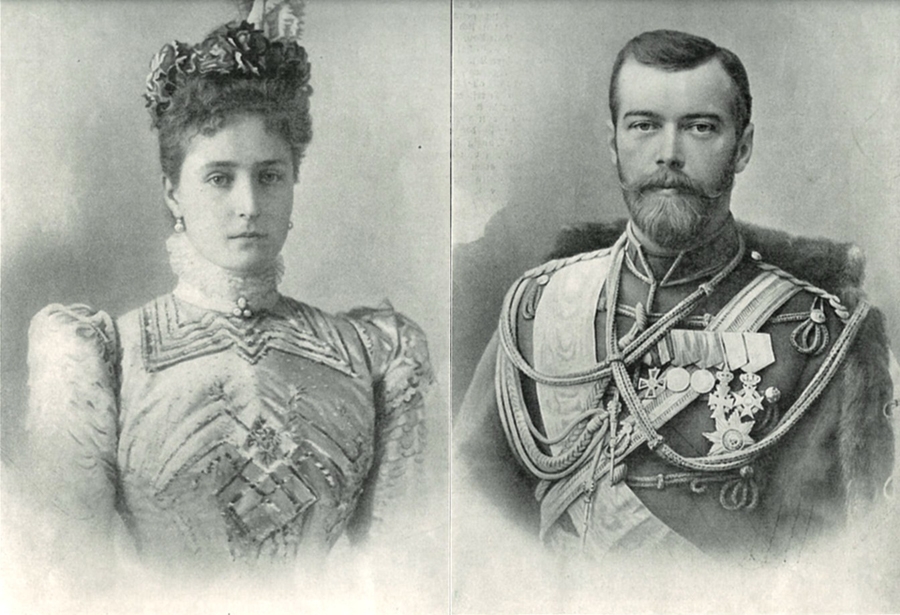 Photo of Empress Alexandra Feodorovna & Tsar Nicholas II
This relation and the idea of marriage was rejected outright by Nicholas's father – Tsar Alexander III, the reigning monarch of Russia, as he was contemplating his son's marriage to a French princess, who he believed was in much higher stature. But the crown prince was not at all thrilled by this idea and was adamant on marrying Alix. Fortunately for the crown prince of Russia, the concerned French princess also resisted this marriage. The Tsar then sent marriage proposal for his son to another princess – Princess Margaret of Prussia. This proposal was again rejected by the concerned prince and the princes of both sides.
The failing health of Tsar Alexander III, forced him to change his stand and give consent to his son for marriage to his chosen partner. After his father's death Nicholas became the new Emperor – Tsar Nicholas II. Few weeks later he married princess Alix, who took the name of Alexandra Feodorovna, the new Empress of Russia.
Empress Alexandra Feodorovna never really adopted to the Russian way of life. Both the elite and ordinary people were sceptical of her because it was widely believed that she did not like Russian culture and was arrogantly superior and disdainful. She herself interacted very less with the people, the cause of which she attributed to her shy nature. When a son was born to her after many daughters, she gave him her full concentration as he suffered from haemophilia (a condition on which blood fails to clot and causes uncontrollable bleeding) .Alexandra's many male relatives had died previously because of it and the knowledge that any fall or cut can kill her son scared her a lot. She did not want anything to happen to the only heir apparent and spent considerable time looking after her son personally. This was another reason for decreasing interaction of the empress with the people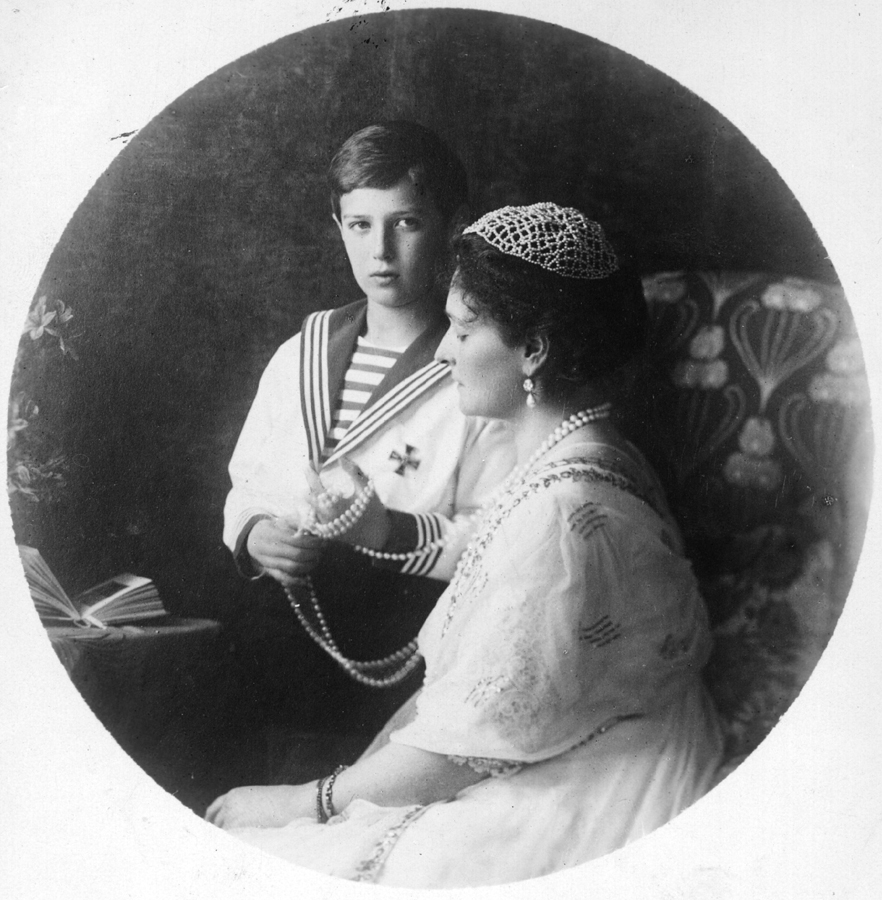 Alexandra Feodorovna with her son
People also believed that the emperor was controlled by his wife, who had a very strong will but very little intelligence. The Tsarina/ Empress terms with her mother in law were also not very cordial, who in turn was appalled by the Tsarina's inability to adapt to Russian customs and people.
One of the person who took advantage of the Tsarina's weakness for her son was Grigori Rasputin, a self proclaimed mystic and holy man. He convinced the Tsarina that he could cure her son of haemophilia, after an incident in 1912, where after following Rasputin's advice severe bleeding of Prince Alexei stopped. It is widely believed that Rasputin just instructed the empress to stop giving Aspirin to the prince, which he was taking.(Some how Rasputin knew that Aspirin increases bleeding)
Rasputin was a very notorious for his debauched lifestyle and he took advantage of the trust, the Royal family had put on him. Rasputin's political power increased tremendously. He committed many wrongdoings, which were ignored, because of support from the Royal couple. These events would finally result in murder of Rasputin in 1916 and would cause real damage to the impression of the Royal family.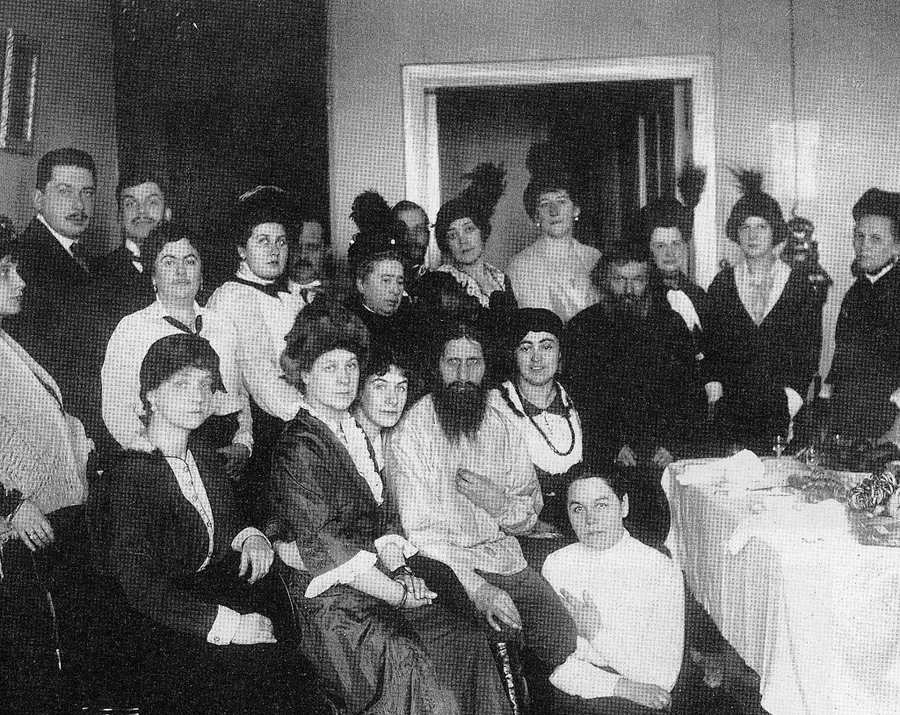 Rasputin and his admirers
The outbreak of first world war, put the Russians and Germans on different sides. Tsarina's Alexandra's German parentage, made the Russian people more distrustful and hateful towards her. Finally the emperor went himself to the frontline to oversee the actions of his Generals and army, the Tsarina Alexandra was left in charge of administration of the capital. The Tsarina had no experience in administration and chose many incompetent officials. The supply of essential goods for the ordinary people inside the country or the soldiers fighting in the battlefront, were never met and Tsarina spent a lot of time, with Rasputin, and many believed that the two were having a affair. People started to believe that the deteriorating condition of the country was done intentionally and she was a German spy, supporting a German cause. Many doubted Rasputin and believed that he controlled the Empress, and the empress in turn controlled the emperor. Many people advised the Tsar and Tsarina to banish Rasputin from the country but their advice fell to deaf ears.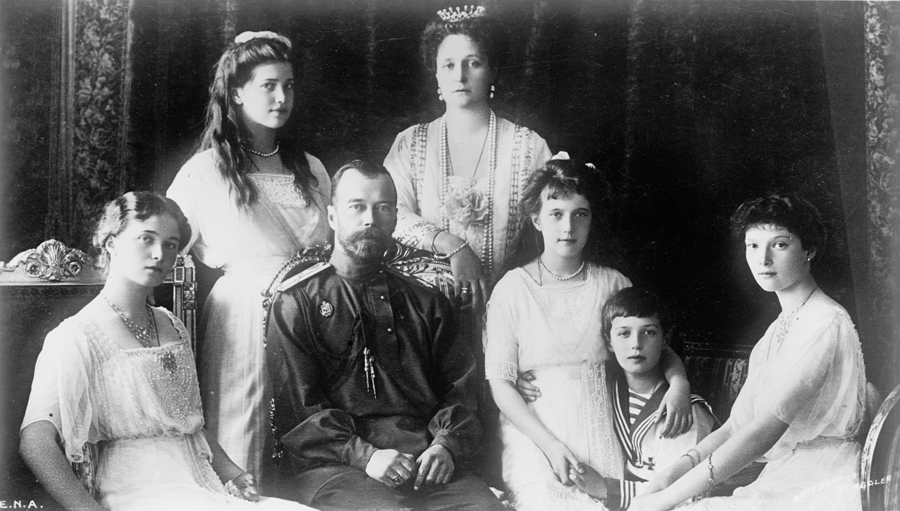 The family of Tsar Nicholas II of Russia
The war had almost destructed the Russian Infrastructure and economy. Millions of men from farming sector and all transport resources had been diverted to the war front. This caused severe food shortage in the country and serious casualties in the war front. People blamed the Tsar for heavy losses in the war and the Tsarina was held responsible for the chaos and misery inside the country and believed to be intentionally causing damage, to help German forces, because of her German parentage. Many capable senior officials were replaced by inefficient people on Rasputin's advice, which angered the people and compounded the losses. Many people died because of famine. All these events were responsible for turning people against the royal family.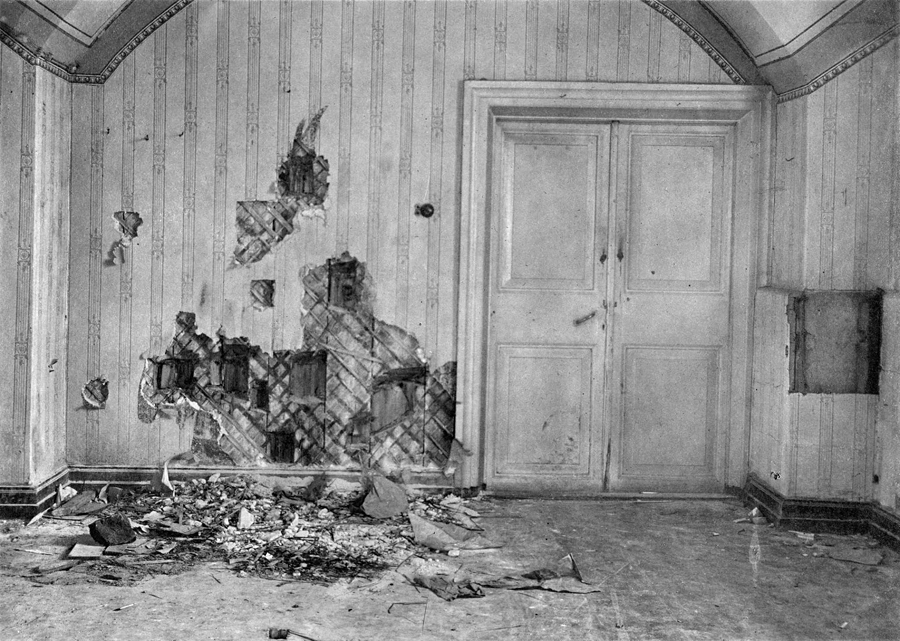 The basement where the Romanov family was killed
The bad news continued with the strike of workers, hungry people demonstrating in the streets, soldiers turned against the Tsar & finally the elected legislature – Duma told the Tsar to abdicate, which he did and the whole family was taken prisoners and put in house arrest by the provisional government. But soon the provisional government would fall to the communists/ Bolsheviks (under the command of Vladimir Lenin), who would take the royal family as their own prisoner. Very soon the whole family, including the children ,would be shot dead. Till date, it remains a controversial and debatable question as who was the main person, who actually gave the final orders to shoot the family.
Vladimir Lenin and Inessa Armand- Love in the Time of Revolution (20th Century AD- Russia /France)
"The heart wants, what it wants" - Woody Allen
Vladimir Lenin – the famous Russian communist revolutionary and politician, would not be exactly the first person to come into your mind, when you think of love. Like most of the communist leaders of that time, his personal life was also be shrouded in secrecy, but truth is always stranger than Fiction.
Inessa Armand was born in Paris, where both of her parents worked in the opera. After his father's death, she was brought to Moscow, where she lived with her aunt and grandmother. When she was nineteen she got married to a rich man, with whom she had four children; but soon she left him, for his younger brother, with whom she had a child, but he also died of tuberculosis. By this time Inessa had developed radical political ideas, after reading -The Development of Capitalism in Russia, a book written by Lenin. She started to actively participate in politics, which had radical socialist views. Russia at this time was ruled by the Tsar and the politics of Inessa, was punishable. She was exiled to Northern Russia, but after a year(1908), she managed to escape to Paris, where she met Vladimir Lenin and other Bolsheviks, who were living in exile. Inessa was immediately attracted to the magnetic personality of Lenin and his revolutionary ideas. Lenin at that time was already married to Nadezhda Krupskaya, who also shared Lenin's passion for communism and other political ideas.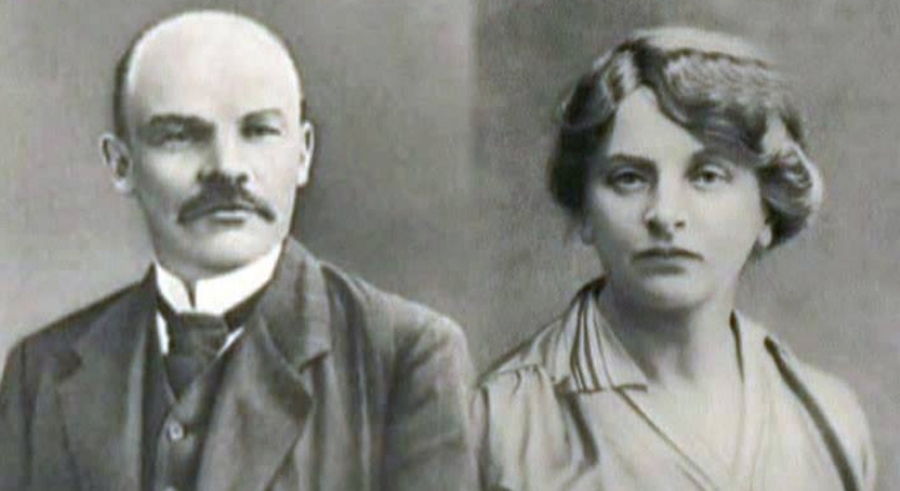 Vladimir Lenin and Inessa Armand
With passage of time Inessa's involvement in political activities and closeness with Lenin began to increase, which soon changed to love. In 1912, she was again sent to Russia, for party related activities. Here she was again imprisoned but managed to get bail and escaped to Galicia, where she stayed with Lenin and his wife. This has led many historians to believe that relation between Inessa Armand and Lenin's wife were very cordial, as for them working together for a common cause was considered more important than jealousy for a personal matter. Lenin trusted Inessa more than anybody else and she was also one of the most hard working and sincere members of the party. Lenin's wife Nadezhda Krupskaya knew it and respected Inessa for it. All three were highly committed to the ideals of revolution and everything else was secondary.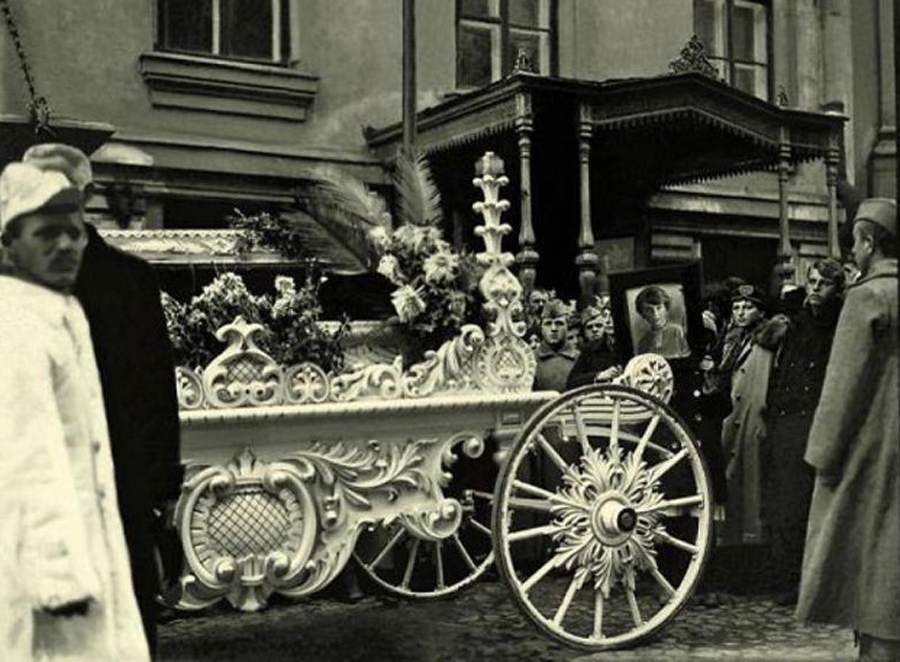 The funeral of Inessa Armand in Moscow
After Tsar Nicholas's abdication of throne, Inessa returned to Russia with Lenin and some other revolutionaries. After the revolution, she became an executive member of Moscow Soviet and also headed Moscow economic council. She also worked for women's right for divorce, abortion, centres for caring of mothers etc. The first International conference of communist women was held in 1920 under Inessa Armand's guidance and supervision. This hectic work schedule along with her previous experiences of imprisonment and exile had taken it's toll on her health; she contacted cholera and died soon after. Lenin was totally devastated by her death and had a state funeral organised for her, a honour which was rarely given to women, in those days. Inessa Armand was buried in Red Square, the first woman to receive this honour.
Richard and Mildred Loving- The Reluctant Rebels & Humble Heroes (20th Century AD- USA)
The story is set in Caroline County, Virginia -USA .A young man and woman fell in love .There is nothing strange in that, but the man was white and the woman was of colour ( Native American descent) , and lived in a place and time, where racial segregation laws were very real. When the man found out that the woman he loved was pregnant, they got married, in Washington D.C. (The year was 1958). For a while nothing wrong happened in Richard and Mildred Loving's life and life went on smoothly – for next 5 weeks.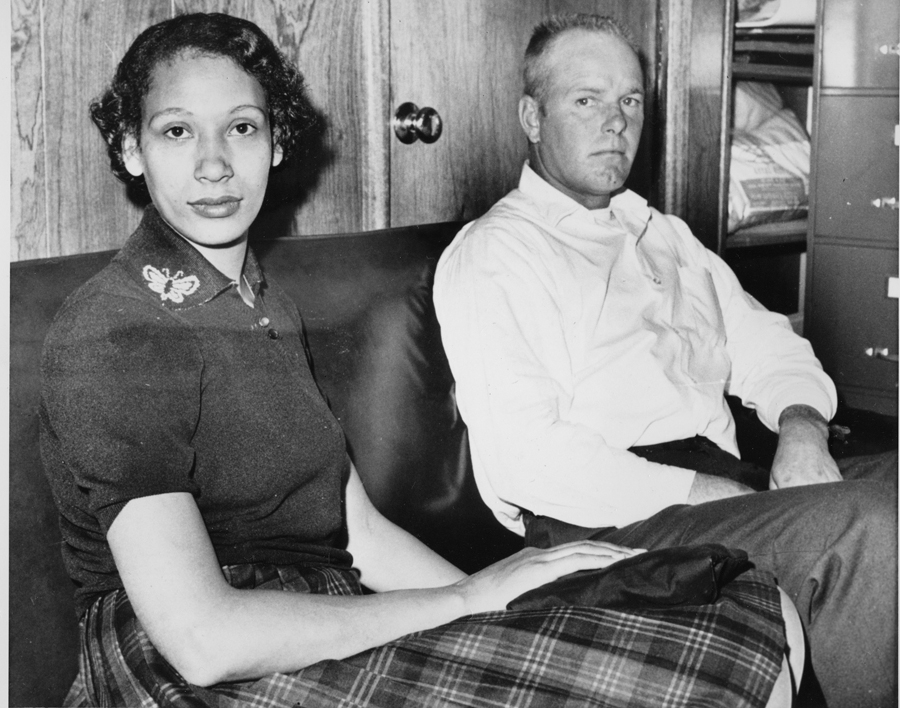 Mildred and Richard Loving
The police came knocking at their door at early morning hours, after an anonymous tip off that the couple had violated the law of the land, the Racial Integrity law of 1924, which forbade people of different races to marry. The law was applicable in more than 20 states of USA including Virginia (but not in Washington, where they got married – and their marriage had legal sanction). They were produced in the court and the judge gave the couple the choice of either going to jail for one year or leave Virginia, for 25 years. Leaving Virginia was a difficult decision for the couple as they had built up their whole life in that place. Finally they decided to leave their family members and friends and everything that they called home, to go to a new place and start life anew .The couple left for Washington D.C. and stayed there for next few years.
In 1964 faced with inability to visit their families in Virginia and other problems like financial difficulties and social isolation, made Mildred Loving write a letter to the Attorney General, describing her situation. This set in motion, a chain of events and finally the fight went all the way to Supreme Court. On 12 June, 1967 – the original decision was overturned by the Supreme Court. The decision would affect the racial discrimination laws in many other states, which would be changed.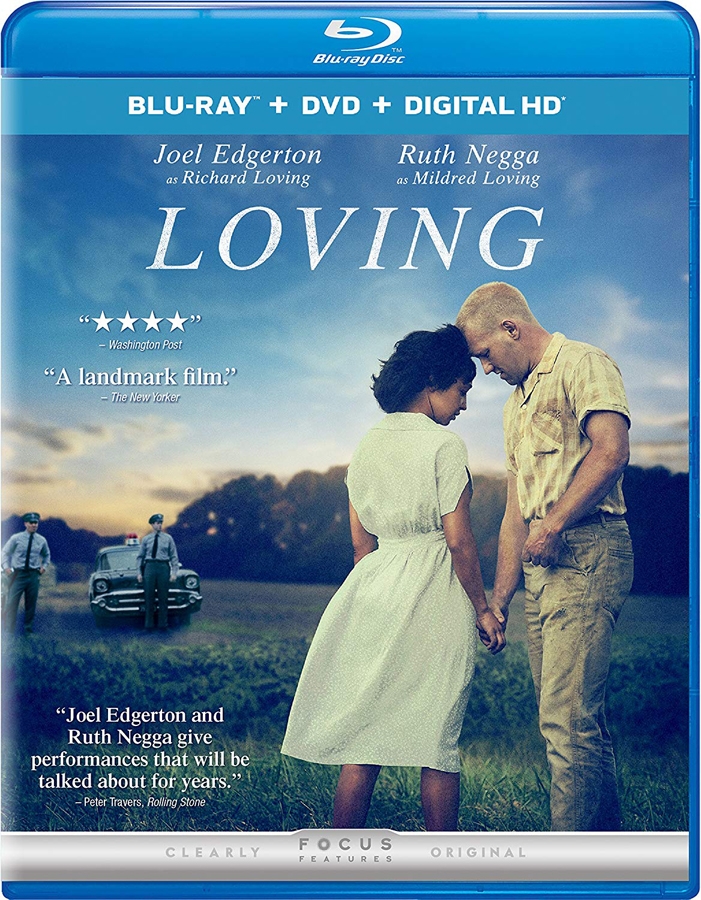 The movie based on the couple's life
In spite of all the felicitations, the couple remained humble. Richard told Time Magazine in 1966, that what ever he did, was not because somebody had to do it, but because they wanted to live together as man and wife in Virginia. Richard died in an accident in 1975, and Mildred lost her sight in right eye (but lived till 2008), but their legacy, which gave the country a new vision, would live on for ever.
Bonnie and Clyde- Gone but not Forgotten (20th Century AD- USA)
Bonnie Parker and Clyde Barrow, the two young Texan couple who would go down in history as the most romanticized criminals of 20th century, can be best described by the epitaph on Clyde Barrow's tombstone – "Gone But Not forgotten."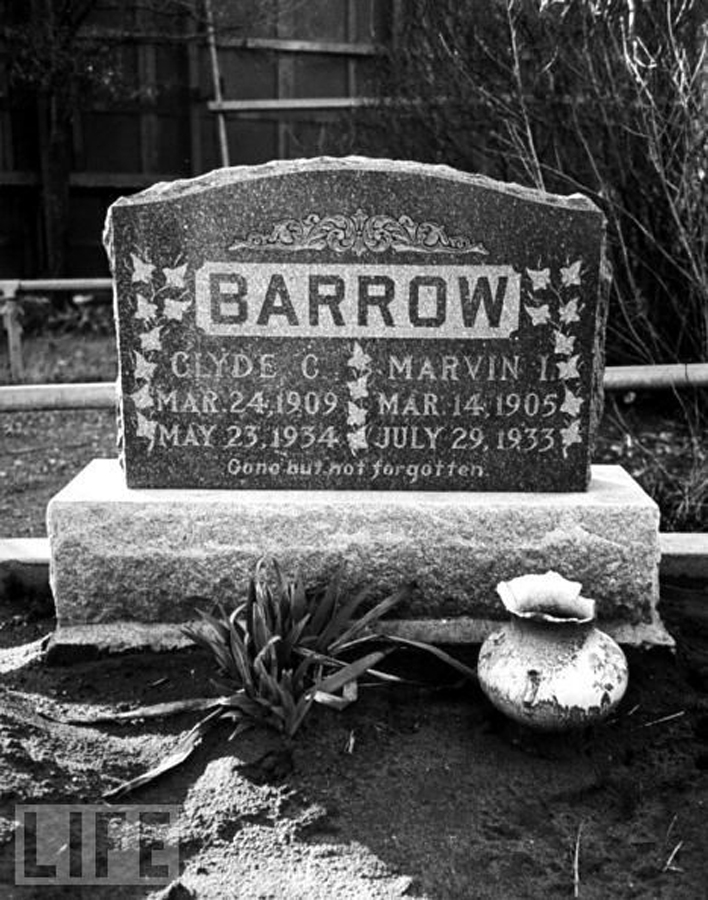 Epitaph of Clyde Barrow - Gone but not Forgotten
Bonnie Parker was just four when her father died .Her mother's job as a seamstress, did not exactly give her a very comfortable life. So in high school (and being only of 16 years of age), she married another student (September 1926) hoping to get a better life. But unfortunately the man she married was a criminal, and their marriage would soon collapse because of his drunkenness, physical abuse, regular absence and imprisonment. The only remaining sign of this marriage, would be the wedding ring, which would stay with her, till the day of her death.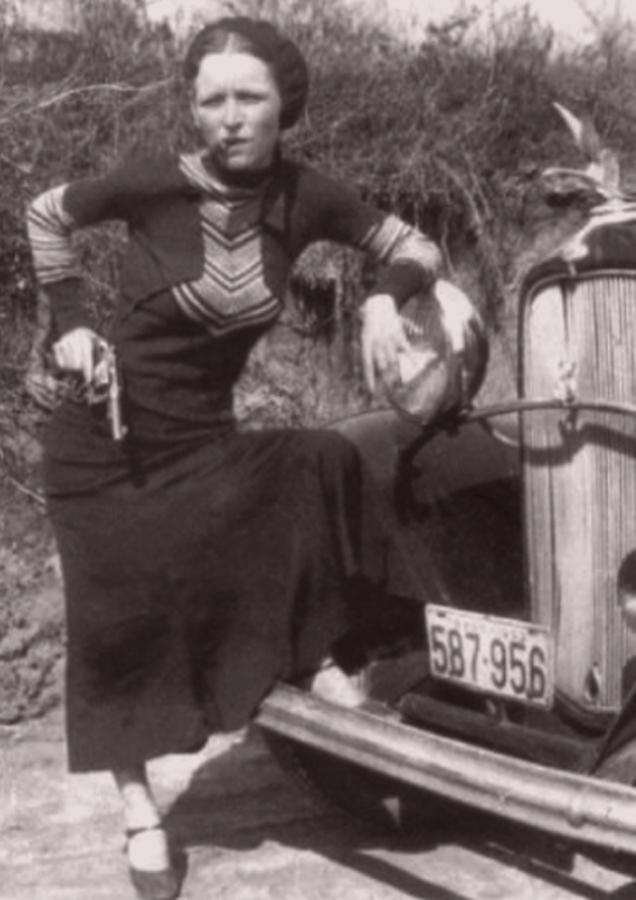 Bonnie Parker1933
Clyde Barrow was the fifth of seven children in a poor family. His first brush with the law was in 1926 when he failed to return a rental car in time. His second arrest would also would be for something as elementary as stealing a truckloads of turkeys. Soon he graduated to stealing cars and robbing stores. It was during this time that Clyde met Bonnie for the first time in a mutual friend's house and it was a love in first sight for both of them.
But the crime spree of Clyde continued and he was arrested many times. For his actions he soon landed in Eastham prison farm, where he killed a man for the first time, by hitting him with a lead pipe to crush his skull. The reason for this was quite understandable – as this man used to sexually abuse Clyde Barrow. In Feb 1932, he was granted parole and came out of prison.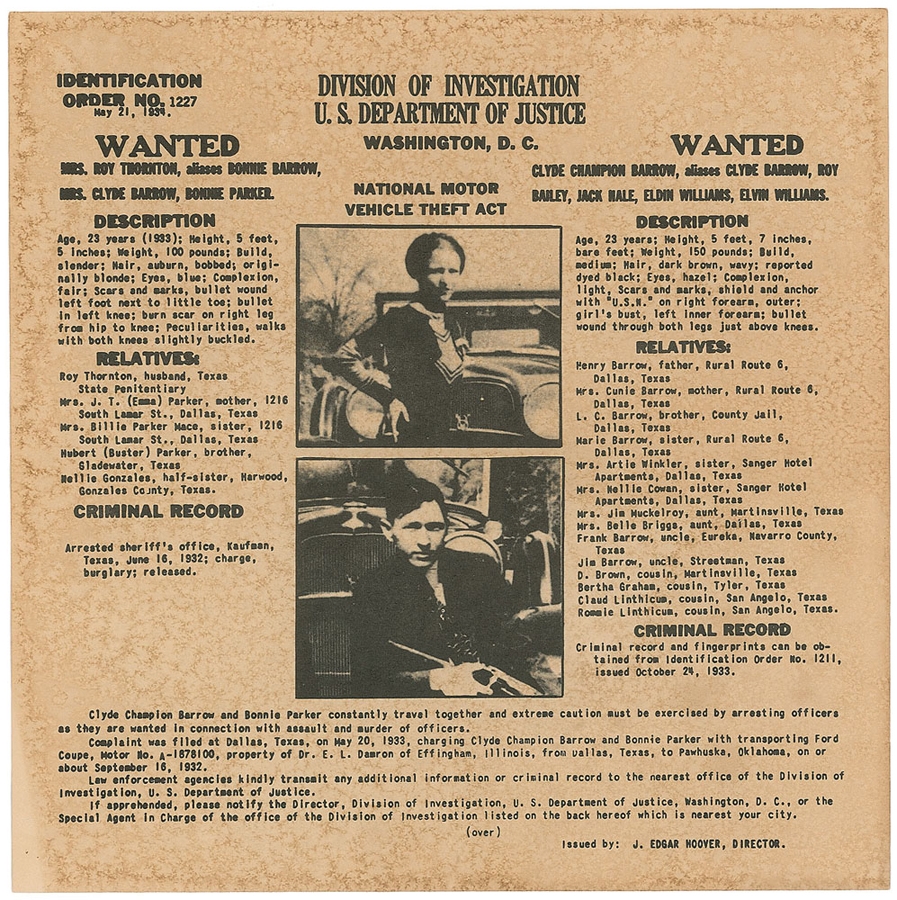 Bonnie & Clyde wanted poster,1934
Most of the people who were close to him believed he was no longer the same person, when he got out. His activities as a criminal became more bolder and smarter. It was during this time that he started to form his own gang and Bonnie Parker joined him. Soon their gang achieved notoriety because of looting grocery stores, gas stations, banks and stealing cars. Many innocent people got killed and that included many lawmen, many of whom died in shootout with the gang members. Their ruthless killing of all persons, who crossed their way caused the public opinion to go against them. Soon the whole government machinery was mobilised to get Bonnie and Clyde dead or alive.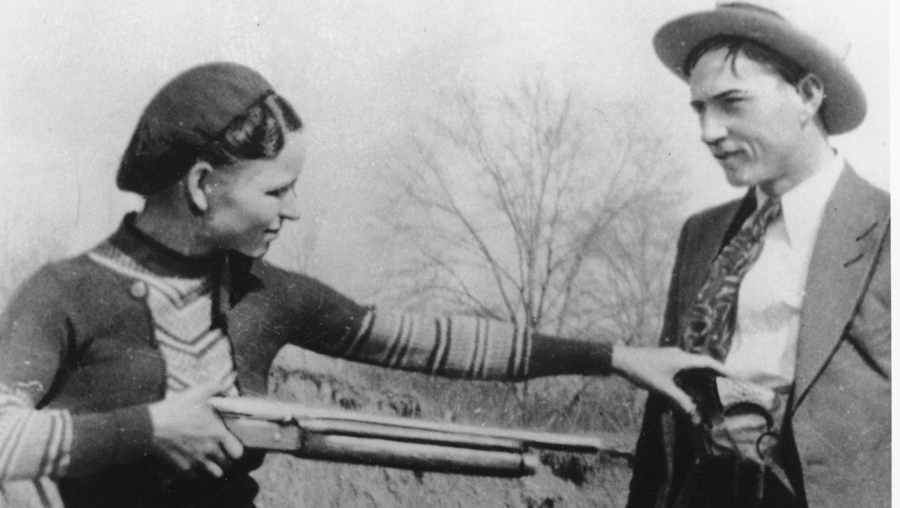 Bonnie playfully points a shotgun at Clyde
Bonnie and Clyde were ambushed on May 23, 1934; while they were going in a car and the police personal involved emptied all their arms, which included automatic rifles, shot guns and pistols. The noise produced by this was so loud that, the police officers later suffered from temporary deafness. Post- mortem examinations revealed that Bonnie and Clyde were shot more than fifty times each.
HD Darby a young undertaker ,was kidnapped by the Barrow gang previously, while stealing his car. Bonnie Parker had laughed, when she came to know about Darby's profession. She remarked –" Maybe someday you would be working on our dead bodies". They gave Darby 5 Dollars and allowed him to leave. As fate would have it, Darby indeed assisted in embalming the bodies of the outlaws after their death.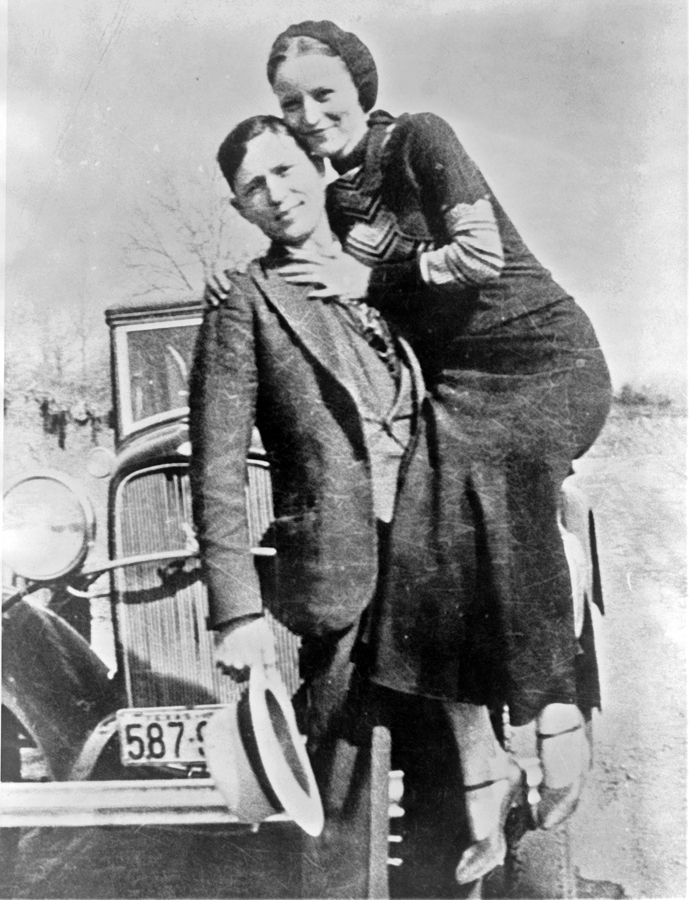 Bonnie and Clyde
Bonnie and Clyde's life may have been romanticised in many movies, plays & other stories but the truth is, the real life which they had was tough and uneasy life, filled with robberies, murder and narrow escapes. Clyde Barrow was deeply interested in music and could play the Guitar and saxophone really well and was believed at one point that he may take up a career in Music.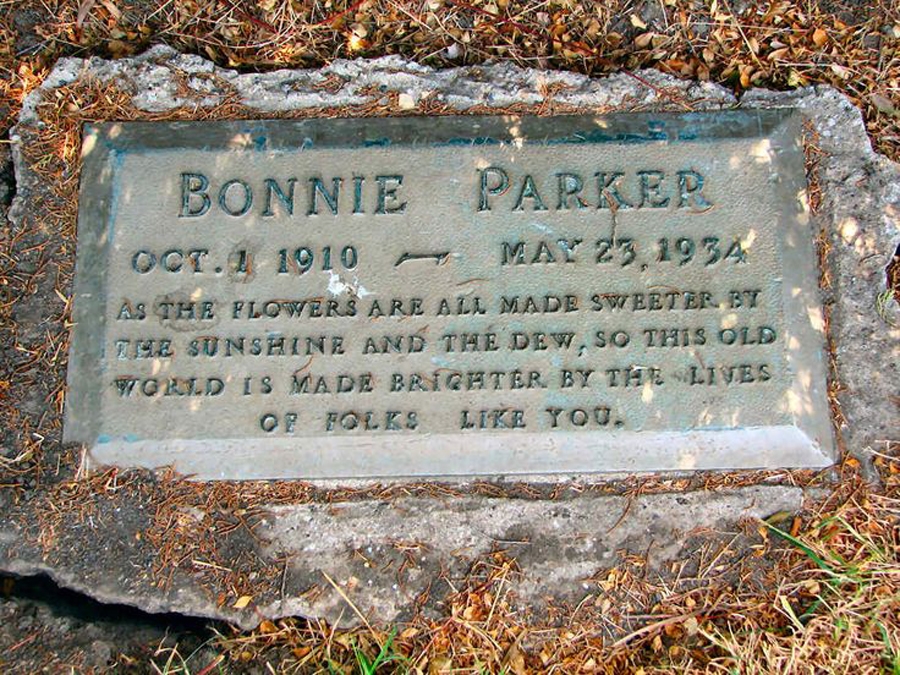 Epitaph of Bonnie Parker
Bonnie Parker was also interested in Music, Plays and Movies and used to write poetry. She had told her friend's that one day she will be famous. Their interest in fine arts did not even decrease, even after taking up a life in crime. In the ambushed death car, in which they were shot dead, a saxophone was found. Bonnie always realised that one day the law would catch up with them. This is reflected by her autobiographical poem "The End of the Line", which she gave to her mother two weeks before her death, which reads --
They do not think they are too smart or desperate, They know the law always wins;
They have been shot at before, But they do not ignore that death is the wages of sin.
Some day they will go down together ; And they will bury them side by side ,
To few it will be grief – To the law a relief – But it is death for Bonnie and Clyde .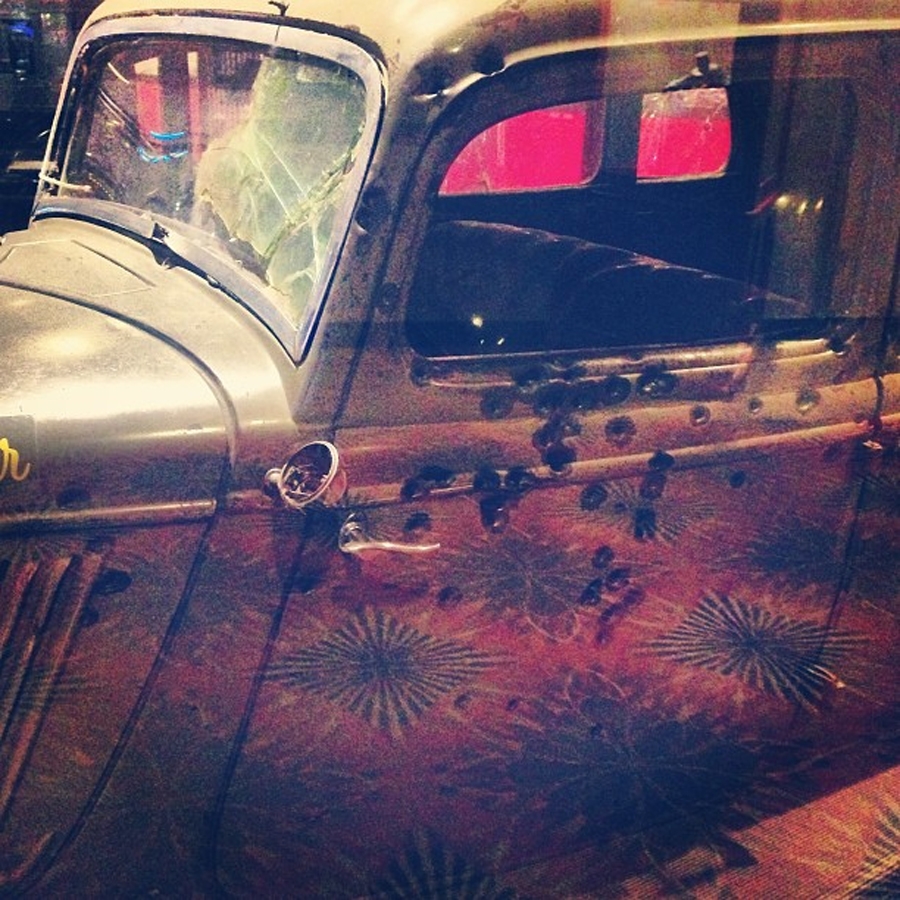 The original Bonnie and Clyde death car