How to Prepare Dalma - The Popular Dish of Eastern India
March 12, 2019
Admin
5 min.
Lifestyle
---
Dalma is a food preparation, prepared from Dal (Pulses), which may be of either the Arhar variety or it may be Moong Dal. For a big population of Indians who are strictly vegetarian, this dish provides the best balance between taste and nourishment. Though popular throughout the length and breadth of India, its origin can be traced to the eastern state of Orissa, which gave this cherished dish.
The Historical Origin of Dalma
The eastern state of India - Orissa, which is well known for its culture and handicrafts, has also contributed many unique recipes for cooking - Dalma being one of them. The story started in 11th century when the king of Orissa created the lofty temple of Lord Jagannatha. As a devotee of Lord Vishnu, the king was overjoyed when the temple was completed and started to offer bhog (food offering to gods) as a sign of love and devotion. The king was a vegetarian and decided to offer only vegetarian food to god, as is the common Hindu religious custom. Even onion, garlic, tomatoes and chillies were excluded from this offering.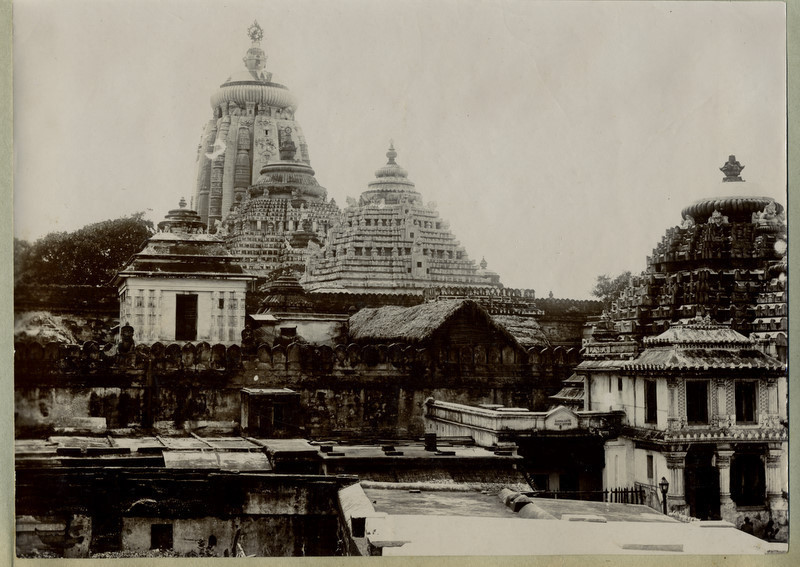 Recipe for Dalma originated in Jagannath Temple, Puri, India.
Dalma was an integral part of offering to god, which soon became very popular with the masses and people started to make this food preparation in their own home too. Slowly popularity of this food preparation began to spread to surrounding states, where people adapted it according to their own taste and availability of local ingredients. In neighbouring state of West Bengal, this preparation has evolved into a dish called as Dalchanna. In southern India, it got modified according to local taste and is taken as Samber. Similarly, different varieties of this food have evolved in different parts of the country and are known by different name.
Recipe for Dalma Preparation
Ingredients for Dalma Preparation
A) Dal (Pulses)
Arhar Dal or Moong Dal – 200gms
B) Vegetables
Brinjal – 1 Medium size
Drum Stick – 3 Big size
Beans – 100 gm
Carrot – 2 pieces
Sweet potato – 2 pieces
Pumpkin – 100 gm
Ginger – 50 gm
Grated Coconut – ½ portion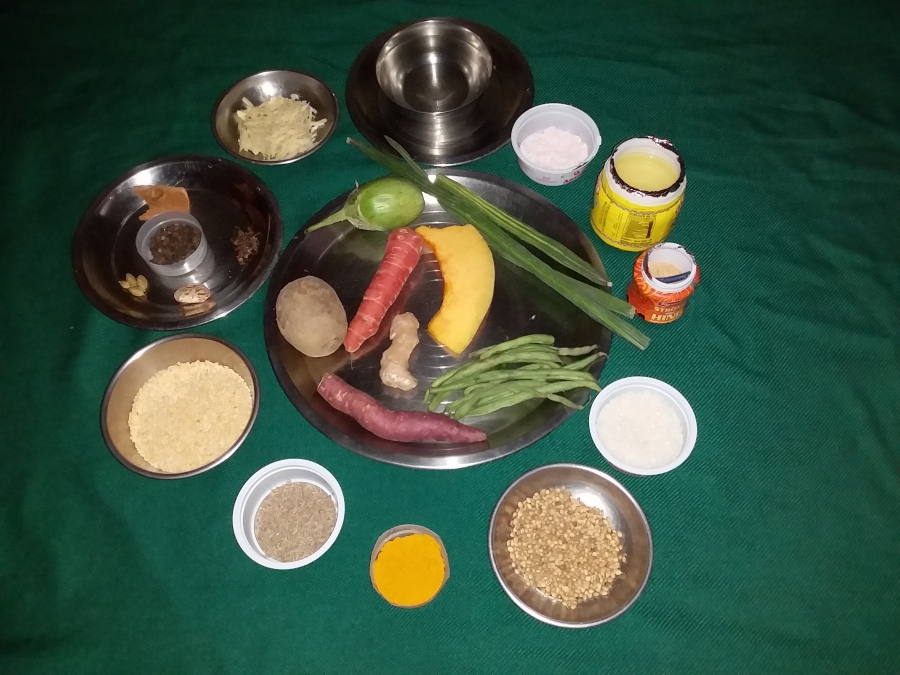 The Ingredients
C) Masala
Cumin -10 gm (5 gm for making masala and 5 gm for Tarka)
Coriander – 10 gm
Black pepper -5 gm
Green Cardamom - 3 or 4 in number
Cinnamon – 1 medium sized stick
Clove – 4 to 5 in number
Nutmeg – ½ of 1 seed
Turmeric powder – 1 teaspoon
Salt – 1 teaspoon (can be changed as per requirement)
Sugar or Jaggery – 10 gm
Asafetida (Hing in Hindi) - -1/4 teaspoon
D) Ghee
Ghee for Tarka – 100 gm (of good quality)
Procedure of Dalma Preparation
The Dal (Pulses) are washed and then boiled with ½ litre of water. Grated Coconut, turmeric powder and salt are added to it. Extra water is added if required, to ensure that boiling occurs properly. Once that is completed, all the vegetables mentioned previously are cut into small pieces and added to the boiled gravy (except for brinjal and pumpkin, which are added later- as these melts very fast after boiling, which occurs in very little time compared to other vegetables). Once all the vegetables are boiled, then only pumpkin and brinjal are added to the mixture, and as mentioned previously, these two vegetables get boiled very fast.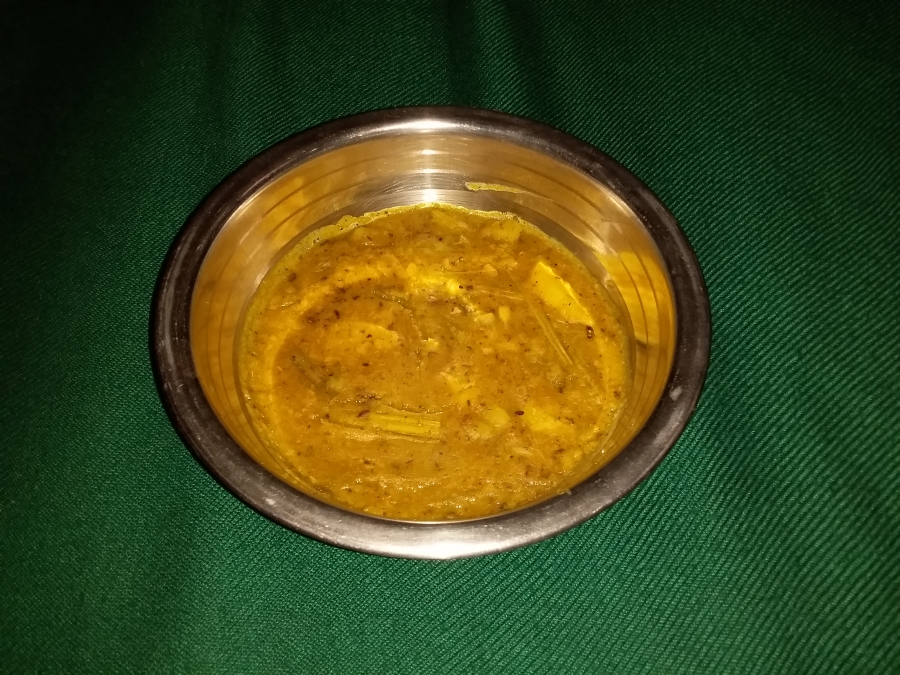 The Final dish
Now the Dal mixture is taken off from the oven and kept aside. In a dry pot all the previously mentioned ingredients for making masala are taken (except Hing, Sugar/ Jaggery and Salt - as these would be used later) and put on a hot oven for roasting. Once roasted, a coarse powder is made out of it by using a grinder. Later a karahi is put on a burning oven and good quality ghee is put on it. When it gets warm, ½ teaspoon raw cumin seeds, grated ginger and Hing are added to it. Next the roasted masala powder, sugar/ jaggery are added to the previous dal mixture thoroughly. The consistency of this final product is semi solid. The Dalma is now ready to be served hot.
(Disclaimer - The recipe for Dalma has undergone many different modifications, in different parts of the country. So many different methods for preparation of this dish is present, which may be a bit different than what is mentioned above.)
---
( DECLARATION - All the images used in this site, are either from personal collection, or are images available in Public Domain. The owner of this website is grateful to all those, who donated their images to – Wikipedia, Wikimedia, Flickr, Deviant Art, Pinterest, Pixabay and all other sites; for free use, as images in Public Domain.)