Indian Cooking For Beginners; Try Making Khichri At Home
September 21, 2018
Admin
15 min
Lifestyle
---
(This article is for all those, who love Indian foods and cooking)
Well, if you are in a new city and do not have someone in home to cook for you and are tired of paying a big amount of money to restaurants ; then it may be a good time for you to learn cooking. Try something very basic in nature, which can be prepared fast and without much Hussle. If you are Indian, the food which first comes to mind is Khichdi.
There are many varieties of khichri, among the many varieties present, let's look at the variety called BHUNI KHICHRI. It is very tasty and easy to make.
Bhuni Khichri
Preparation time – 20 minutes
Cooking time – 20 minutes
Ingredients
Masoor Dal (Washed) --- 1 cup
Raw Rice – 2 cup
Cauliflower --- 5/6 cloves
Carrot ---- 1 (Medium sized)
Green peas --- 100 gms (1/2 cup)
Green Chilli --- 1
Tomato --- 1 large size
Coriander leaves –Few
Potato --- 2 (Large Sizes )
Beans/ Seem ---50 gms (approx. 7 to 8 in number)
Onion – 2 (Big size)
Garlic – 5/6 clove
Ginger – 20 gms (approx. )
Turmeric Powder – ½ teaspoon
Coriander Powder – 2 teaspoon
Cumin Powder – 1 teaspoon
Salt --- ¾ teaspoon
Cumin seeds (Jeera) – 1teapsoon
White cooking oil – 4/5 table spoon
Water ---1 litre
Ghee – 2 to 3 teaspoon
Dry red chilli-- 1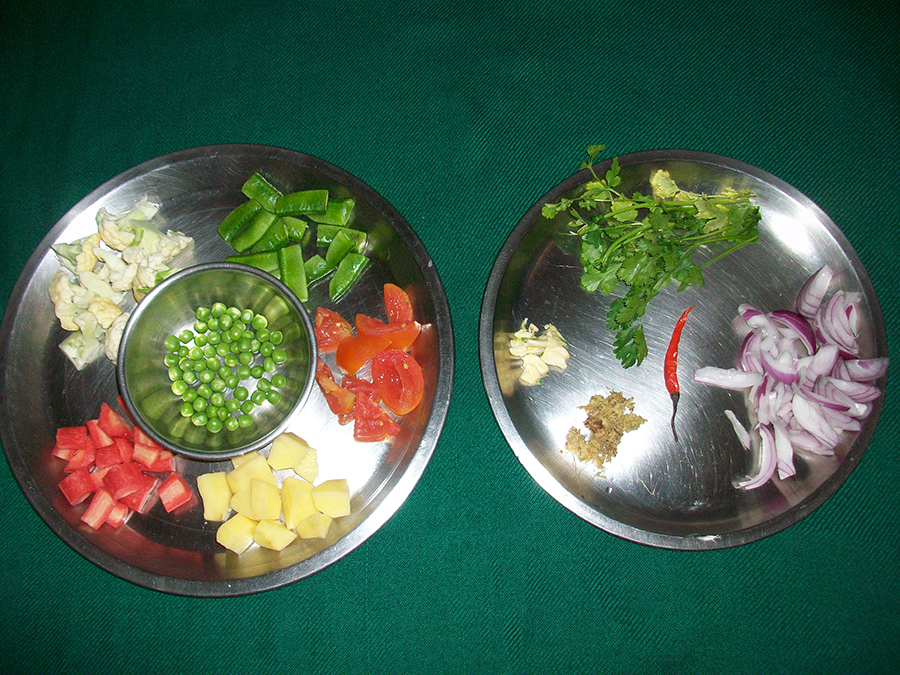 Ingredients
Procdure / Method:
1) Cut onion in little pieces. Grate ginger and peel out the garlic & crush. Cut all the the vegetables in medium size.
2) Now in a cooker or in any container, para boil (half boil ) the dal with salt. Now in another vessel put oil and heat it. When it becomes hot, then add all the vegetables except tomato and coriander leaves in it & fry a little bit. Stir constantly. Now add turmeric powder, coriander powder & cumin powder one by one and fry in low flame. When the smell of fried vegetables starts rising, then transfer the container from the oven & keep it aside.
3) Again put the cooker /container with the parboil dal on oven and add rice to it. Add appropriate water, as mentioned before and salt (according to taste) and let it boil. When it starts to almost boil, then add fried vegetables and tomatoes in it and again boil till all the vegetables and rice and dal are properly cooked.
4) Now In a container, put the ghee and let it get warm on the oven, by heating.Add cumin seeds and red chilli in it. When it start popping(or cracking), then immediately put this mixture in the khichri and stir the khichri nicely. Add coriander leaves in it & again stir and cover the lid of container. Let it be like that for 15 to 20 minutes and then serve hot.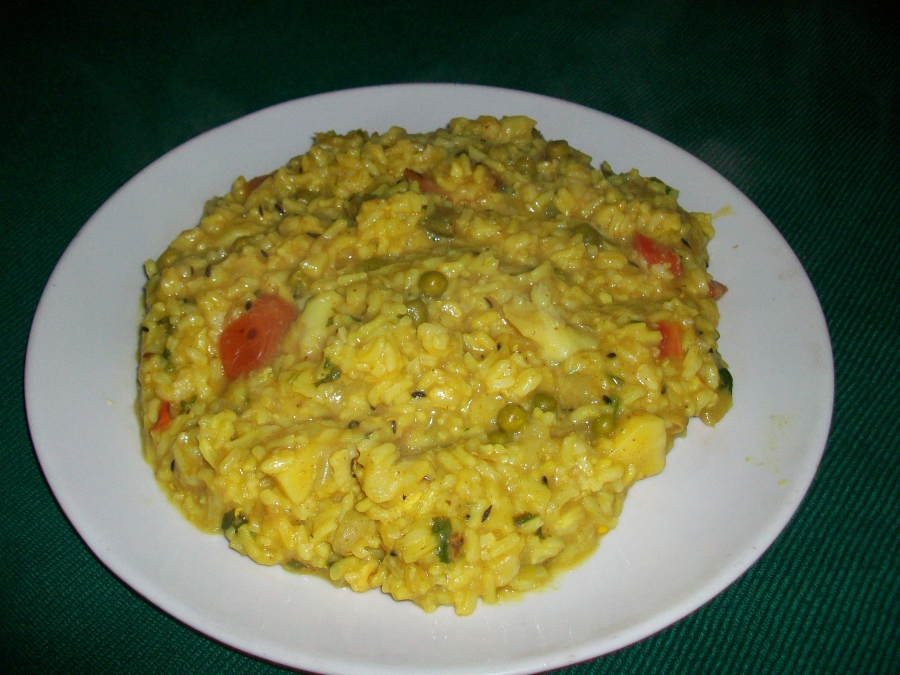 Final Dish
Hope you enjoy your khichri.
---
( DECLARATION - All the images used in this site, are either from personal collection, or are images available in Public Domain. The owner of this website is grateful to all those, who donated their images to – Wikipedia, Wikimedia, Flickr, Deviant Art, Pinterest, Pixabay and all other sites; for free use, as images in Public Domain.)