Although most people think so, but Rio De Janeiro is not the capital city of Brazil. Although it used to be the capital, till 1960. At present, Brasilia is the federal capital of Brazil & Sao Paulo is the commercial, financial and main cultural centre of the country. In spite of all these, it is no doubt, that Rio De Janeiro is the most famous city of Brazil, as far as the foreigners visiting the country are concerned. There are multiple reasons for it.
The City
The first thing that foreigner's visiting Brazil, should know is that Rio de Janeiro city is the capital of the state of, Rio De Janeiro. The city was founded by, the Portuguese in 1565. The name of the city- Rio De Janeiro, is the Portuguese translation of – River Of January, which is not practically correct, because there are no rivers in the city. The story goes, that the Portuguese discovered the city's large bay (Guanabara bay) on Jan 1, 1502 and mistook it, as the mouth of river, giving the city it's name. Rio de Janeiro, is one of the most visited cities of Sothern Hemisphere, thanks to it's beaches like Copacabana, Ipanema, Leblon and also the famous annual carnival festival of Brazil .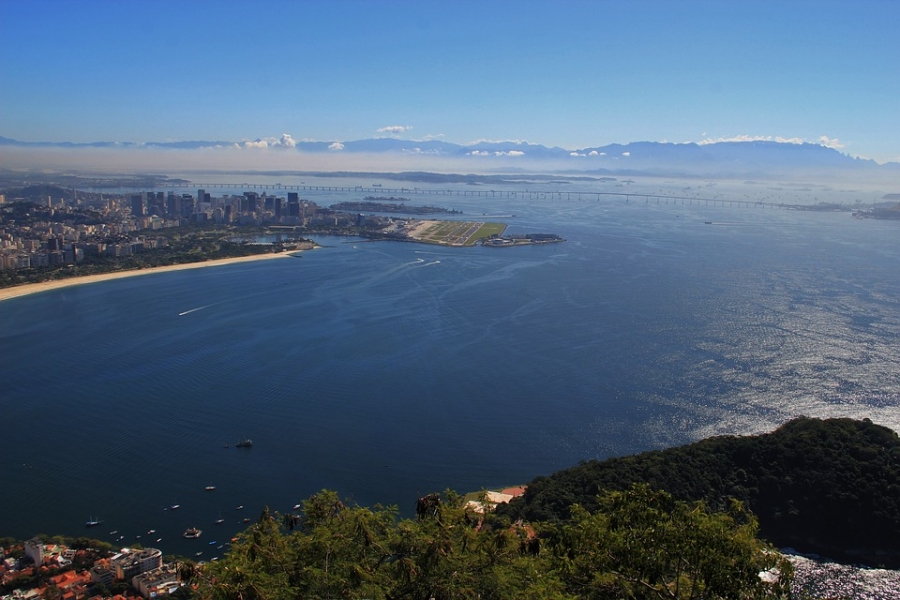 Guanabara Bay ,Rio De Janeiro
Airport & Travel Facilities
For people, who are traveling to Rio directly, from other countries, the airport is Galeao International Airport. The airport has connecting flights to almost all major cities in Europe and North America. For people coming from Asia, in majority of the cases a detour is needed via western Europe or Middle East. The airport has all the facilities, a traveller needs ; including cafes and restaurants .The Airport is located 20 kilometres from the city centre. There are many different transport services available ,for reaching the city. They include taxi( executive- blue coloured & ordinary- yellow taxis) and buses. Booth are present inside the terminals, for booking tickets for these. You will be given a slip and informed, where you can find the driver. Once you give the slip, to the driver and inform him about the hotel and locality, where you want to go; then the cab driver will take you to your hotel, without any hassles. There is another airport in Rio De Janeiro, known as ,Santos Dumont Airport. But it is a domestic airport, which connects Rio to other cities in Brazil. This airport is very close to the city centre and well connected by bus and taxis.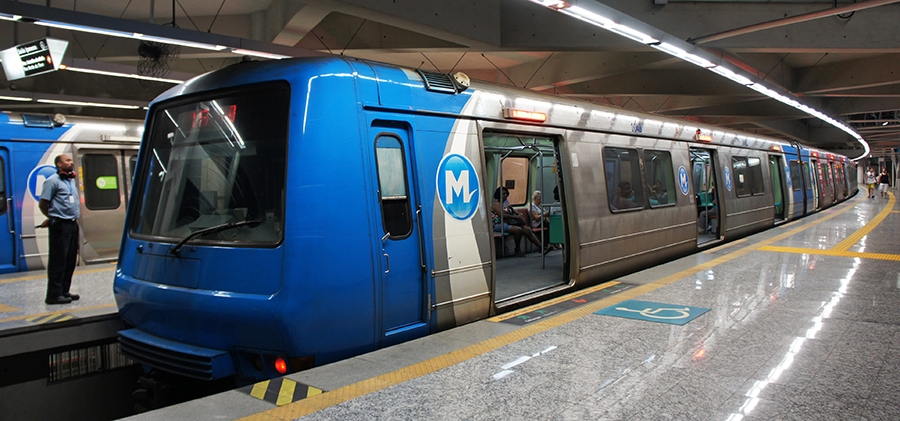 Metro in Rio
In the city, Buses are the commonest form of public transportation. These are well maintained, frequent and cheap. Although the metro is another option for cheap and easy transport. The tickets for the metro can be brought at the train stations and also in select buses, thus combining metro and bus journey, in the same ticket. Some people also claim, that the metro is the safest and cleanest form of public transport. For people who are in a hurry, taxis/cabs are the best options; but the biggest difficulty with taxis is that many drivers do not understand English and communication can be a difficult job. Majority of those cab drivers are honest and will take you to your destination, by the shortest/best route possible ; but occasionally you may come across, drivers who take a longer route, just to increase the bill.
Finance
The official currency of Brazil is Brazilian Real, which you can get by exchanging any internationally accepted currency like Dollars, in the Airport itself. You can also withdraw money, from the numerous ATM centres, present all around the city, by using your Travel Currency Debit Card (You should get a Travel currency Debit Card or TCDC card, from your bank, before you leave your home); but sometimes you may come across, some ATM centres, where they do not accept international cards, in that case, you may have to search harder or get some local help. There is always, some ATM centre which does accept foreign cards, but sometimes, it is just that they are hard to find, and takes some amount of extra fee, for the transaction. For that reason, it is always a good idea to keep some, surplus local cash with you always, instead of waiting for the last moment.
ATM in a Bank in Rio
Sometimes nearby banks also prove useful. If you have already sufficient cash in Euro/Dollar with you, then you will find plenty of centres (Cambios) inside the city, where you can convert the money into local currency. It is better to keep some identification document with photograph, with you ; as in some places, it may be needed. Always remember to go for conversion of currency with only those, who have the legal permission to do so. If you want to purchase some articles, it may be good idea to use credit cards; as then you will have lesser need for cash transaction.
Accomodation
As far as living arrangements are concerned, they depend on your personal choice and budget. It is always a good idea, to book a hotel before you leave your home. This can be easily done on internet ( using any credit card ) with multiple sites giving you a wide choice depending on what you prefer. There are multiple hotels in front of famous sea beaches like – Ipanema, Copacabana and Flamengo beaches. These give a beautiful picturesque view, but can be a costly proposition. There is another cheaper option available ie that of Youth Hostels .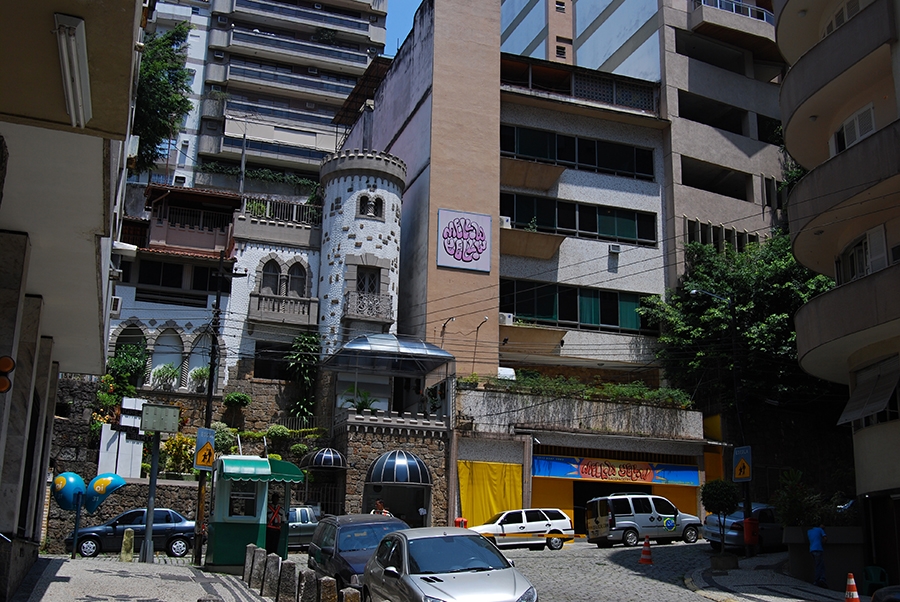 Hostels in Rio de Janeiro are the cheapest option
These hostels are the best option for people, who want to stay for a long duration in the city in a lower budget. Although majority of these have dormitory accommodations, but single or double rooms are also available(for some extra charge), for people who value privacy. On the downside, these hostels are always full and seldom available, without prior booking. There are many benefits of staying in these kind of hostels. Besides cheaper costs, they also provide free breakfast and free Wi-Fi at no extra costs. Most receptionists in these hostels, speak good English and help their guests in any way possible. They also have arrangement with many travel companies, which provides guided tours, and have an English speaking guide, and is always a safer idea than to venture alone in a city where a very few people speak English and has some rightly placed safety concerns.
Tourist Attractions
The Beaches
Rio has so many tourist attractions, that it is difficult to describe, which should deserve your attention first. The beaches are one of the best in the world. There are multiple beaches (all with adjacent hotels), but Ipanema, Copacabana, Leblon & Barra da Tijuca are the best ones. The beaches are lined with multiple cafeterias, where you can purchase and enjoy, your cold beer. In contrast to popular misconceptions, females never go topless in Brazil, although many wear thong bikinis. It is considered offensive to stare at them or take photographs. Most men dress in Bermuda shorts and loose T shirts. There are multiple vendors & shops, where you can buy your beach dress, if you have not brought it from home.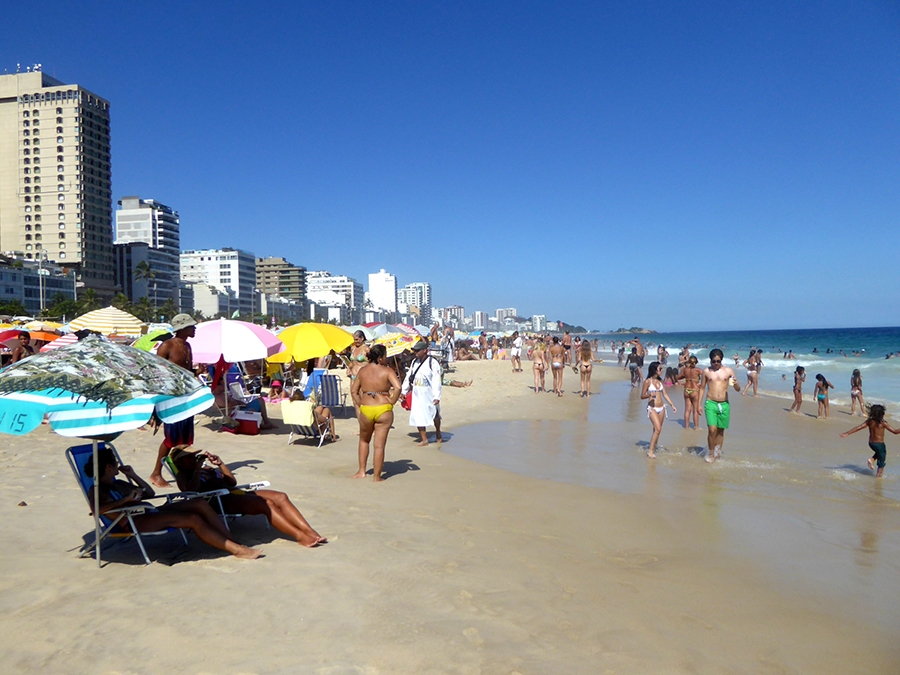 Ipanema , Rio de Janeiro, Brazil
Ipanema beach is known the world over for "The girl from Ipanema" song written by Morales Vinicius, after he saw a beautiful woman on this beach. Ipanema beach is present between the beaches of Copacabana and Leblon. Ipanema is one of the most fashionable and modern part of Rio and the beach can certainly be considered as one of the best beaches in the world. There are many art galleries, theatres and clubs adjacent to the beach. Another beach-- Copacabana, happens to be one of the most active beaches of Rio. You will always find the locals playing either soccer or volleyball here, along with the vendors selling their stuff from the numerous kiosks, that line the beach. One of the biggest and famous hotels, Copacabana Palace is situated here. This area is densely populated and hosts, one of the most famous new year's eve party. At one end of the beach, there is a military base with a wartime museum, which is opened to the public (Fort Copacabana).
Christ the Redeemer
Christ the Redeemer is a important cultural icon of both Rio de Janeiro and Brazil. It is a statue of Christ with arms stretched, created by French sculptor Paul Landowski and built by Brazilian engineer Heitor da silva Costa. The statue is situated at the peak of Corcovado mountains at height of 710 metres and is visible from below, almost throughout the city of Rio de Janeiro. The statue is 30 metres tall, standing on a 8 metre pedestal and the arms are 28 metres wide. In order to reach the statue, you have to climb 220 steps. Recently an escalator has been built, so that even the old can enjoy the beauty of this marvel from close quarters. The view from the top is spectacular & you can enjoy the view of the sea line, favelas, harbour and almost the whole city of Rio de Janeiro. The statue is listed as one of the New Seven Wonders of the World.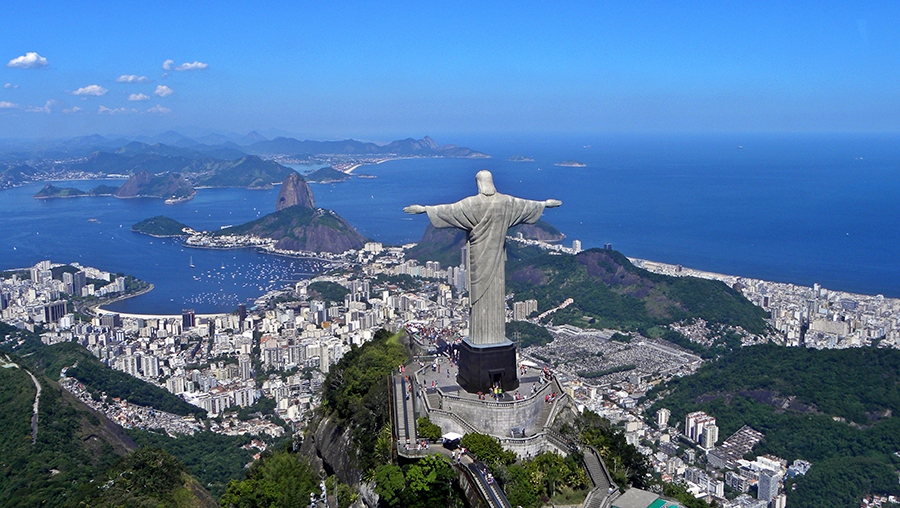 Christ on Corcovado mountain
Sugar Loaf Mountain
Sugar Loaf mountain (Pao de Acucar, in Portuguese ) is another important landmark , that is visible from a greater part of the city. From the top of this mountain, the view of the city below is really breath-taking. To reach the top, you have to take the cable car. The aerial cable car's journey has two parts, the first is up to Morro da Urca and the second is on top of sugar loaf mountain.(The mountain ridge has twin peak, which are Morro da Urca & Sugar Loaf, at height of 220 metres and 396 metres respectively.) You can easily get buses from various parts of the city, to reach the base station, for the cable car. There are multiple gift and souvenir shops, cafes and restaurant, at the top of the sugar loaf mountain, where you can get different kinds of memorabilia.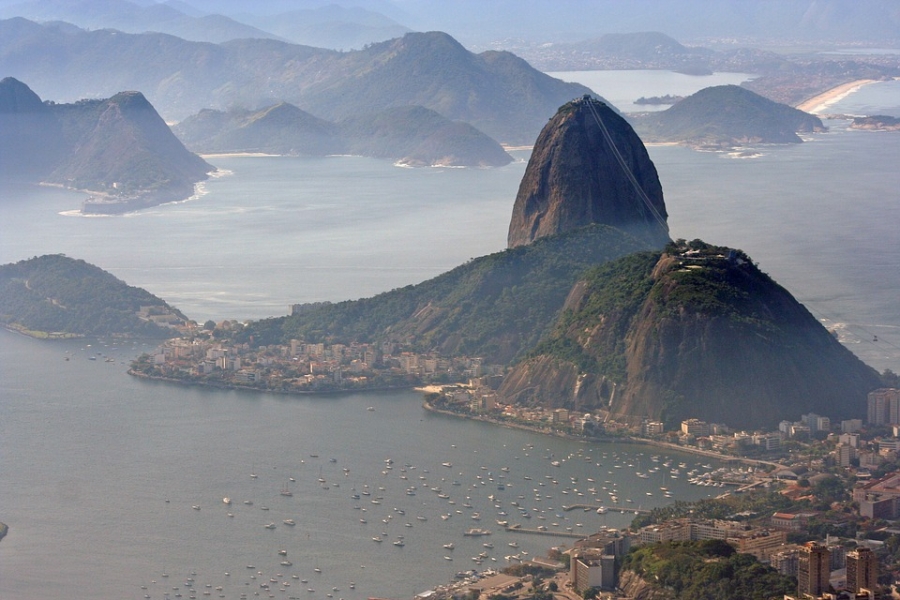 Sugar loaf mountain, Rio de janeiro, Brazil
Maracana Stadium
Maracanã stadium, is one of the largest football stadium in the world (and the largest in south America)and certainly worth visiting. Initially it could hold almost 200,000 people but in recent times, seating arrangement for all has been made compulsory, from safety point of view hence reducing the capacity to 80,000 only. It served an important role in 2016 Summer Olympics, as the opening and closing ceremonies were held here.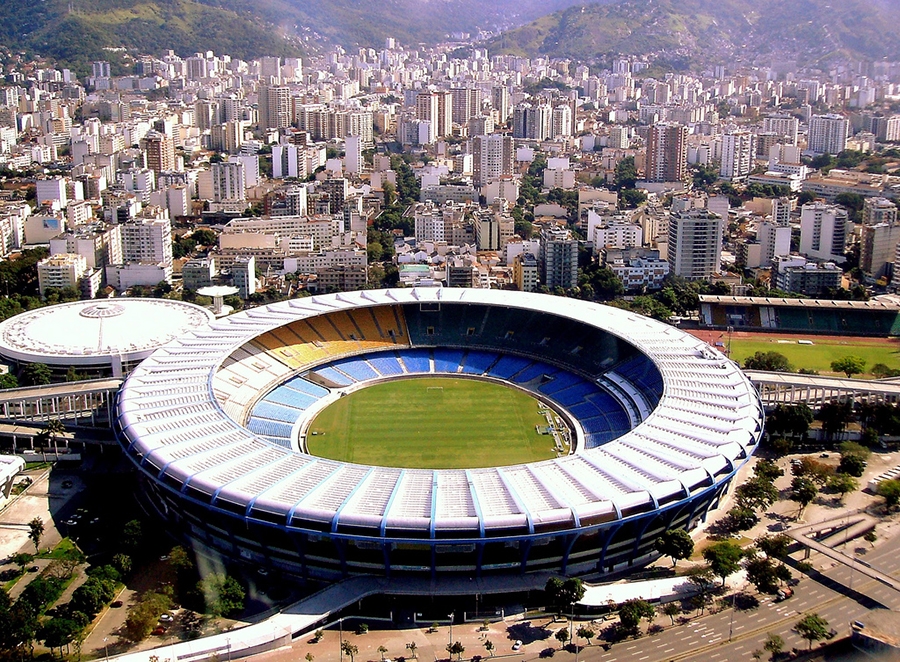 Maracana Stadium in Rio de Janeiro
Botanical Garden
The Botanical garden is, one of the best parks in Rio. It is well kept and houses thousands of different species of flora, including carnivorous plant, cactus & orchids .The park lies in the foot of Corcovado mountain and is east of the lagoon. It was founded by King John VI, of Portugal in 1808. Along with different varieties of trees, different kind of birds (reportedly 140 different species) and monkeys are found. The garden is partly cultivated and remainder is the forest rising up the foot of the mountain .Besides having a research institute, for Botanical studies ,there are also restaurants for refreshments.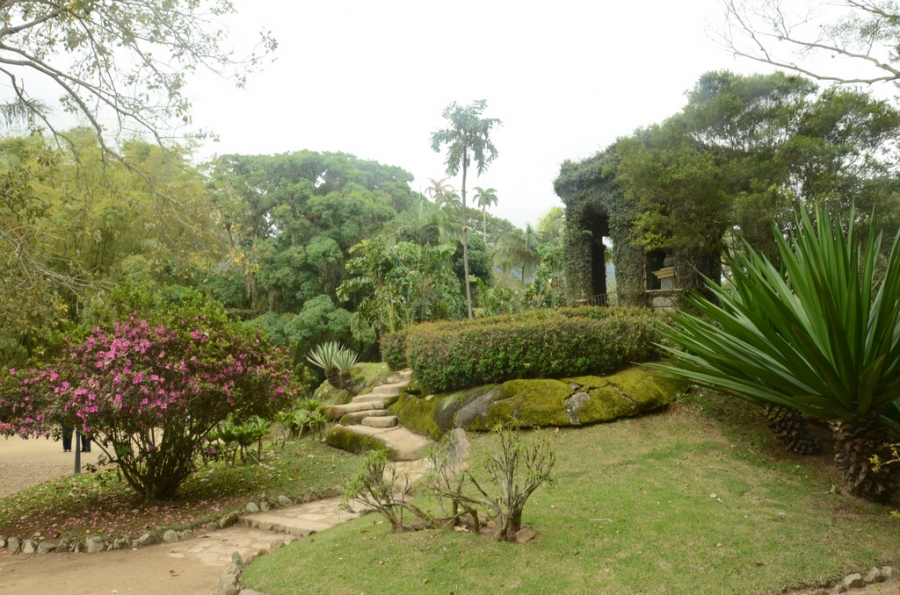 Botanical garden, Rio
Lapa Arches
Lapa arches are the remaining evidence of the Carioca Aqueduct, which were shut down on 19th century. This vestige of an old era, it served as a medium to supply Rio de Janeiro with fresh drinking water from the Carioca River. The two stories of huge arches formed an important segment of Carioca Aqueduct, but with the passage of time, the top of the arches were changed to a track, for tram transport, that connected neighbouring Santa Teresa to the city centre. This area still serves as a focal point, where people come together for revelry and celebrations.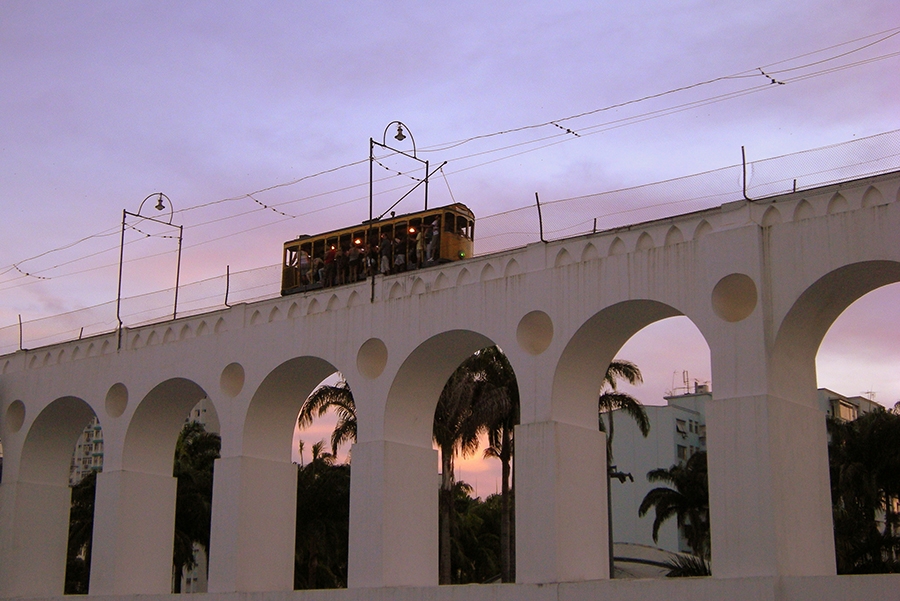 Lapa Arches, Rio de Janeiro, Brazil.
Municipal Theatre
Municipal Theatre, is the main opera house of the city and located in the city centre. This has a marvellous architecture, with marble columns, beautiful staircases and mirrors with golden painted borders. This building has been inspired by Opera Garnier of Paris. The building has the capacity of 2360 seats and decorated with chandeliers and statues. It is always a good idea to watch a performance here, if one has the time.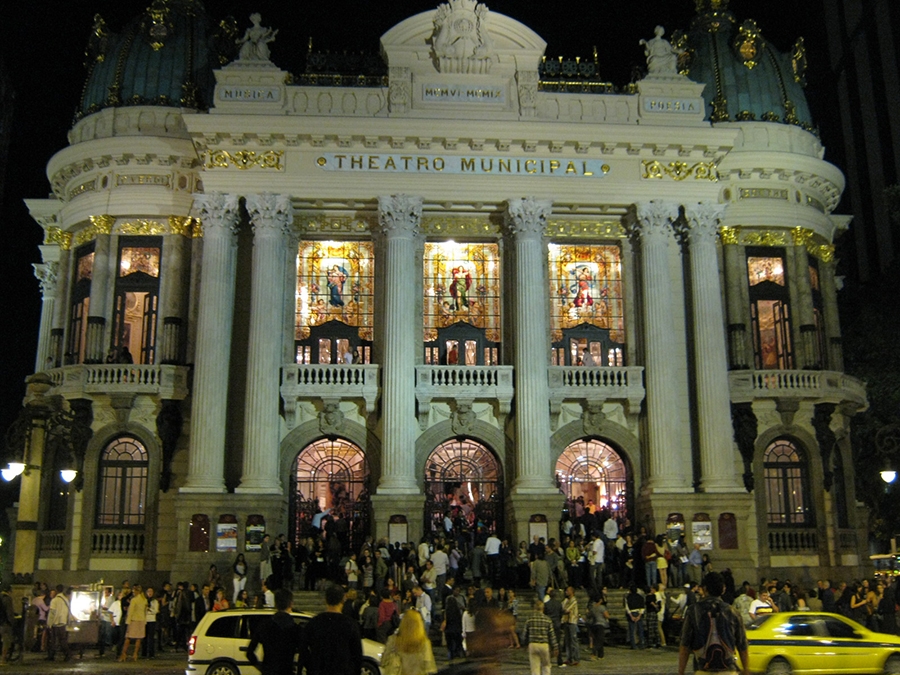 Municipal Theatre
National Park
Tijuca National park, present in the city happens to be one of the largest urban forest in the world. For people who love nature, this is a real beautiful place to visit ; there are many trails, which gives an experience of a jungle adventure complete with a waterfall (Taunay waterfall). It is a pleasure to trek to Rio's highest peak Pico da Tijuca, where a person can get a beautiful view of Guanabara Bay and the city present below.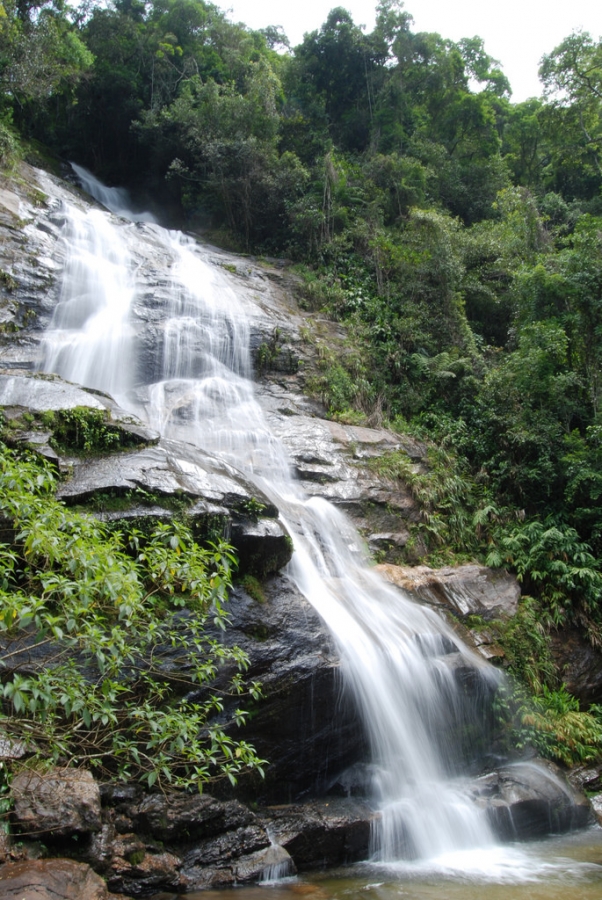 The Taunay Waterfall (Cascatinha de Taunay), Tijuca National Park, Rio de Janeiro
Carnival
Carnival of Rio is world famous and attracts people from all over the globe. The festivities lasts for almost two weeks and is famous for the parade held by different samba schools. Samba shows are also held, in select venues, in other times of the year also. Although there may be certain reservations regarding the dresses of the participants, but the artistic values always overshadow them.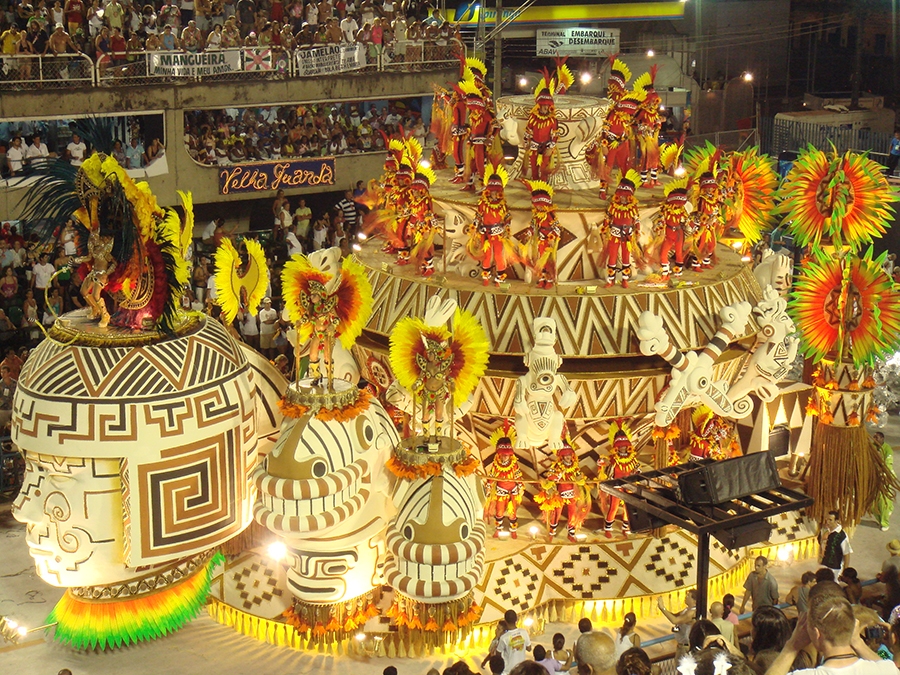 Carnival in Rio de Janeiro
Favelas
Although classically described as slum area, your visit to Rio is incomplete without a visit to the favelas. Described as an informal urban area, for low income groups of people, this has a different kind of beauty, which is hard to describe. These areas are present in a hilly fringes of the city and houses arranged in different tiers, as in staircase. Most of the initial favelas were formed by people coming from the villages, to settle down in the city of Rio. Many favelas are notorious as a hot bed for illegal activities, like drug trafficking. There have been shoot out incidents with police, but in spite of all these unfortunate incidents, guided tours of these areas are available, however it is important to heed the advice of the guides like, not to take pictures of any person, specially of young women. Some percentage of the Tour's profit goes into donations for charitable activities, in the favela. There are many favelas in the city, however the largest and most visited/popular favela is Rocinha, where almost 75,000 people live.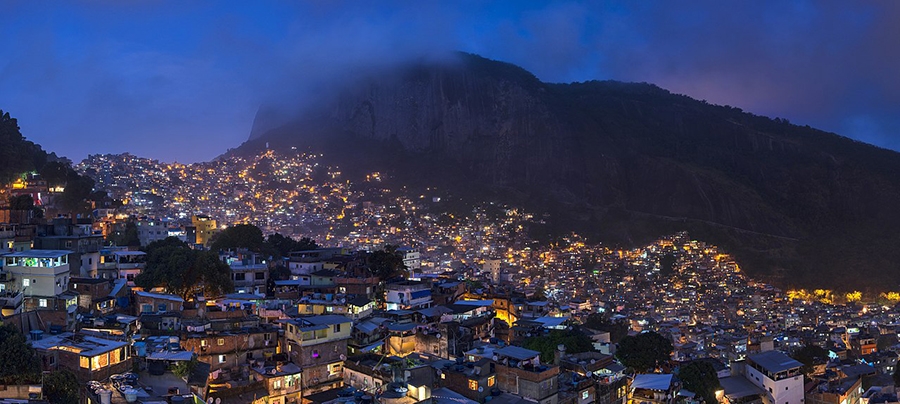 Night view of Rocinha, the largest favela in Brazil, located in the city of Rio de Janeiro.
Precautions to be Taken During Your Visit
There have been incidence of credit card cloning, so you may suffer from credit card fraud. (Using ATM's inside the Bank is asafe option) .Sometimes in case of doubt, the credit card company may freeze your card, pending your confirmation. So having more than one card may prove to be useful.
If you are carrying your valuables to the beach, in a bag ; then do not let that bag out of your sight, as someone may take it, while you are enjoying taking your bath in the sea.
It is advisable, not to travel alone, specially in the night. If you have to go somewhere in night time, it is advisable to go in a group. Avoid public transport and the subways. Taxis are the best option for travel in the night time .
Never display any valuables in a crowded area. Do not expose a credit card, jewellery, costly camera or iPhone, watches in an area, where it can be snatched by a smart teen on a bicycle.
Never go to favelas, all by yourself.
Many people always give the advice that you should dress like a local, so the bad guys can't know that you are an outsider. That is easier said than done. It is always better to learn, some important lines in Portuguese, so you can ask for help in case of emergency ; as one of the biggest problem, you will face in Rio is that, most of the people (except the elite) do not understand /and cannot speak English and so may not be able to help you, in spite of having good intentions.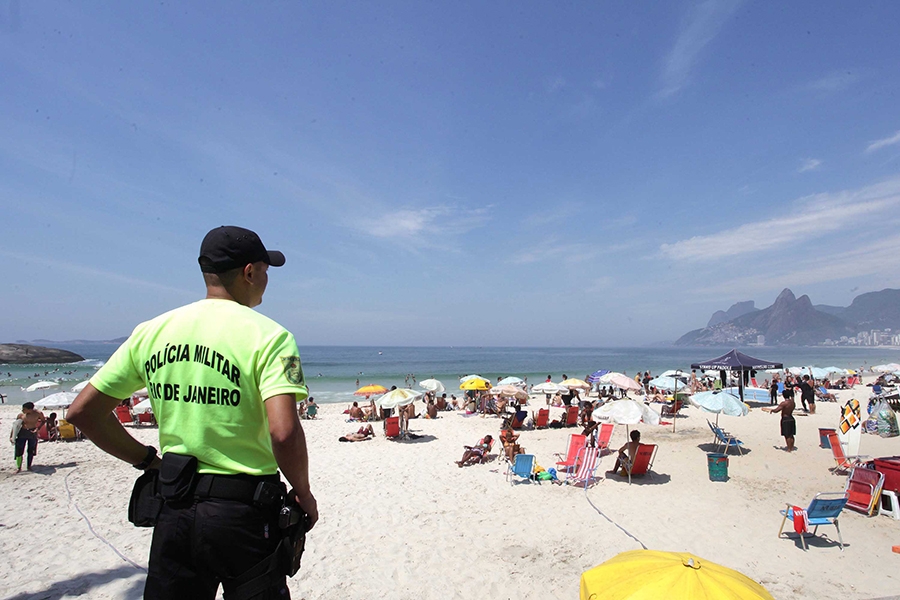 A security official in beach
The Final Word
Although most people are quite apprehensive, when it comes to security in Rio, but the facts remains that most of these warnings are quite exaggerated. Majority of the people are quite honest and helpful. The Brazilian's family structure is much more stronger, than compared to many places in Europe. Many children continue to stay with their parents, even after their 18th birthday, receiving both financial and moral support. if you manage to form friendship with local people, there is a good chance that they may invite you to dinner and over drinks you will realize, that most Brazilian are happy go lucky people, with cheerful disposition. The natural beauty of the city is unique & once you arrive back home, the nostalgia for the place and people, will remain with you for the rest of your life. Very soon when you get busy with the rigorous routine of your daily life, the memories of your trip will come back and remind you that the place you visited, was the closest thing to, heaven on Earth.