A Nation with Unity In Diversity
First a few facts about India. India is a huge nation (specially if you compare it with some countries of Europe) and has approximately 1.3 billion population (2nd only to China, in number), who live in 36 States and Union territories. With that kind of population, diversity would be expected , and it is indeed so. There are 22 major languages and 720 regional dialects. People profess almost nine different religions (Secularism at it's best). The physical features or looks of people, also vary depending on which part of the country, you are in.
What You Need to Get Here
If you want to visit India, and are from Europe or Americas, first thing you need is a valid passport of your country, with that you can apply for a visa from Indian Embassy(Visa is usually given for a maximum period of 6 months). Once you get that, you may need to check if you need to take, vaccination shots for precaution. The CDC and WHO, does recommend Typhoid, Japanese encephalitis, Hepatitis A & B, Rabies, Polio, MMR vaccines . Although once you come to India, you will realise that there was no reason to get scared.
Finance, Because Money Matters
Now that your health is taken care of, you can concentrate on the financial aspect. Well, for most tourist from the west, coming to India, will be rather a cheap affair. As 1 US Dollar is equal to 64 Indian Rupees ( 1 Euro is equal to 77 Indian Rupees ). Once foreigners arrive in India, they can exchange currency at exchange booth, inside the Airport. Always exchange foreign currency at authorised dealers like American Express or Thomas Cook. Always keep your currency exchange receipt, with you carefully. Buying foreign currency from unauthorised places are illegal and should always be avoided. Also it is illegal for foreigners to take Indian currency out of the country. It is always be good idea to keep good debit cards and credit cards with you. Only exception being your travel in the countryside, when you should remember to keep a good amount of cash (Indian currency) with you, as in the rural areas it would be difficult to exchange currency and credit or debit card may not be applicable everywhere.
Making your Entry
The airport from which you make your entry, to the country will depend a lot, on the place you want to visit. If you want to visit the Northern part of the country, New Delhi International airport will be the best choice. If you want to travel to the western part, Mumbai Airport would be the best for you ; For the southern part of country Chennai / Hyderabad / Bangalore are options.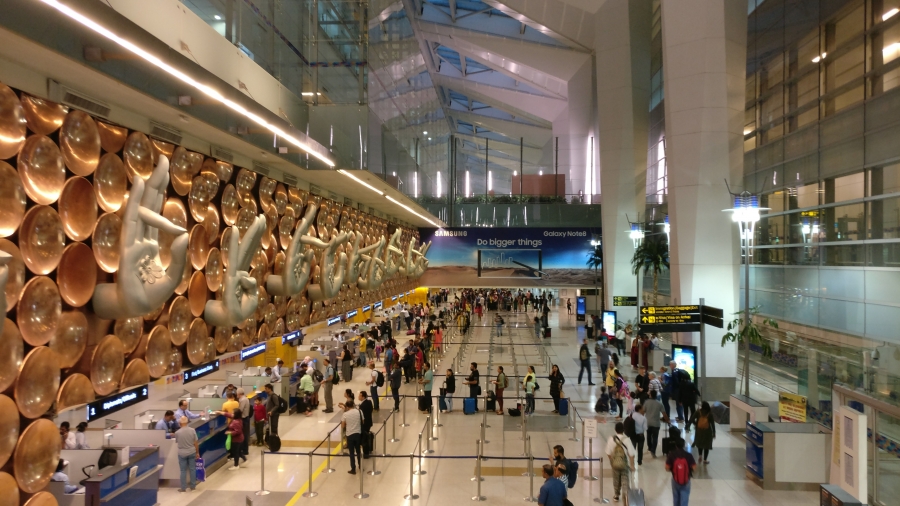 Indira Gandhi International Airport - New Delhi
Communication- The Key To Unravel the Nation
Now once you are out of the airport, you will be interacting with the normal people in the streets. Communication would not be a major problem as, India is the world's second largest English speaking country, with almost 125 million people, fluent in it. Contrary to popular misconceptions, prevalent in the western media ; Indian accent is not actually difficult to understand. For people, who are more motivated, it is always better to learn a few a key phrases and greetings in Indian Languages.
Where to Stay
Do not take recommendation from auto rickshaw or taxi drivers, regarding which hotels to stay ; chances are that you may not get a fair deal. it is always better to plan, where to stay, before you leave your home. There are lots of options, which are available in diverse cost range, suitable for all budget. Starting from $2 a night to $500 a night in 5 star Luxury hotels, there are wide options. In almost all big cities, you would find special localities, where numerous hotels and Guest houses are clustered together. Some of them would be also listed in Trip advisor, and would give you a decent accommodation, in a fair budget. Most hotel authorities would check your valid documents before giving you a room. Tipping the staff after reaching your room, would certainly assure you, a better service, in form of frequent change of bedsheets /Towels/ Toilet paper and the food reaching you, as soon as possible (though it is neither mandatory nor required in many cases).Squat toilets are present only in cheap hotels, in the majority of places western type sitting lavatory would be available. Do not be surprised, to find a bucket and plastic mug, in the toilet, as majority of Indians use them. Some kind of mosquito control are used in most hotels and it is unlikely that you will face the problem, in your rooms ; but in case it happens(in the cheaper hotels), you can always ask for mosquito repellent, if it is already not installed in your room. Always carry a power adaptor with you, so that you can charge your laptops and mobile phones. If you are interested in smoking, be a bit careful ; as in many public spaces, smoking is not allowed. The same goes for alcohol consumption too. In the small town or rural areas, it may be difficult for non married couples to get room together(Always try to respect and adapt to the local culture).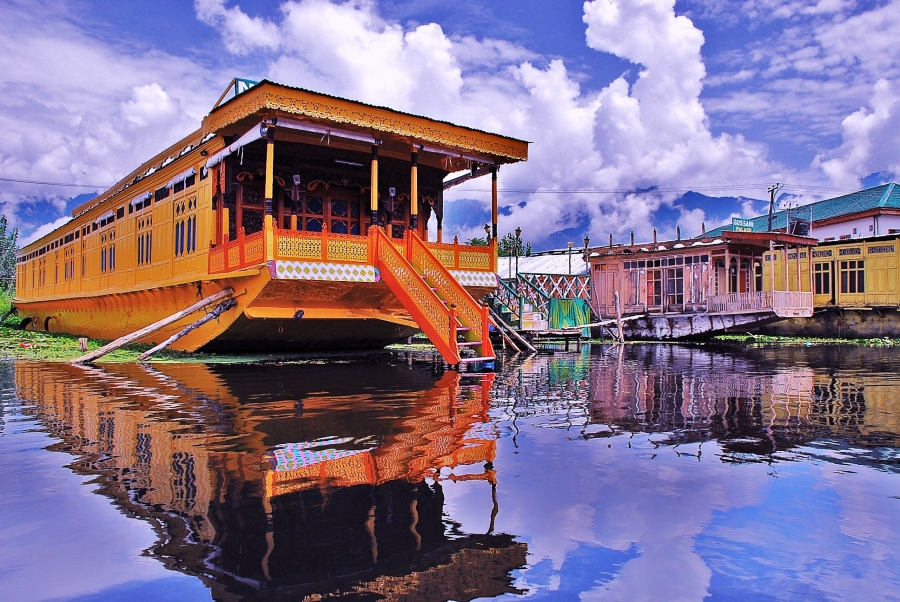 House Boat
What to Eat and What Not
with so many people with different religion, different language and different culture ; it is no doubt that there will be a lots of food varieties to choose from. Although food differs from place to place, but in general, foods in India are very spicy and a bit too much, for many. So if in doubt, always try a little amount first. Street food may not be always hygienic, and should be best avoided(unless you have previous experience & know what to avoid). Eat food only from busy restaurants, where the foods would be freshly cooked. Asking for alcohol (Wine-Champagne/ Whiskey ), specially in daytime, would not be a very bright thing to do ; unless you are in a 5 star hotel or a relatively big restaurant. The two major religion in India are – Hinduism and Islam. The first do not eat beef & the second do not eat pork ; so it is always better, not to ask for those ; as unknowingly you may hurt people's sentiment. India is heaven for people wanting to try vegetarian food, as a big chunk of the population are vegetarian, and there are multiple choices of cuisine, which will leave you, perplexed about what to choose. If you are thirsty, it is always advisable to drink bottled mineral water, as tap water may not always be reliable ; although most restaurant offer free of cost, filtered & purified water along with food ( a tradition which has almost disappeared in the western world).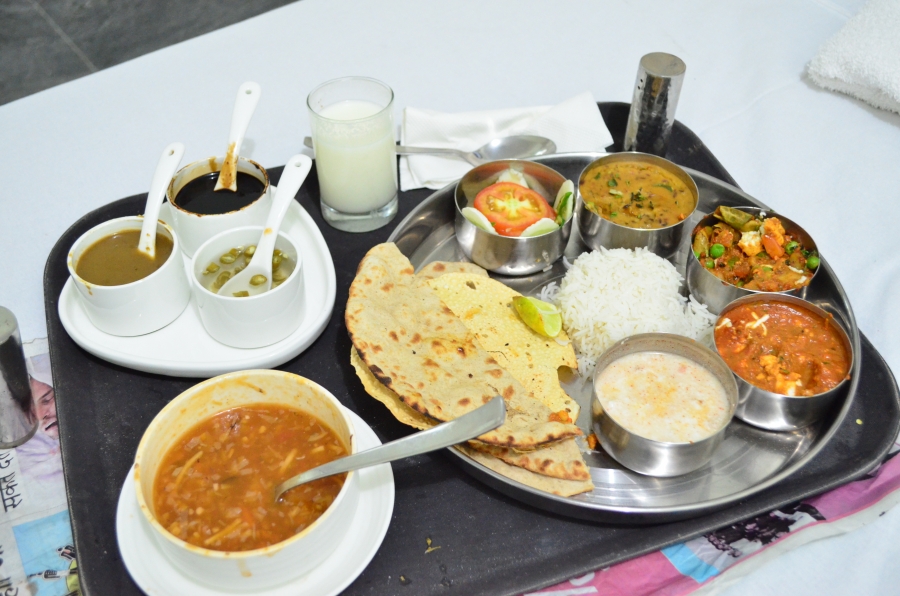 Typical North Indian Veg Thali
Tips for Visiting Places
1. One for The Road
We are talking about advice here. India does have a serious problem, with pollution : Air and noise pollution, can cause serious discomfort for foreigners (Most of the Indians are used to it). Delhi is one of the most polluted cities, in the world (Although there are many steps, which are being implemented by government, to take care of the problem and things are gradually improving). Traffic problems are common in most Indian cities (When you are in the 2nd most populated country in the world, that shouldn't surprise you). The best way to avoid these problems, are to ask your hotel staff, which would be the best route to take, ? You would be surprised, that there would be some roads, which would be much less crowded and cleaner, than the one's you thought of (For those who are used to visiting European cities, a word of advice. In contrast to other western countries, where you have to struggle with guidebooks – as there is hardly anyone to assist you, in India, people are very friendly and you can get all information you need just by asking). If you can afford it, take a air conditioned taxi, that would save you from much of the pollution and conundrum, but you would also miss the experience to know a billion people, from close quarters. One of the commonest problems, foreigners complain are about toilet facilities, while travelling. Pay and use toilets are present along the roadside, in all big cities but in the small town they may be fewer in number (Although in recent times, the government has taken measures, to provide basic sanitation facilities, throughout India & has provided many portable toilets everywhere).So if you want to travel a long distance and are bothered about this problem, railways may be an viable alternative. You should at least try traveling by the Indian railways once. Travelling by train, is an unique experience in itself. Indian railways carries 20 million people everyday & there are more than 7500 railway stations. So if you have plenty of time, and want to discover the country, Railways is for you. The only catch is, get your reservation first, because travelling in an unreserved compartment, would be an adventure, you should try to avoid.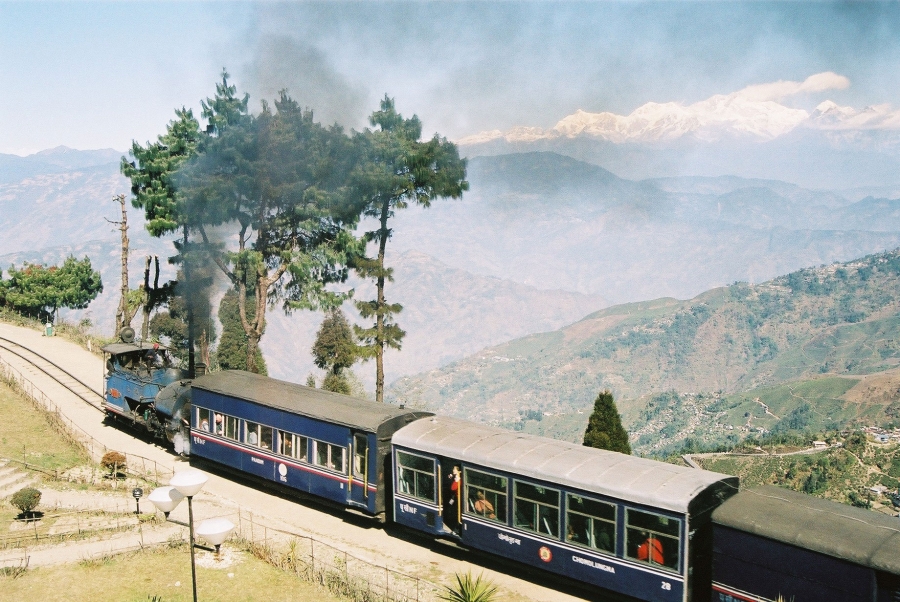 Darjeling-Himalayan-Railway
2. Places of Worship
Remember the book of Exodus, where Moses was told to take off his sandals, because the ground he was standing on was holy? Well do that, when you go to any place of worship in India. Do not go to any place of worship, whether it is a Temple or Mosque in an inebriated state & smoking is also not allowed. Some places of worship also do not allow, any leather product inside their premises – so be careful, if you are carrying, a leather purse or belt. Taking pictures are not allowed in many places and always find out the rules, prior to any misadventure. In some places of worship like Gurudwaras, you may have to cover your head, by a piece of cloth, as a mark of respect. Contrary to popular misconception, it is not always compulsory to give donations, in places of worship. Some guidebooks tell you to use ear plugs, to avoid all the noise, but they may be taken as a sign of disrespect, so better avoided ; and not in all places are provisions, to get special VIP entry, by paying extra money ; faith is not for sale. If you are visiting some very big and old temples, you would certainly get a temple guide, who would show you around, for a small fee. Do not get a tattoo of gods or goddess, in your body without understanding local customs, as a lots of people have faced problems because they got a tattoo in their legs and feet (an act considered disrespectful).Very rarely ( once in a blue moon), you may come across places, where only people of certain religion and sex, can enter. Asking the local people, about any such restrictions, if any, would help you in avoiding awkward embarrassment.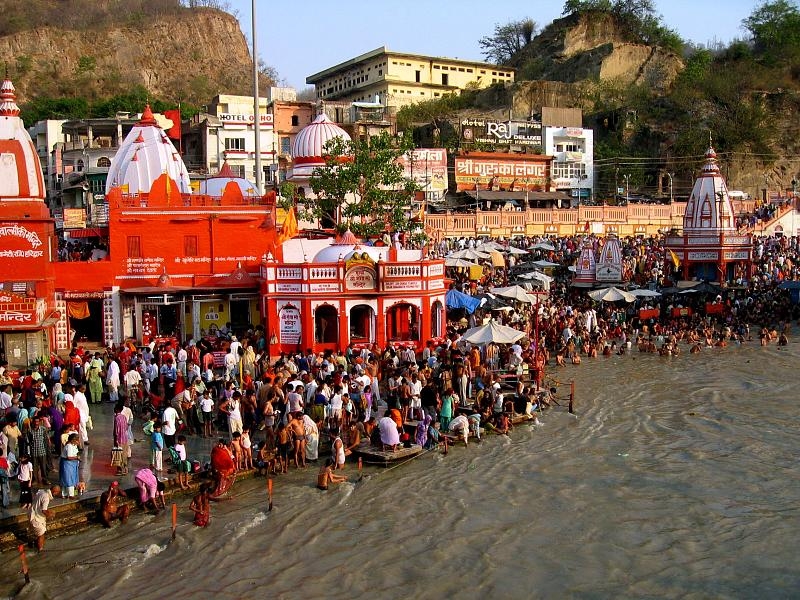 Ganga Dashara at Haridwar
3. Dress
Although majority of the places are real hot in summers and cold in winters, but it would be safer and more appropriate if you stick to conservative clothing, nothing too flashy, specially when in the roads. Although in an age of globalisation, where many Indians have travelled abroad and are more tolerant to others view, the chance of you facing any problem, for the before said factors are minimal, but It is still better for the ladies to dress in a conservative way, covering the torso and legs, to avoid any unwanted attentions. In a beach also, choose carefully. Skimpy swimwear, does also gets you a lots of awkward looks, unless you are in certain reserved places, where no one would bother (Do your research beforehand).
4. Socialising
Indians are rather inquisitive people, but very hospitable in nature. So when you are on the roads, it would be natural that people may look at you and some street children may be following you. If you have known an Indian for five minutes, there is a good chance that he (chance of she is very less) will ask you what job you have ? if you are married and have a house of your own ? Contrary to views in the west – where this may be interpreted as a breach of privacy ; to most Indians, it would simply mean that he considers you a friend and is concerned about you. Of course, it would not be in the best interest of the ladies, to go to a stranger's home, without really thinking. Besides, Public Display Of Affection, like kissing in public and hugging your partner, may get you unwelcome attention. Taking care of the elders, is part of the cultural heritage, and little consideration of the same on your part, will get you a lots of respect.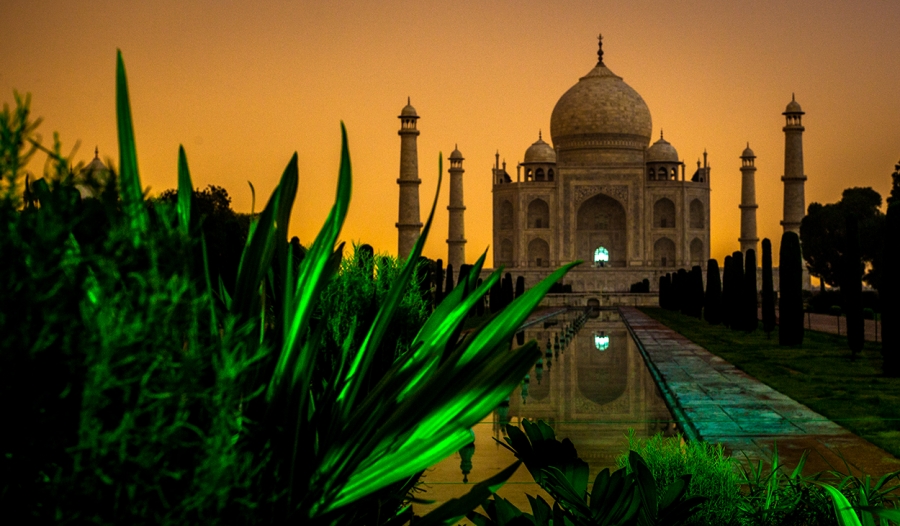 Taj_Mahal in Midnight with City Lights illuminating the background
5. Tourist Attractions
These places are always overcrowded and it would not be surprising, if a few beggars, try to get your unwanted attention. Giving them alms, may attract more beggars. Try to take help of an government authorised guide, to explore the place, finding them would not be too difficult. Beware of pick pockets, as you would, in almost any overcrowded city in the world. If any unfortunate incidents occur, the local authorities and police would do their best to help you.
The Final Word
In the end, we usually find, what we are searching for. A lot of wrong misinformation, have been spread about law and order status in India, by the western media. If you look closely, you will come to know that legal problems like murder and crime against women, in India are statically much less than what happens in countries like USA(no disrespect intended). So if you have survived Detroit and Baltimore, you would face no problem here. Another complain, that people from other countries usually have, is that of population and complications associated with it. Here we would like to mention, India owes it's legacy to 6000 year old Indus valley civilization(A place where sewage was disposed through underground drains and had world's earliest known system of flush toilets), which at it's peak had a population of five million people. So it is not very surprising, if the population has reached to a billion plus from 5 million in a period of 6000 years. Although a lots of things have changed in six millennium, but the core value of our civilization still persists, as the old Sanskrit phrase – Atithi Devo Bhava (The guest is equivalent to god ). The way of life, of the oldest surviving civilization can not be, accurately described in few pages, so we ask you to come and have a look for yourself. Welcome to India.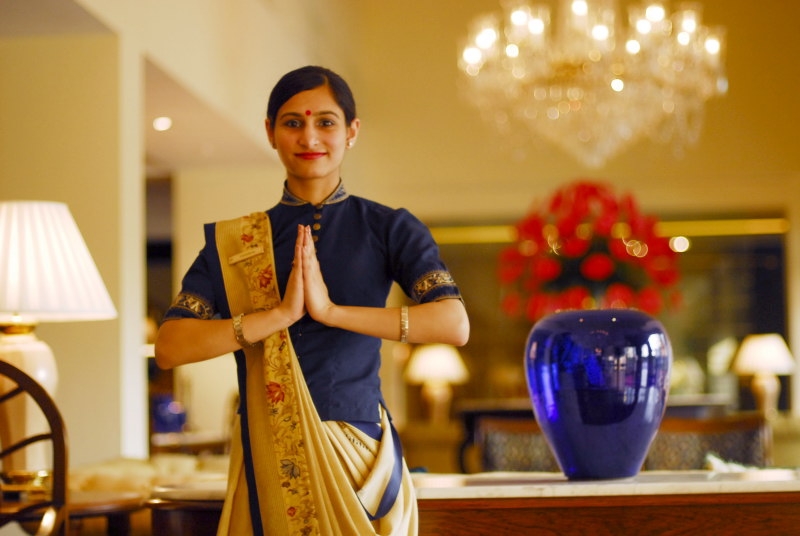 Welcome to india
(Disclaimer – All the information given in the article are up to date, but from time to time, new developments and change of rules may take place, reader's discretion is advised. )